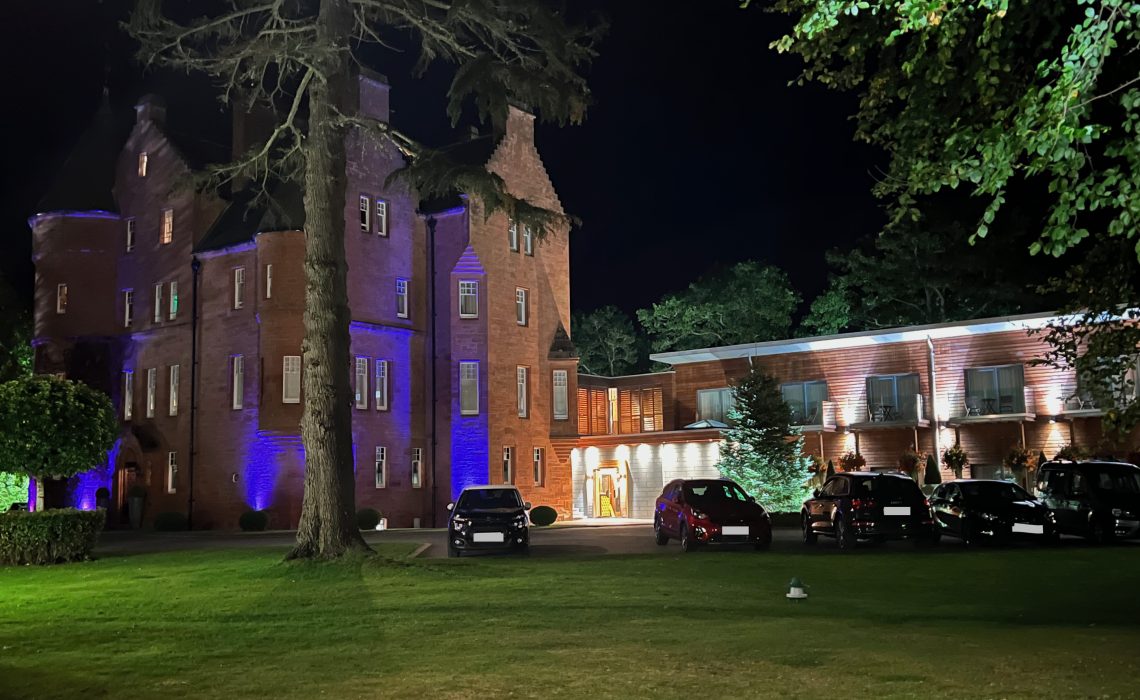 Spotting the Leaping Salmon at Pitlochery
Find out why some of the most expensive hotels in Scotland aren't always good value. Read up on hotels that have taken action to be more sustainable, and those that still have a way to go. Use the information to help plan your own road trip up the west coast of Scotland.
'THE GOOD, THE BAD, AND THE UGLY'
Recap from Part 1 of this blog and why we took the trip – or just skip straight to the blog:
September is often a glorious month to tour Scotland, maybe not as warm as England, but still decent enough to explore, walk, play golf and less busy. Our trip hung around three things, a specific weekend that our son could join us at Cameron House Hotel at Loch Lomond for whisky and golf, my wish to drive up the west coast plus visit Pitlochry. My Dad used to cycle to Pitlochry from Alva as a 'wee lad' and fish, not with a rod, but by 'tickling' the trout and salmon. Google it! He fell in once and broke his elbow, ouch – cycling home couldn't have been much fun! We planned and booked in April, not nearly early enough to get all of the stays we wanted… which led to the ten hotels in twenty-two days scenario! Mostly 5* hotels, plus two 4* and one 3* – there were some real surprises, not all good!
---
DAY 19 – 22: FONAB CASTLE (5 Star)
Our last stop in Scotland and really at the core of our trip for me, being so close to where my Dad spent some of his youth. We wanted to make it special and thought that staying at the Fonab Castle would make it so.
Hmm, well that worked partially.
They also had two restaurants, one for their tasting menu, which I booked as a special treat, well it was our last Scotland hotel.
We had a pleasant enough room, with lovely patio doors opening out to a ground floor balcony area looking out to the trees and eventually to the loch. One thing I couldn't get my head round, and didn't go down well with me, was why a 5* hotel – well really any hotel – would put this sign in the room though? Any thoughts?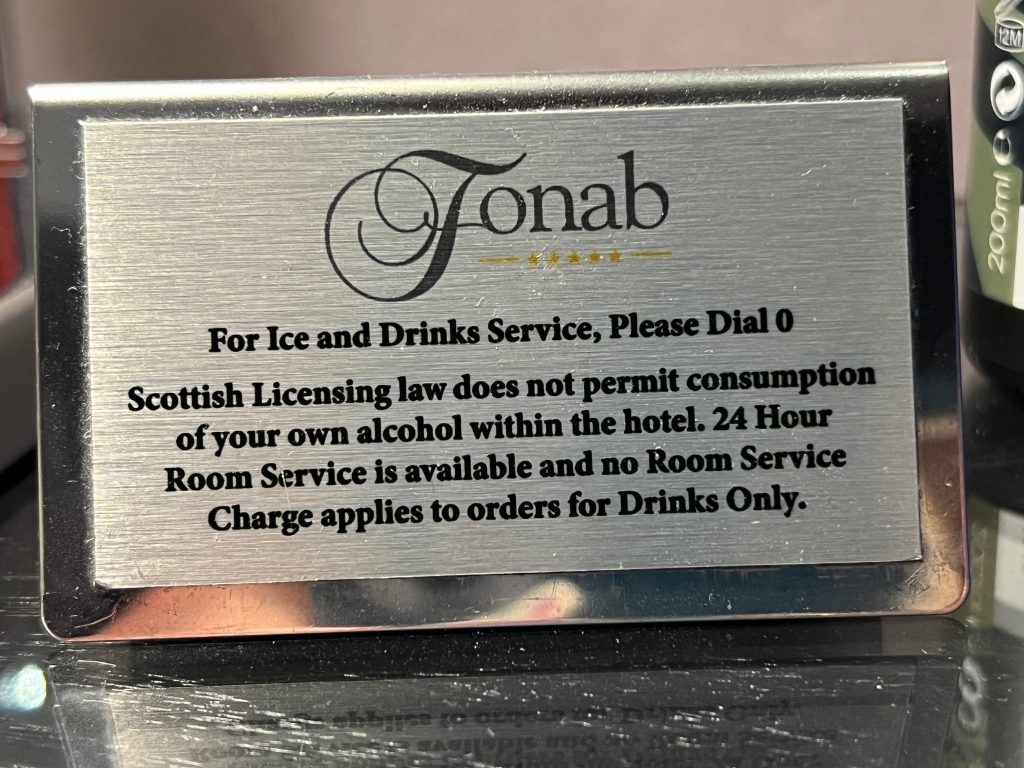 Our tasting menu was very good, – some very nice and unusual dishes., and homemade bread to die for again! And the chef even wrapped me up a small loaf to take with me! This also was where we tried our first Ian Burnett chocolates! Gosh, have I spend a fortune on these since coming home but they are sublime. We called in on our way back home and had a chocolate tasting. Amazing place, and worth a visit.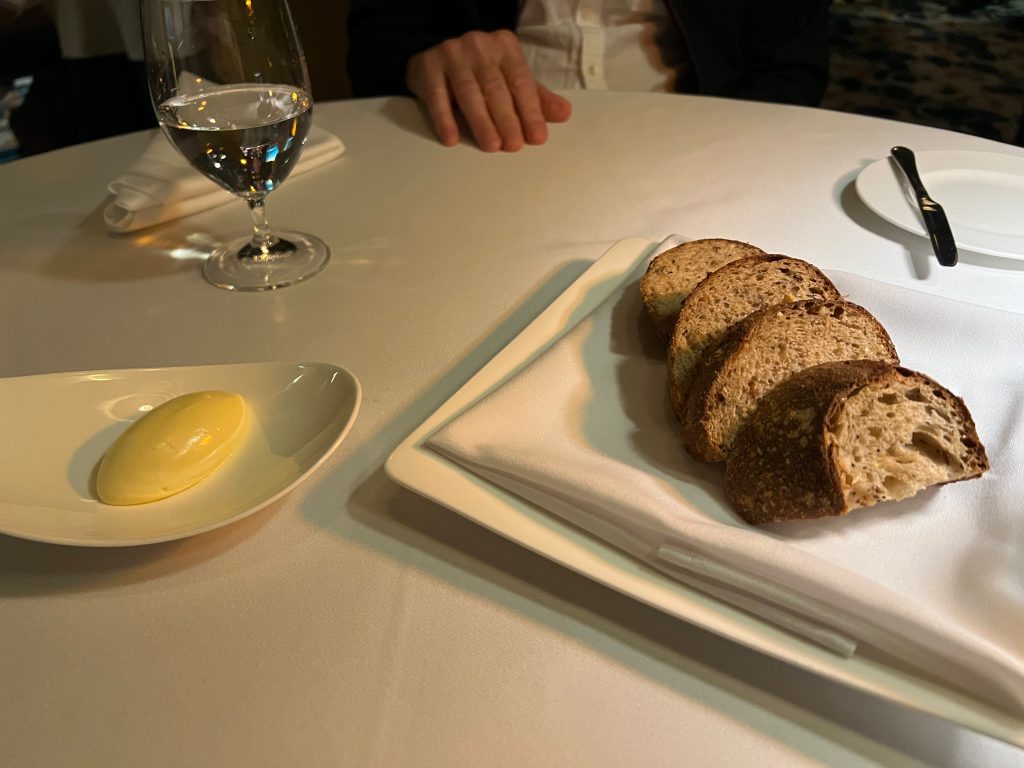 We opted for the wine pairing – I had looked up the Sommelier ahead of our booking, but on the night it was a newbie. And not a good one at that I have to say. We struggled to understand what he was saying, and he was very very nervous which didn't help. Also we didn't find the pairings to be that good to be honest! Several of the wines just didn't go with the food, like at all! it was a shame, and definitely took the edge off our otherwise very enjoyable dinner.
Not The Dinner We Were Hoping For!
The second night we ate in the main restaurant. Well what a disaster that was! We ordered drinks and then our food choices, but it took nearly an hour for even the drink to arrive, that was with me going to the bar and asking where our drinks were! Our food finally arrive just over an hour later, except it wasn't what we ordered!
The restaurant manager, when we raised a mild complaint just told me, 'well you chose a busy time'!! the restaurant wasn't exactly over full and seriously?? This is supposed to be a 5* hotel and restaurant. He then proceeded to shout at our waitress, loudly, and right beside us. Mouldy fruit at breakfast without so much as an apology and we definitely questioned our choice of hotels for our last stay!
Our last night, we cancelled dinner at the hotel and walked to the local pub where we had a fantastic meal, preceded by a lovely drink outside watching the river flow gently past. If you are in the area, book a table at the Port-na-Craig Inn, you won't be sorry for sure.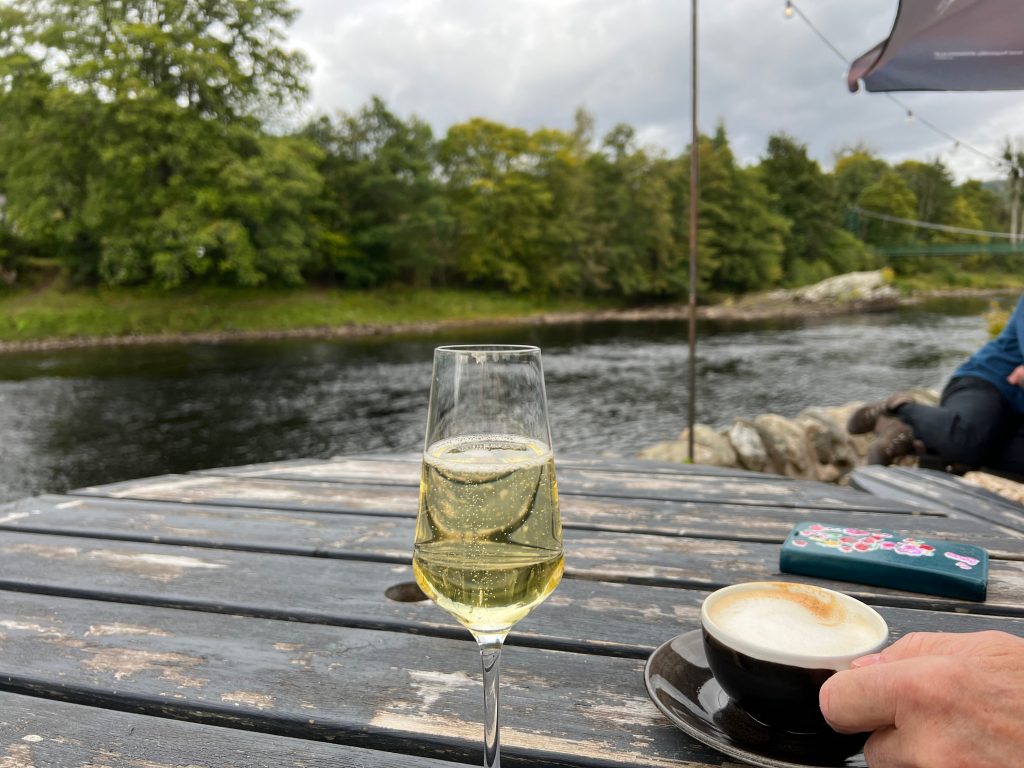 What Was it About the Door?
A curious note, this hotel has the most spectacular door – well the original entrance I think. But they have it blocked off and you enter Fonab Castle sensibly through a side entrance, with an uninspiring desk. You have to ask 'why?'. I didn't take a great photo, but you can see in this one, the arrow to the right is pointing to the current entrance and the arrow to the right is pointing to the original and much more significant entrance.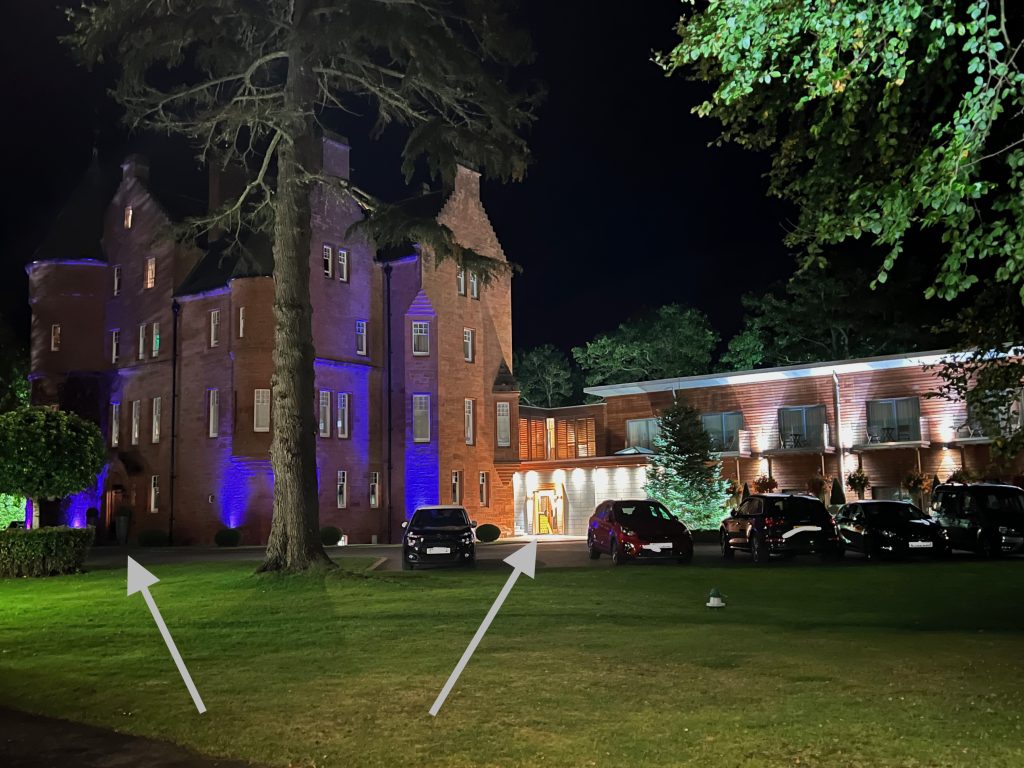 Food Allergy Report: My allergies were handled well at the Fonab, especially considering the tasting dinner. Also no issues at the Port-na-Craig.
Whisky
I love my whisky. Well I am half Scottish, so what do you expect! A lover of smoke and peat in my whisky I wasn't expecting to enjoy the local distillery as much as I did! We could even walk to it, heaven. Very happy sitting at the Mash Ton bar at the Blair Atol distillery. What fun that was and of course I ended up with bottling my own from their cask. Thats tucked away as an investment – hopefully. Such a pretty place and also very friendly one, with knowledgeable staff. Could have stayed all afternoon!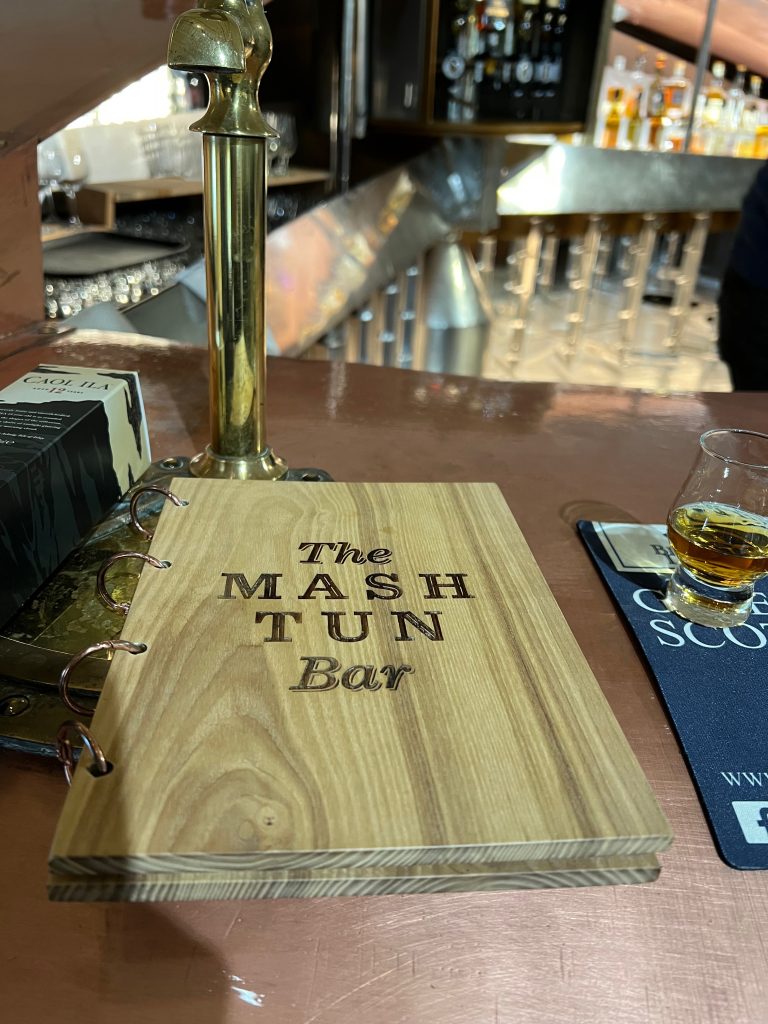 Activities
Stunning scenery, superb walks, fun Pitlochry Dam museum and cafe. What else do you need to know!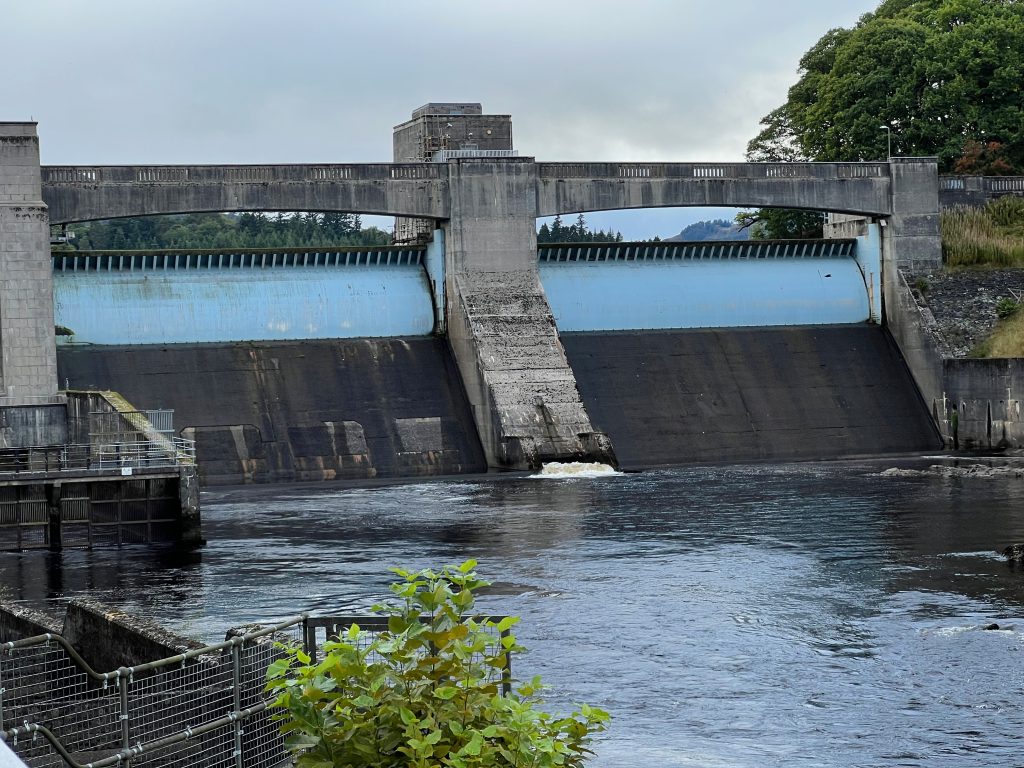 QUICK RECAP:
We like our room at the Fonab
We liked the position, a bit out of the town but an easy walk to a bustling place
Loved the area for walks, nature and whisky and the Dam
Some of the staff were lovely – we think they were going through a major change, that may have been the cause of the issues we had
We would go back to Pitlochry but not this hotel I am afraid