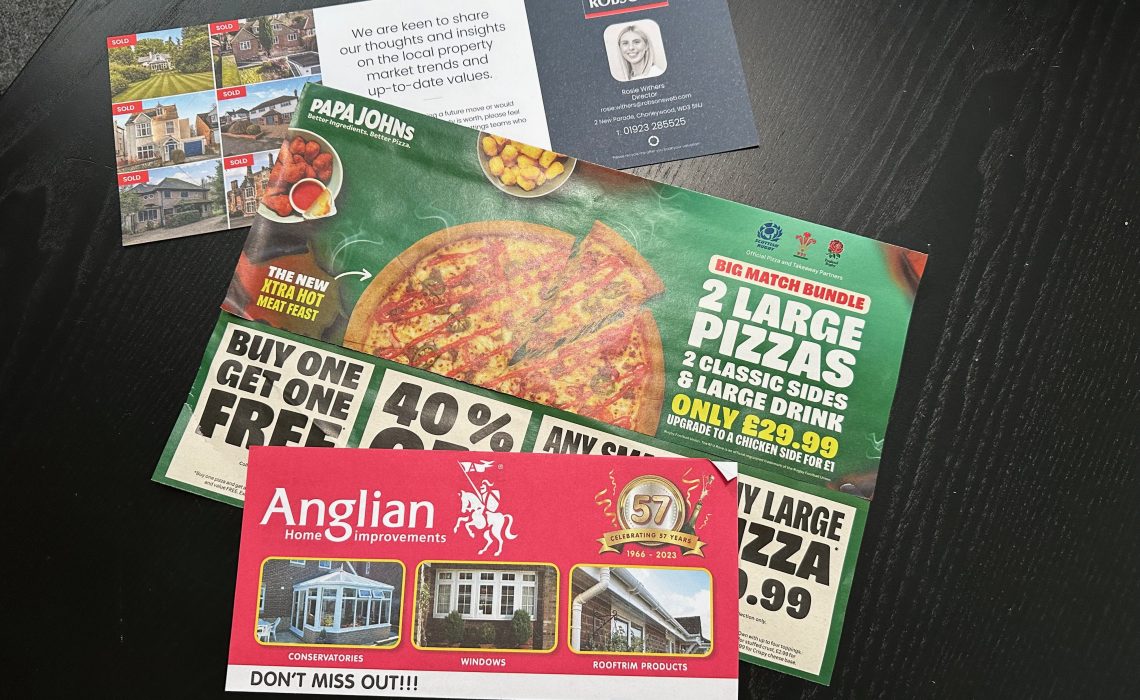 Worst still, you have to register EVERY TWO YEARS to stop it!
Does anyone these days really need a physical piece of paper to order a pizza delivery? Well apparently Papa Johns thinks so. Along with the local estate agent Robsons and Anglian Windows!
We have lovely postmen in Chorleywood, friendly, chatty and helpful. My last conversation though was about about the physical 'junk' mailers that he wanted to give me, along with my package! This is how it went….
My lovely postman knocked on the door to hand me a small parcel… and then handed me three pieces of 'junk mail'. I sighed, loudly!! And we had a conversation that went something like… ' we have to post them through everyone's door and everyone I speak to asks me 'why?' and says they will end up in the recycling bin. I really don't know why we keep doing this'. Except of course, someone – Post Office or Royal Mail? – is paid money to deliver this junk mail, that no one wants, that we all end up putting in the recycling bin.
'Well thats Ok, it's being recycled' I can hear some of you say, but think about all these trees that are being cut down and the carbon released from it back into the atmosphere. In addition, the tree is no longer in situ and capturing carbon – because it's been turned into useless, unwanted junk mail! Plus all of the energy needed to print these flyers.
I recognise that not everyone has smart phones but if you carry out some quick research something like 87% of UK adults own a smartphone, with that reducing to about 69% of over 65's and around 98% of the population are internet users.
In this day of 'Opting In' rather than Out, and GDPR – which I know in essence doesn't apply here because these pieces of junk mail are not personalised – it doesn't seem right that I have to go to the Royal Mail website, download a piece of paper, fill it in and post it back to them in order NOT to receive junk mail for the next two years. Well thats on top of the fact that I didn't want the junk mail in the first place of course! If we have to opt out, there should be an option to do that permanently and it should be a much simpler process. Not many people have printers at home, and there didn't seem to be any other options to stop receiving this junk that is wasting resources.
There is so much in our news and social media about the warming of our planet, the need to reduce our use of precious resources and plant more trees, I want to call out Robsons, Papa Johns and Anglian Windows and ask them to review their marketing strategies as clearly this one…
…IS NOT WORKING FOR ANYONE AND ESPECIALLY NOT FOR OUR PLANET!