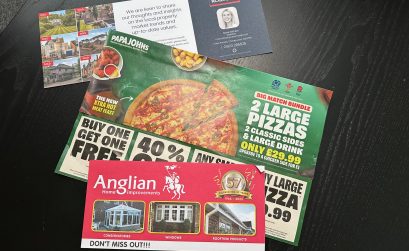 Worst still, you have to register EVERY TWO YEARS to stop it!
Does anyone these days really need a physical piece of paper to order a pizza delivery? Well apparently Papa Johns thinks so. Along with the local estate agent Robsons and Anglian Windows!
We have lovely postmen in Chorleywood, friendly, chatty and helpful. My last conversation though was about about the physical 'junk' mailers that he wanted to give me, along with my package! This is how it went….
Read more