Hertfordshire to Ullswater, Lake District
Find out why some of the most expensive hotels in Scotland aren't always good value. Read up on hotels that have taken action to be more sustainable, and those that still have a way to go. Use the information to help plan your own road trip up the west coast of Scotland.
'THE GOOD, THE BAD, AND THE UGLY'
September is often a glorious month to tour Scotland, maybe not as warm as England, but still decent enough to explore, walk, play golf and less busy. Our trip hung around three things, a specific weekend that our son could join us at Cameron House Hotel at Loch Lomond for whisky and golf, my wish to drive up the west coast plus visit Pitlochry. My Dad used to cycle to Pitlochry from Alva as a 'wee lad' and fish, not with a rod, but by 'tickling' the trout and salmon. Google it! He fell in once and broke his elbow, ouch – cycling home couldn't have been much fun! We planned and booked in April, not nearly early enough to get all of the stays we wanted… which led to the ten hotels in twenty-two days scenario! Mostly 5* hotels, plus two 4* and one 3* – there were some real surprises, not all good!
---
DAY 1 – 3: HOTEL ANOTHER PLACE , THE LAKE (Ullswater) – 'THE GOOD'
First stop 'Another Place'. We picked it for its name firstly, sounded like us! A two night, one full day, stop on the way to Loch Lomond. Having never been to the Lake District, it seemed a good test and we were not disappointed. Superbly located for the views over Ullswater and the fells, with a private lakeshore. We booked a 'Best' room, looked over the lake, and was comfy and spacious with bed, breakfast and dinner as the only option at the time we booked.
Food and Drink
We loved 'The Living Space', the more casual restaurant and coffee plus bar with an outside patio that has to have one of the most scenic vistas in the country.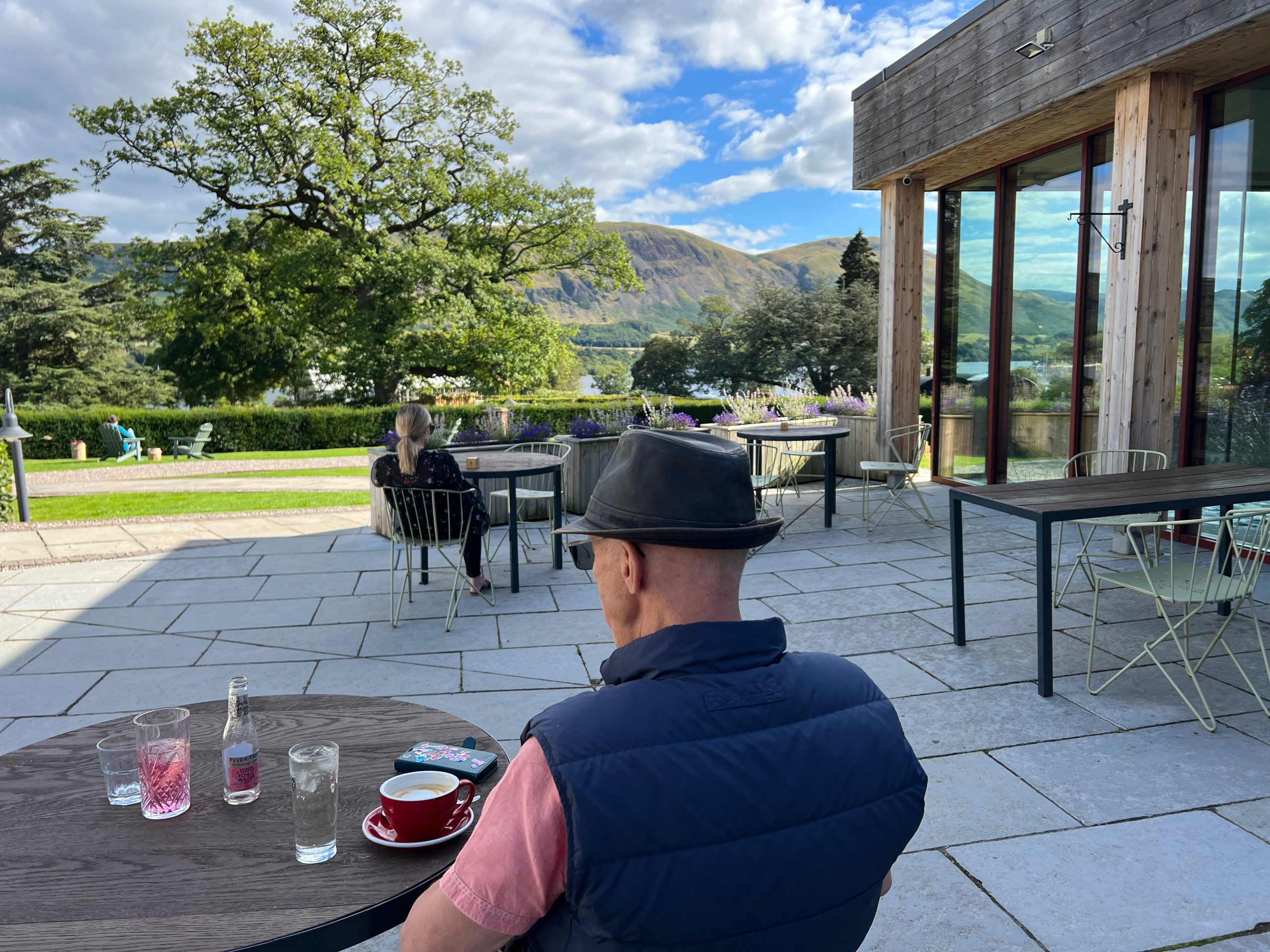 Could have stayed there all day, moving from coffee to Prosecco – well husband on the coffee, me on the Prosecco. Quite a sun trap, perfect stop-over place. Dinner in the Rampsbeck restaurant was good quality. Staff were lovely and its a nice airy restaurant with some good views to be had of the surrounding hills depending on where you were sitting but three courses is too much for us every night, and therefore not good value, when you can really only manage 1 ½ courses! And our preference is for something a bit more 'buzzy' and casual, so moved to 'the Living Space' for the second nights dinner. Next time, would love to try their Glasshouse for a cocktail and pizza, we weren't there on Thursday – Monday when it's open, but Ndjua Sausage pizza is a favourite.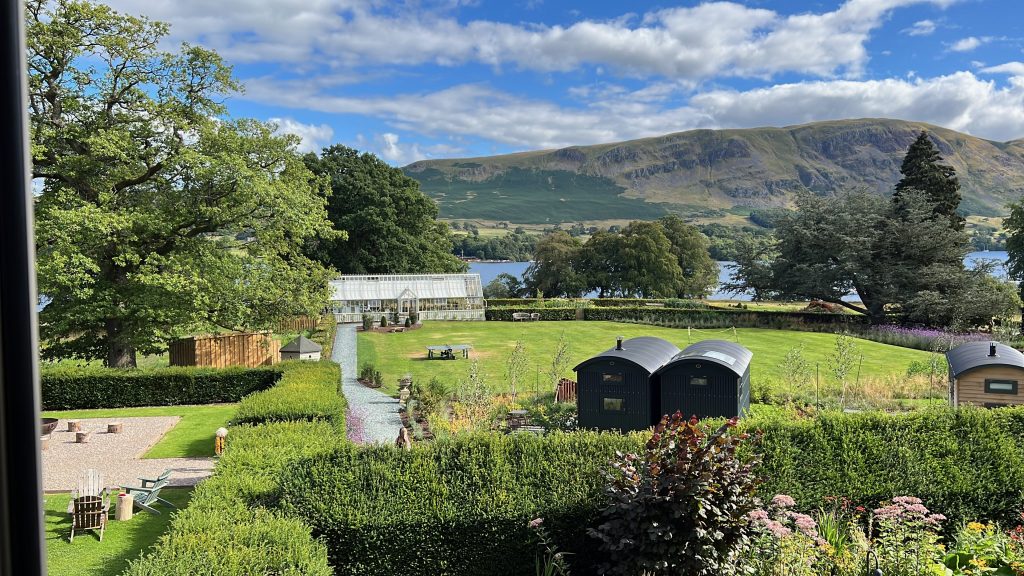 Periodically they hold art and writing classes we learnt – it's certainly an inspiring place for both. Oh and some great art both inside and outside in the garden, am just learning how to paint with watercolours, so gave me some great ideas to try out.
Great walks – if you are a mountain goat!

Hubby Quelch
Great local walks, all different levels – well if you are a mountain goat that is! We chose a route from the hotel leaflet with great views, which ended back at the hotel via a nice local pub with some good natured 'abuse' from the landlord – plus a great pizza for lunch there. So worth a stop at the Brackenrigg Inn. Good Prosecco!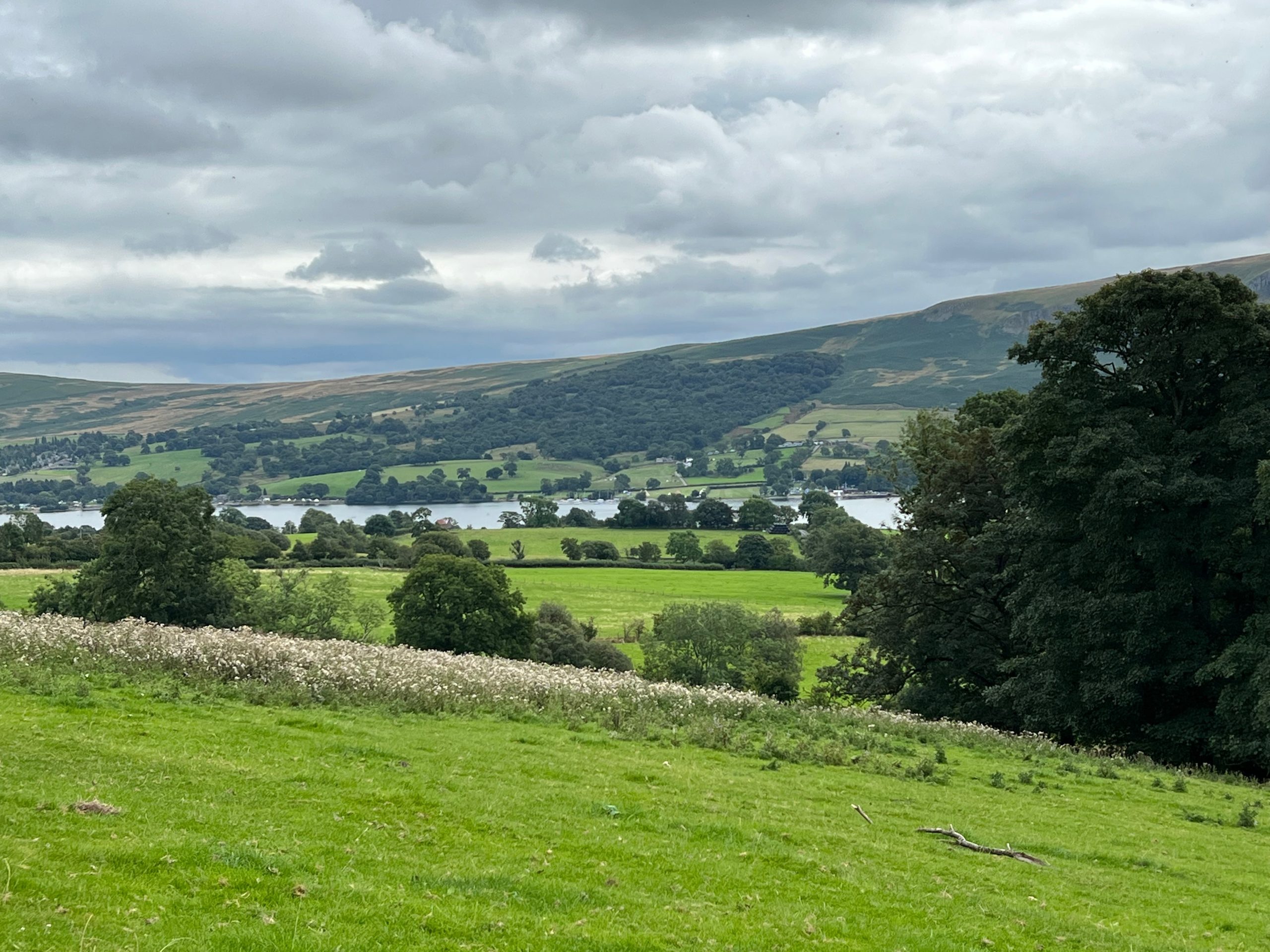 Sustainability
Several best practices at this hotel, that are very noticeable from a guest perspective. Re-usable carafes of filtered water in the fridge, no plastics to be seen. Love the flask in the room so you can take a hot drink with you on walks or lake activities. Refillable bath and body care bottles in rooms, land&water such lovely quality products. Bottles are 100% post-consumer recycled plastic (and are recyclable), UK made with 90% of the packaging from the UK. None of those little plastic bottles of shampoo and conditioner!

With their policy of locally resourced food, almost 100% of their meat is supplied by local farmers and butchers, and many of their team living within the community they appear to be doing more than many hotels I have visited. They benefit from only opening in 2017, so hit the ground running but still have made big improvements since 2019, and reduced their carbon footprint by 250 tonnes per annum, by installing a biomass boiler for heating and hot water, using LED lighting and buying 100% renewable electricity.

Loving their red squirrel conservation work on site – though we sadly didn't see one.
QUICK RECAP:
Good stopover on way to Scotland – short drive from motorway
Great scenery, inspiring views, good position for local activities
Lovely space for casual eating and drinking
Friendly helpful staff and doing their bit for the environment
Good value? It was expensive, though probably not for the area, but worth and it we would definitely go back