Ullswater to Loch Lomond – Scotland, here we come!
Find out why some of the most expensive hotels in Scotland aren't always good value. Read up on hotels that have taken action to be more sustainable, and those that still have a way to go. Use the information to help plan your own road trip up the west coast of Scotland.
'THE GOOD, THE BAD, AND THE UGLY'
Recap from Part 1 of this blog and why we took the trip – or just skip straight to the blog:
September is often a glorious month to tour Scotland, maybe not as warm as England, but still decent enough to explore, walk, play golf and less busy. Our trip hung around three things, a specific weekend that our son could join us at Cameron House Hotel at Loch Lomond for whisky and golf, my wish to drive up the west coast plus visit Pitlochry. My Dad used to cycle to Pitlochry from Alva as a 'wee lad' and fish, not with a rod, but by 'tickling' the trout and salmon. Google it! He fell in once and broke his elbow, ouch – cycling home couldn't have been much fun! We planned and booked in April, not nearly early enough to get all of the stays we wanted… which led to the ten hotels in twenty-two days scenario! Mostly 5* hotels, plus two 4* and one 3* – there were some real surprises, not all good!
---
DAY 3 – 8: CAMERON HOUSE HOTEL, LOCH LOMOND – 'THE GOOD'
Second stop on our trip is one of my favourite places, Loch Lomond. We returned for a 5 night stay at the Cameron House Hotel after such an amazing visit in 2021 just as it re-opened. Located on the south shores of the Loch at Alexandria it's a glorious setting, with sweeping grounds going right down to the water.
Such a warm welcome from the lovely front desk staff, often big burly smiling Scotsmen, in the Cameron House tartan – you definitely know you have arrived in Scotland. It's a fun, buzzy hotel, quite large and expanding with a new wing, but still it feels very personal and the staff, from the bars and restaurants through to guest services, always have time to stop, help and chat.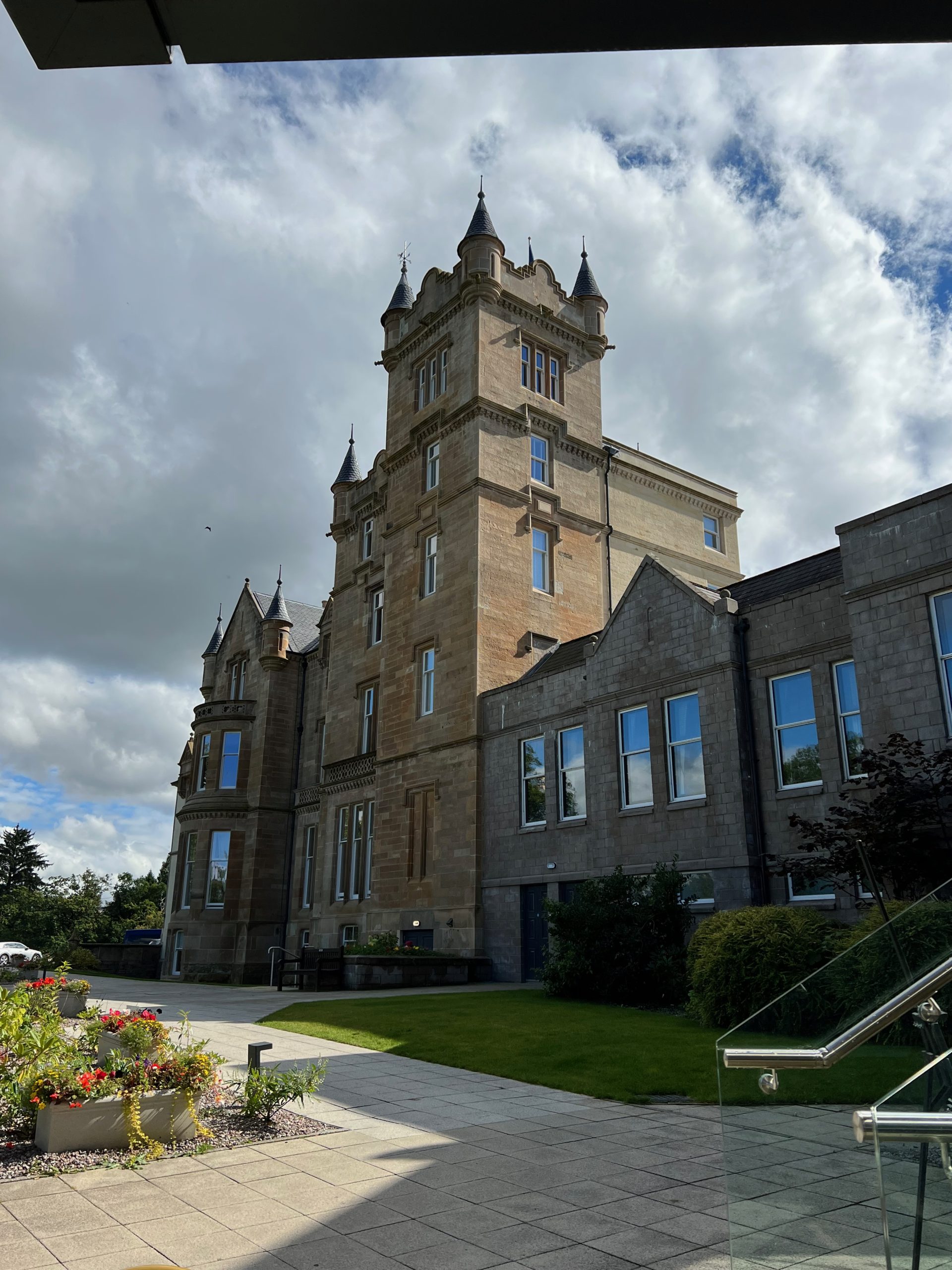 My son joined us for a few of the days, for golf and whisky tasting, which made it extra special. We chose suites in the Auld House – they were beautiful, spacious and luxurious. Small toiletry gifts left on our bed in the evening are always such fun and being Molton Brown, are of good quality.
Canapes anyone?
We loved the hotel's ritual (for the suites) of canapés in your room before dinner and for some suites, a complimentary mini bar. We enjoyed a glass of something bubbly together – champagne mainly this time I am pleased to say – enjoying our suite and the views of the Loch in the evening, catching up on the day.
Golf
We played the Wee Demon course only this time, having not played much this year it suited our current standard of play, and is a testing little course! Very reasonably priced from our perspective and in pretty good condition for a 9 hole course. We didn't find it overly busy, though there were other players on the course. It has narrow fairways and some burns and ponds to make it interesting. The first has a burn, which I inevitably end up in. The second has trees on the left and pond on the right, and its quite narrow between them both. The seventh has an elevated tee to a green with a pond right in front of it and large trees either side, pretty interesting! Thank goodness we had one of those 'retrieve your ball from the water' sticks with us, it got plenty of use. The Carrick is a more serious championship course, 18 holes, in a superb setting by the side of the Loch at the Cameron Spa – working towards that for next time (hopefully!)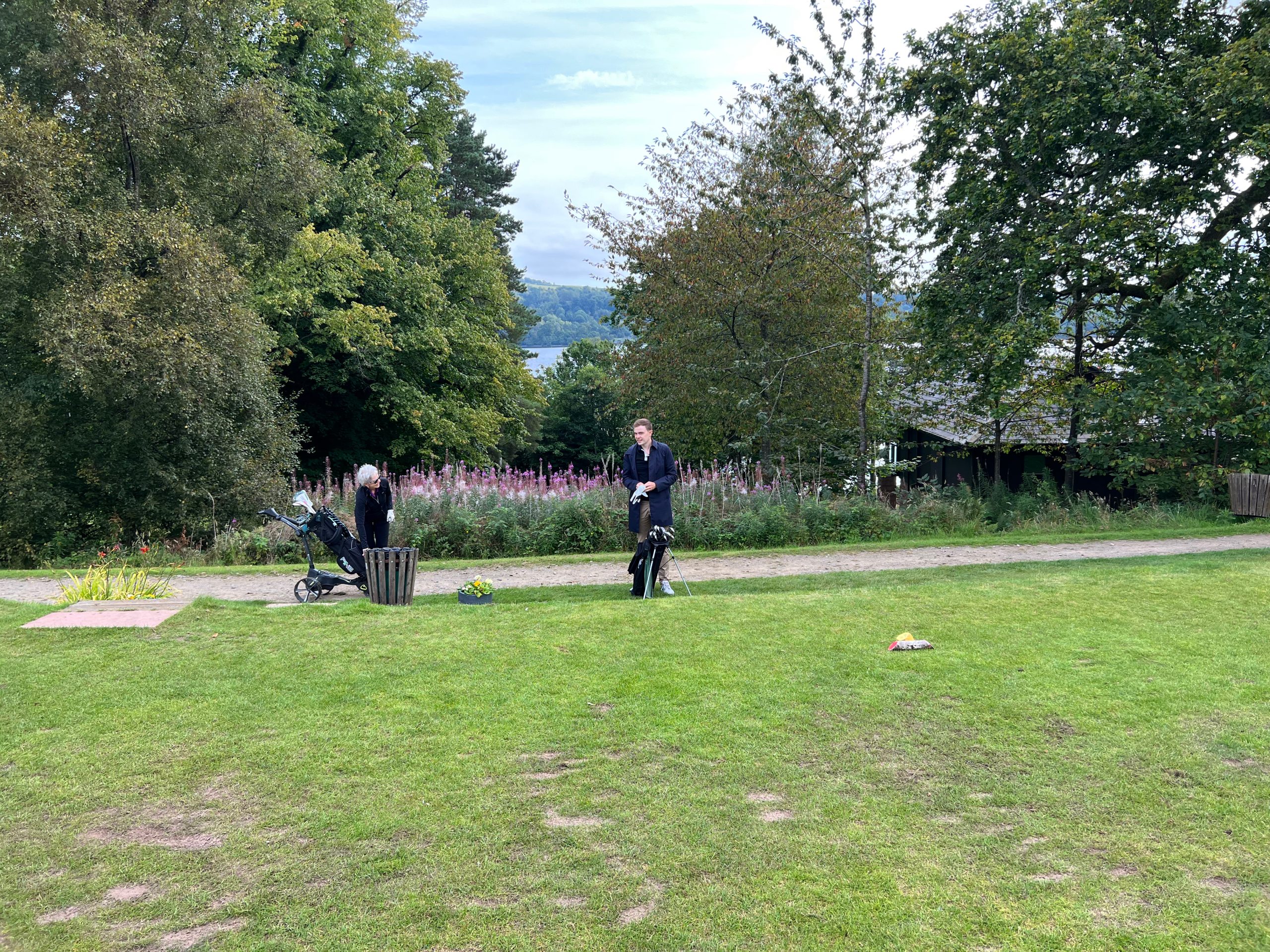 Whisky
Last time we stayed at Cameron House, we got to know Ibon Mendguren, their whisky expert in the Great Scots bar. I learnt so much about whisky from him, tried whiskies I would not have thought to try and enjoyed seeing his passion in action. We were lucky enough to catch him for a similar nights 'education' after dinner with my son, before he left to move on to a new challenge in Glasgow – we wish him luck. We got talking to Tom in the same bar the following night and he shared our passion for the Islay whiskies, recanting many a story and great insight into the distilleries on the Isle of Islay – a visit to that beautiful island is already planned for next year, look out for the blog.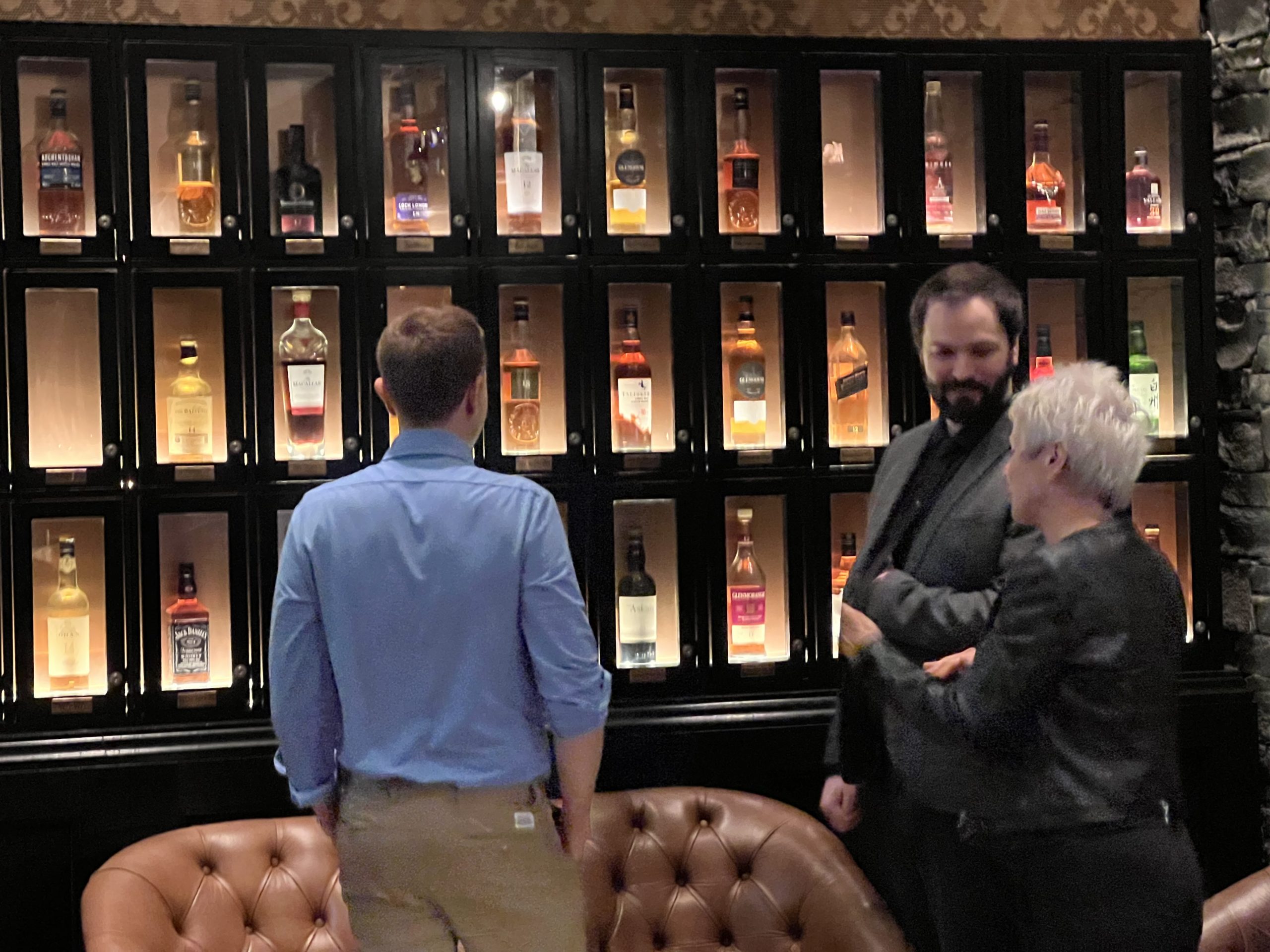 Food and Drink
The Cameron Grill is lovely. More formal than The Boat House, so I get to dress up a little bit, which is always nice!. It is what it is, a grill! But a good selection of steaks, fish, and vegetarian – I loved their Roasted Broccoli Baba Ghanoush. The cheese board was to die for and lots of local cheeses and delivered with knowledge and style, loved it. There is a two course and three course option, and I believe you can have just a single main course too. I have some severe food allergies, and they were very conscientious, so lots of brownie points on this from me. Hubby and son of course had to try the steaks – dry aged, and were perfectly cooked. We had breakfast in this restaurant too, and always had good service, good wines, good food.
We like the Boat House, it's a short walk from the main hotel, which we try to do, but the hotel will run you there and back easily, especially if you're dressed up for the evening and it's raining. It has spectacular views over the marina and is casual but with good honest food and wine, and normally some nice pizza specials. I love that they have Cloudy Bay wines both by the glass and bottle. It's pizza, fish, Scottish Lamb, burgers, steaks and some good vegan and vegetarian dishes. Parmesan and Truffle chips are always a treat and their starters are quite interesting with always a couple of local dishes i.e. Scottish Oysters or Oven roasted Pigeon Breast with Black Pudding, Spinach and Blackberries for example.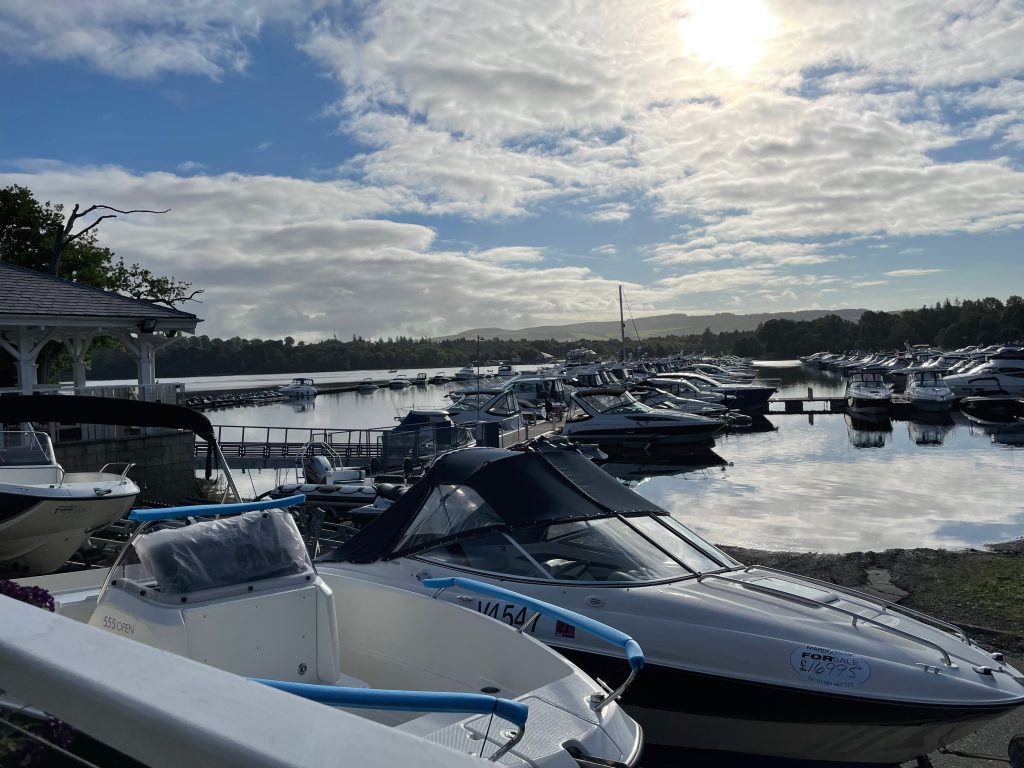 Tamburrini and Wishart had recently re-opened, their fine dining restaurant – we popped our head in and the tasting menu looked really good, including a vegetarian option that didn't seem at all compromised in quality. But we opted for more whisky drinking time on this occasion. Definitely a must for when we return.
Sustainability
Cameron House holds a 'silver' award from Green Tourism and are working towards a gold award. They do a lot of what you would expect i.e. recycle, waste management etc. Where they excel is conserving the natural world around them both around the main hotel, the spa and the Carrick golf course especially. They have bee-hives and plant lots of bee-friendly plants. They have 14 bat boxes and several mini-beast motels and ponds both on and off the golf courses.

They could think about taking one idea from places like Another Place, and the North Lakes Hotel & Spa concerning their plastic bottle usage – guests water in their rooms was all small plastic bottles. They encourage guest recycling, but even in this large hotel, I think there could be another way. Perhaps installing fresh water stations on each floor and giving guests a refillable carafe? May be difficult in the Auld house, but I wonder if this will be different in the new wing they are just opening. We had lovely Molten Brown products in the bathrooms, but these were mainly the small bottles rather than refillable stations, certainly in our suites.

Well advanced on their staff wellbeing programmes though, with Mental Health 'First Aiders' in place, so a qualified team to look after the mental health of their employees. They regularly celebrate their staff both teams and individuals, on platforms like LinkedIn and Instagram, which I really like.
QUICK RECAP:
Buzzy, friendly, luxurious, very helpful staff and beautiful grounds
Great position south of the Loch, with good local activities
Good food, great whisky selection
Advocate for nature, rewilding areas and supporting return of local species
Good value? Its a 5* hotel and delivers a 5* service, good value from our perspective and will return