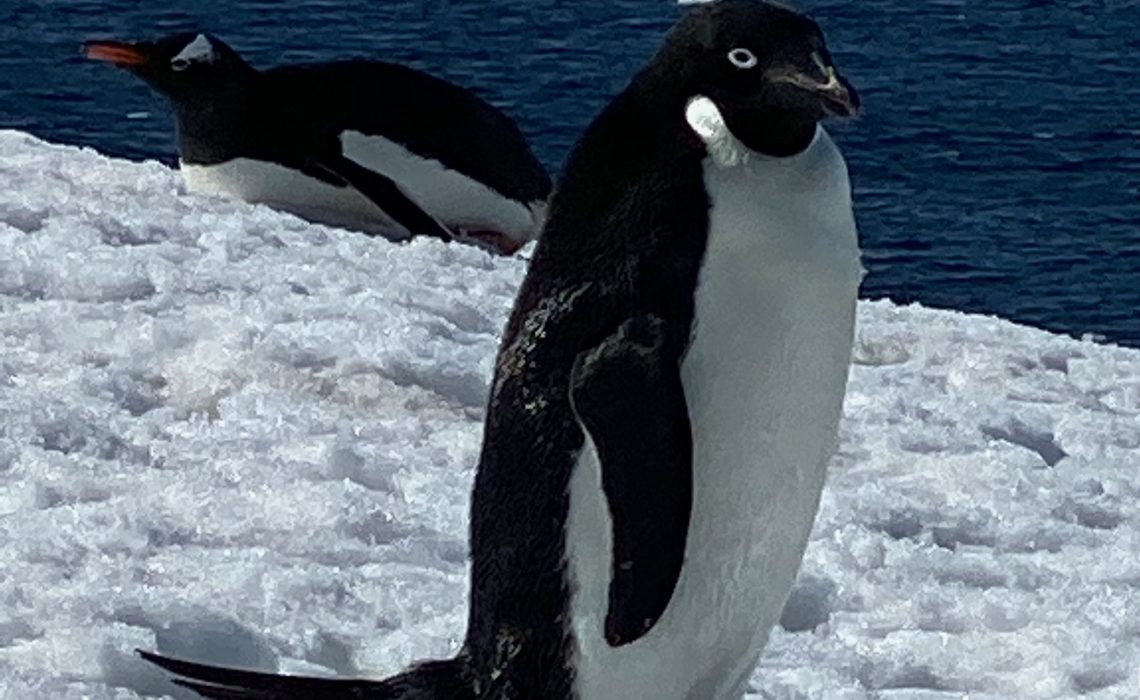 Watch episode 6 of Frozen Planet II and I challenge you not to want to take immediate action to reduce your contribution to warming our planet. The loss of ice at both poles, is already devastating species – I added my tears to those of the scientist returning to where the Adele penguin colonies used to be on the West of Antartica, and are no longer. And was heart broken to see their babies dying due to the rain that now falls on their colonies, instead of the crisp cold their downy coats can cope with.
But what can each individual do? Here are 3 things to start with.
These changes will be good for the planet, your pocket and your health too.
Note: The ideas and products I mention below are the ones we have tried and/or swapped to at home. None of these companies are sponsoring me to include them in this blog. These are not recommendations, but ideas that you might want to try out yourselves.
Cut down or cut out meat and dairy products
Milk Switch: Move to non-dairy milk alternatives such as oat, coconut, soya or nut milks. Our favourite is the Oatly Barista Edition because it froths really well for cappuccino though the Original Oatly works well too. Cooking with their 'Creamy Oat' that you use like single cream and the 'Oatly Fraiche' has worked well for me. Hubby loves the Vanilla Custard, though they admit that they have let some sugar sneak into this product, thats Ok as it's an occasional eat. Their website has some funny video's with recipes where they try out the swaps, so lots of ideas here.
Cheese Switch: Cheese replacement is more of an issue. Through trial and error, we have ended up mainly with the Violife brand. Their Greek White 'feta' substitute and their Epic Mature cheese we like the best and are the most versatile. Great recipes on their website and downloadable cookbooks that are worth checking out.
Meat Switch: Swap meat for lentil and pulse dishes, quormeat replacements such as Quorn products or soya products if that works for you. I just noticed that Quorn are even doing recipe boxes now, available nationwide (UK), a super way to give this a try I would think, and to minimise waste too. Our favourite sausage swap are the Cauldron Foods Lincolnshire sausages – I swear they taste better than the meat kind from our point of view. This article also might help, from Imperial College of London, it has some great facts and figures and reasons behind why you should change your eating habits https://bit.ly/3TAUfrE Now, I am less helpful with recipes for pulses and nuts as I have allergies to most of these, but I can get away with red lentils and chickpeas occasionally. An easy and favourite dish, with added benefit of low cost, is a simple stove top curry using onion, carrots, sweet potato, red peppers, red lentils, coconut milk and your favourite curry spices or curry paste. Leave it to cook until the lentils are soft, make a big batch for the fridge and change it up with brown rice and green beans, or nan bread and mango chutney. Yum!
HINT: START ONE MEAL AT A TIME
A vegetarian or vegan diet isn't totally carbon neutral but it's a heck of a lot lower than if you eat just a normal portion of meat – like two sausages, or a burger – every day. By swapping meat for something else just three days a week will make a difference.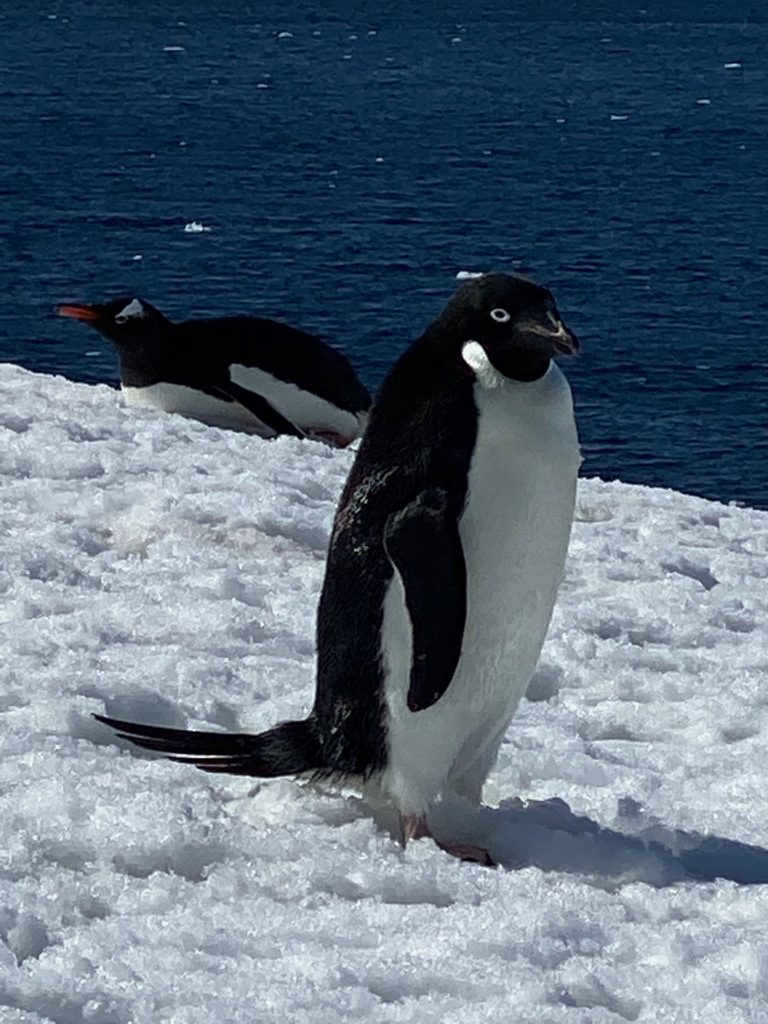 Reduce Plastics in the Home
Cutting down single use plastics in the home has been fairly easy, for example, I used to use clingfilm a lot, which isn't even recyclable in our area, and have no use for it now. BUT, I have not managed to eliminate all plastics especially in my shopping. Here are the things that have worked for me:
Invest in a set or two or three of collapsible Silicone Food Storage Containers. Mine are microwave, oven, fridge and freezer safe. I have all different sizes. They save space, make it easy to put left overs of anything in the fridge saving washing up as they can go straight in the microwave or oven and mean I have avoided using clingfilm for months! Transportable for taking lunch to the office as well.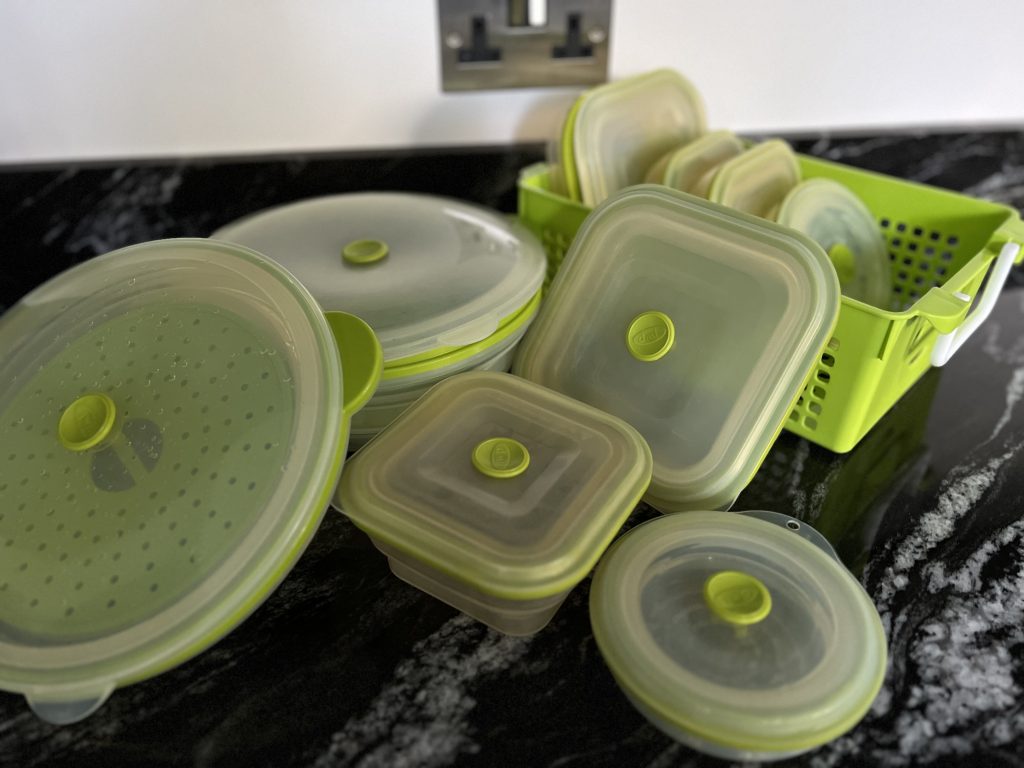 | | |
| --- | --- |
| Kitchenwareonline.com | Am finding it hard to source the JWP food containers you see above in the picture but this website has one listed. |
| Amazon | Lots of different options on Amazon of course. Be careful to check both the price and value and make sure these containers do all that you want them to do. |
| Ikea | A few options at Ikea with their FJARMA range. |
| Lakeland | Lakeland have a couple of options on sizes for the silicon containers, and they are oven safe. They also have quite a few stackable options here too. |
Links to possible products, just to make life easy for you!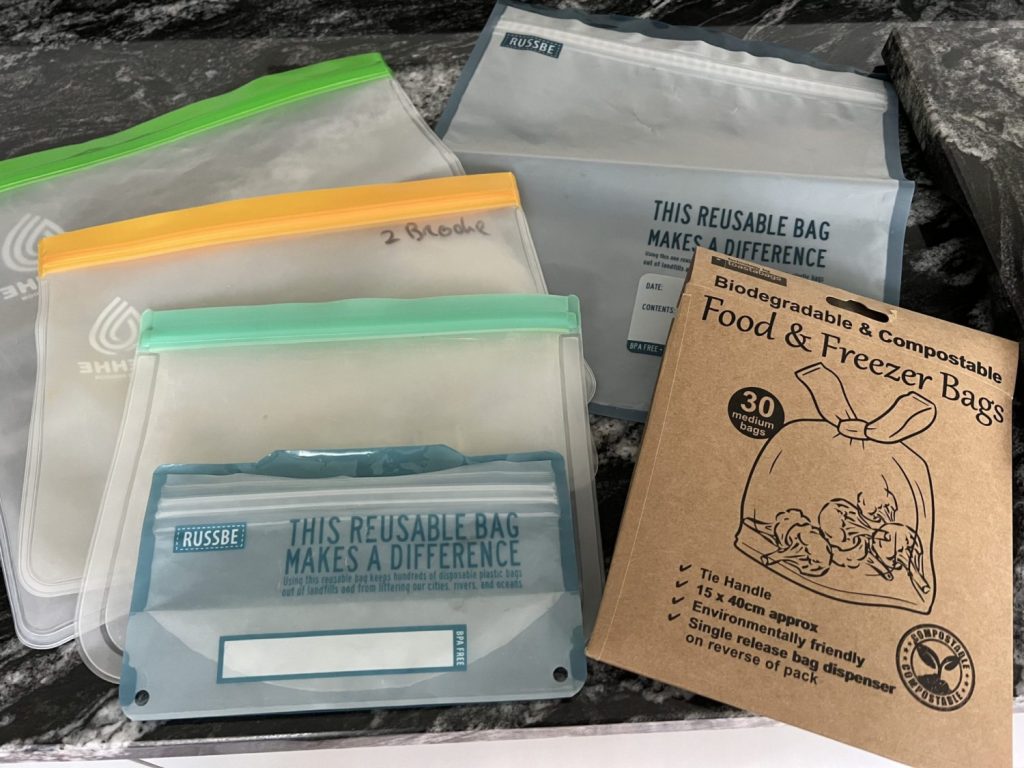 Buy larger items of things that are in plastic containers such as washing liquids, hand soaps, cleaning products etc and refillable if possible. This seems to be much easier if you move to environmentally friendly cleaning and household products. Traditionally, these types of cleaning products have been expensive and didn't actually work very well! I have tried many different products and the only one I am happy with for pretty much all of our household products is BioD. I really love their Rosemary & Thyme hand wash and buy the large 5 litre bottle and then top up all of the soap dispensers in the house. Their Lavender non-Bio laundry liquid and fabric conditioner is my favourite of that range and works well for most of my washing. I have to admit to keeping some biological liquid for the odd occasion. Give them a try, the online shopping service is great and they are increasing stockists around the country where you can take your containers in and get them refilled! BRILLIANT.
Move to Fruit and Vegetable boxes to reduce packaging – as well as 'air miles', emissions and food waste! Quite a few choices, so take a look at the 'Food Waste' section below for some options.
BioD are a UK manufacturer, are B Corp certified which means they meet the highest sustainability standards, plant based naturally derived products, with bottles made from 100% recycled plastic

BioD
It goes without saying, recycle as much plastics as you can through your council curb recycling. If you can, try not to buy drinks in plastic bottles – I make our smoothies (though I have the time, so easy to do), and they keep in the fridge for several days and for health reasons I would never drink fizzy drinks.
Food Waste
Big subject! Easier said than done but 'BUY AND COOK ONLY WHAT YOU NEED'. Why? According to this report by WRAP (Waste and Resources Action Programme), which was based on studies conducted 2013 to 2016 in the UK, we buy about 41 million tonnes of food each year, with 10 million tonnes wasted. 71% of that 10 million tonnes comes from households!!!
Collectively if everyone could only buy and cook what they need, the positive impact on the planet – climate, water, land, biodiversity – would be significant. Read this report produced by the FAO (Food and Agriculture Organisation of the United Nations), written in 2017, on our food wastage footprint. Well at least read the Executive Summary!
How to implement this? Here are some suggestions:
Write a menu for the week (or ahead of each shop or food delivery).

I use 'notes' on my MacBook and simply write a quick plan, and create my shopping list out of this.

If you shop online, book two slots in the week, as long as you can pick 'green' delivery slots or the supermarket of your choice has electric vehicles. I have found I don't over buy so much with two shops in the week rather than one.
Keep leftovers and be prepared for a 'leftovers' night where you might be eating different meals! Or make it into a 'tapas' night with lots of different small 'left-over' dishes. Use your leftovers to make new meals. BBC Good Food have a whole section of recipes as do Love Food, Hate Waste.
Buy fruit and vegetable boxes. Often organic produce, local, seasonal and with little or no plastic. Many come with recipe cards to help you minimise waste. All good plusses! I like the concept of Oddbox but they don't deliver to my area yet. Riverford are great for organics and their range now includes meat, dairy and recipe boxes too plus they collect and reuse the packaging. Planet Organic have a super expanded range not just food and drink, which includes vegetable and fruit boxes, but a whole 'sustainable living' section as well as Vegan, Gluten Free and Keto selections. Abel&Cole are another to consider, again a little more than just fruit and vegetables on offer here.
Consider recipe boxes for at least part of the week. They might be a useful way to 're-train' to buy and cook less food. Again, there are plenty of options, some more 'sustainable' than others and some 'healthier' than others but all of them delivering the exact ingredients for zero food waste. Mindful Chef is high on the list in that it's both healthy, they have 1 person options and I like that they donate a meal to a child in poverty for every one purchased. HelloFresh is worth considering, with a focus again on delivering zero food waste and they work on their packaging being recyclable . They have a good range of meals, but I would want to supplement them with additional vegetables. Guosto has 'carbon cutting cuisine' meals, so plant based, meat-free (some fish) options and I like they have 'oven free' feasts too. Our favourite, only because the hubby loves pasta, is Pasta Evangelists. Fresh pasta and super sauces – all able to be frozen and very sustainable packaging.
My Favourite Banana Bread Recipe: Don't waste those brown bananas
Recipe from NIRVANA bakery I replace the walnuts with ground pumpkin seeds and often add raisins or goji berries. Enjoy!