Love it or hate it, Christmas dinner is definitely a thing! Eating out Christmas Day is typically expensive in the UK, and not always good value. And what about that staff that have to work that day? Being in Lanzarote for Christmas presented an opportunity to do something different, something special and compare it to the traditional turkey dinner at home or the local pub. Was it worth it? Was it good value? Did it meet our expectations for a special celebratory meal? Well ……
It's hard to describe Lanzarote – it's not the ultimate in luxury, but the food is of a good standard in every restaurant, and it's so 'easy' to be there. The Spanish do hospitality well, with fun and good humour, well mostly…
Lanzarote is typically relaxed when it comes to Christmas Day. Christmas Eve is traditionally a family celebratory dinner in Spain, with 6th January Epiphany, a public holiday when most Christmas presents are exchanged. Many of the restaurants in Playa Blanca where we had our villa, opened by 11 am Christmas Day, so coffee and brunch were easily available in the sun, watching the waves crashing in after a brisk walk along the sea front.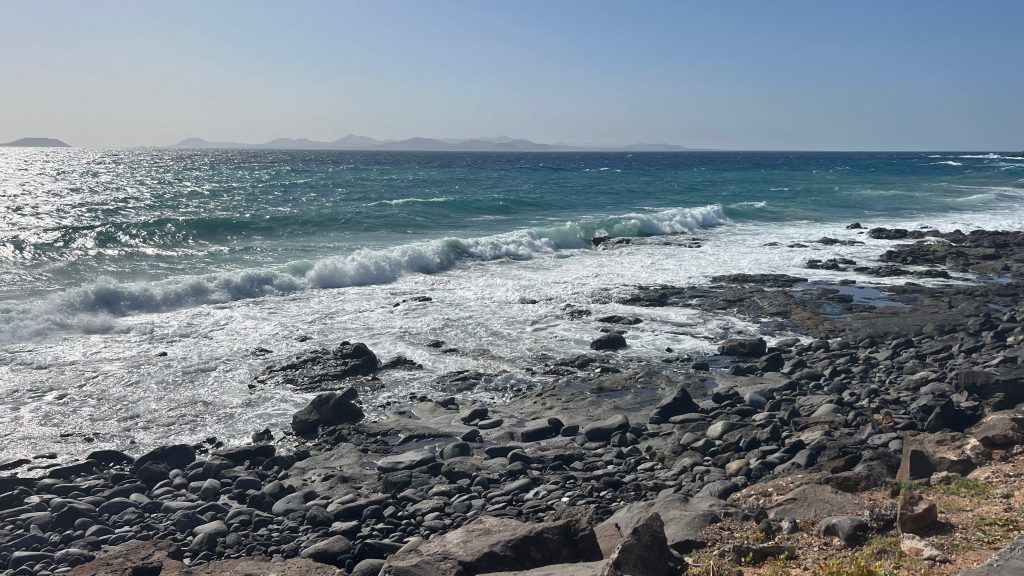 We toyed with the idea of a chilled Christmas Day BBQ at our villa, but wanted something special.
Last year we discovered the Kamezi Bistro. Located west of Playa Blanca, towards the lighthouse, an area of luxury villas and an upmarket bistro with beautiful 'caves' facing the sea with tapas that is very different to the norm on this lovely island. Early January 2022 we had a perfect, informative and exquisite tapas meal with wine pairing there. With some severe food allergies, nuts and shellfish, the Kamezi chefs produced substitutes that didn't detract from this unique tapas menu, bearing in mind the relatively high cost. When their website showed a special evening tasting dinner menu for Christmas Day I didn't hesitate to book it!
We had high expectations, dressed for the occasion, and arrived for dinner at 8pm. A welcome cocktail outside in the 'caves' kicked off our evening – though the live musicians weren't the best and the wet cushions on the seating resulting in wet bums, didn't go down too well with the guests posh frocks! An hour or so later, no additional cocktails or canapes had appeared, nor an invite to head in for dinner – I was 'hangry'!
Was one sitting of all the guests too ambitious for this small restaurant?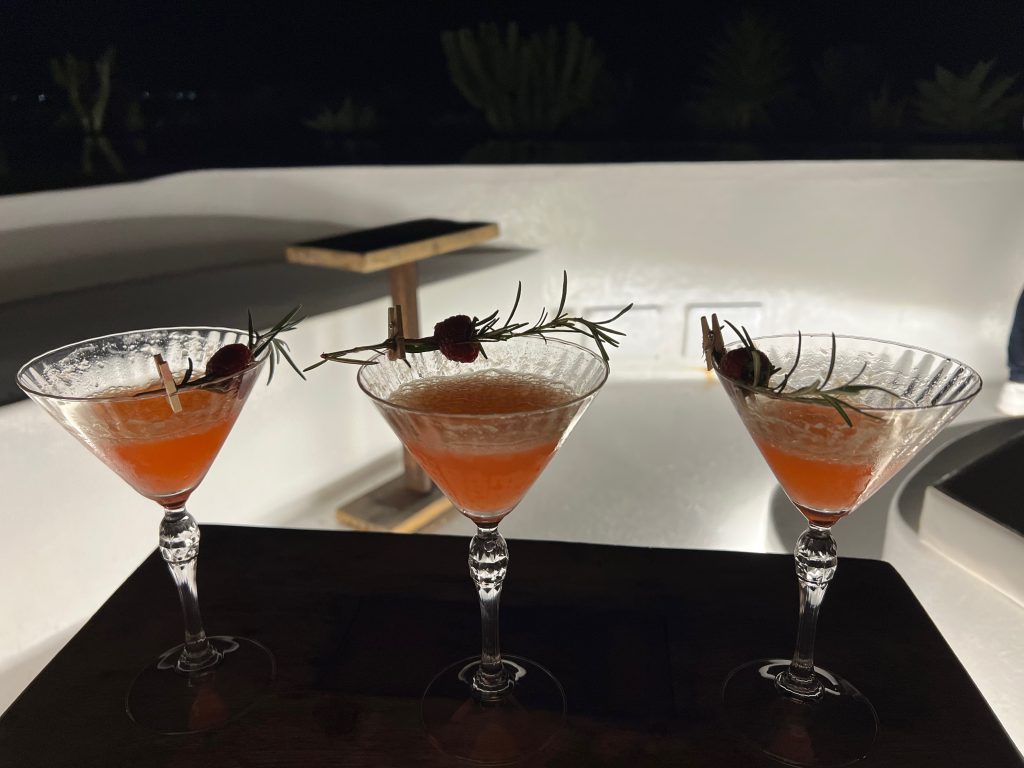 A menu was supplied with our name at the top, but didn't list the substitutes for our allergies. The first four tapas with a wine pairing slowly appeared. We asked our somewhat straight faced waiter what we were eating, to be told 'look at your menu' – which of course, was not adapted for our allergy free tapas. Two of the three of us didn't know what we were eating! There was little to no explanation of the delicious and obviously carefully prepared unique, often local, food which definitely detracted from the occasion. At this point we felt more of a hindrance than welcome guests at a special event! Our waiter definitely did not want to be there serving us that day.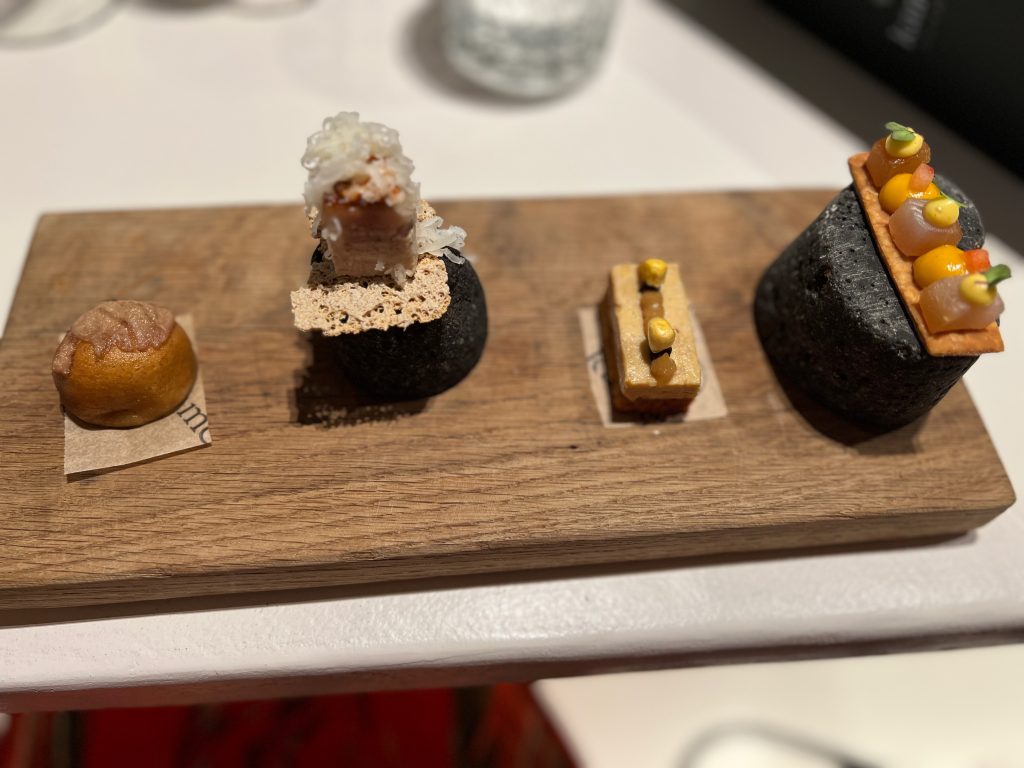 Food Allergy Note: Kamezi Bistro were very conscientious when it came to my allergies. They made good substitutes, that didn't detract from the meal, and I felt in very safe hands at all times.
The wine waiter was much more fun, giving us good explanations of the local wines, which were delicious and generously served. Thumbs up here!
Ambiance? Awful doesn't describe it. Loud, ill-considered Christmas playlist, on repeat, that did not match the evening or the clientele. Seriously, no-one thought that through properly.
Summary: The food was delicious, unique tapas, carefully prepared and presented, encompassing local produce from the island, which we like to support. Beautiful place, decor and location. Generally staff are very welcoming and friendly. Our Observations: If you are going to open what is aiming to be a top class restaurant on Christmas Day, make sure the staff are FULLY ENGAGED, the negative effect will definitely lose customers. Contingency needed if your chef's are not ready to deliver on time – some canapés and another cocktail, or the initial champagne should have been offered. Would we go back there? It's an experience that makes it doubtful, either to eat or stay in a villa, which we were considering. Everything needs to be spot on to command these prices and offer the 'value' that would make us return.
Next year, if in Lanzarote, Christmas Day we choose the BBQ!