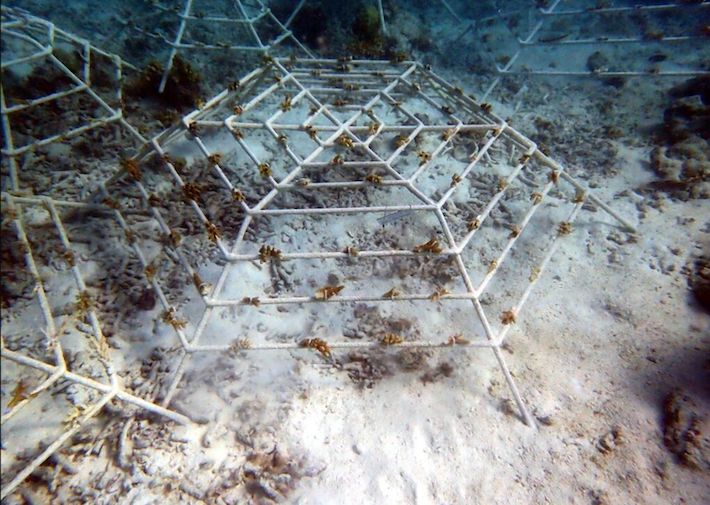 Remember the very successful Charity Auction in July for both South Georgia Heritage Trust (SGHT) and the UK Antarctica Heritage Trust (UKAHT)? There were some fabulous donations and some surprising ones – Four Seasons Maldives kindly donated 5 large Coral Frames to the auction! What's the link? It's kind of like connecting the dots – except with oceans instead! The Indian Ocean and the Southern Ocean to be precise, they are joined – get out a map and check it out. But still the SGHT Team and Four Seasons 'ummed and ahhed' over whether the 'ocean restoration and conservation' association between these two distant places would result in auction bids for the frames. It did!
Curiosity got the better of me and I wanted to know the stories behind the like-minded people who successfully bid on the coral frames. Fortunately, they both agreed to let me share some insights….
Following trips to Antarctica and for one of the two ladies, a stop at South Georgia too, both have continued to support this area such as they can. Their love of nature, wildlife, our planet, as well as their concern for the climate changes that are affecting it, are clear.
'My Legacy To The Planet' – Anne Hobbs
Anne joined UKAHT after her Antarctica visit December 2019 – same year as me! One of the trip highlights was an overnight camp at Damoy Point, close to Port Lockroy where UKAHT are based, a small group of 30 of the passengers and crew. Back in London she recently attended their celebration marking 30 years of heritage conservation and Port Lockroy's 80th birthday.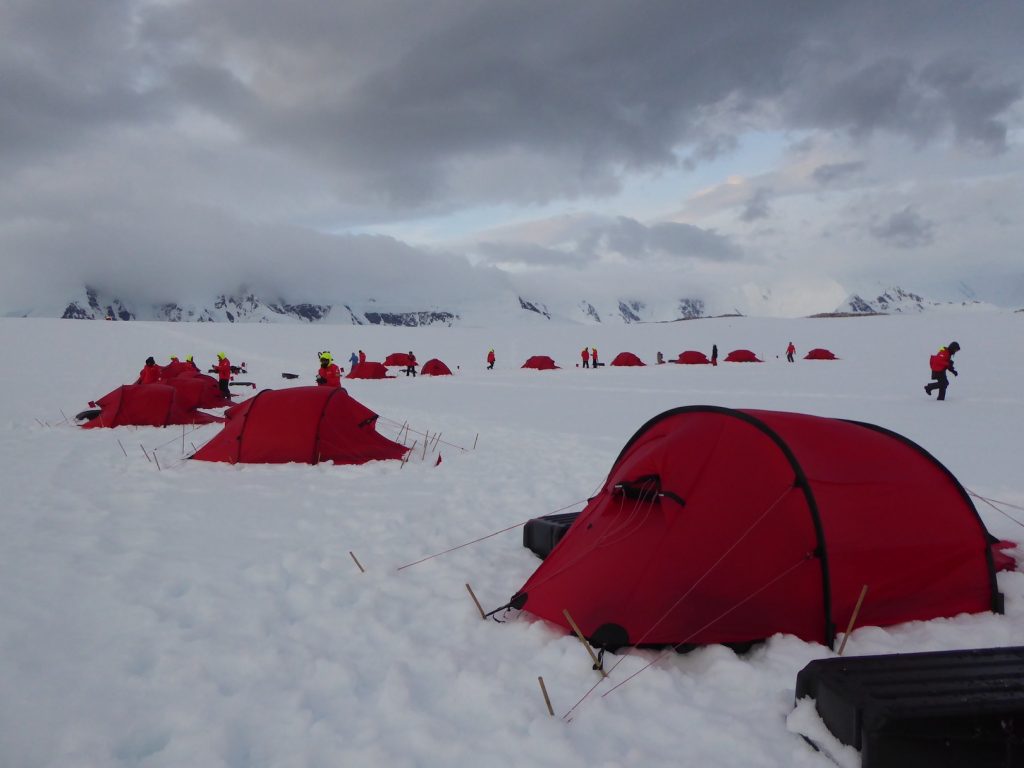 Anne told me how pleased she was to secure a coral frame at Landaa Giraavaru in the auction, as cleaning up and restoring the oceans has been a concern of hers since SCUBA diving on the Great Barrier Reef in 2013. (Coral Frame photo = Anne's frame in situ). Despite not visiting the Maldives – well not yet! – she is a firm believer that the coral reefs need restoring and protecting. Reading some of her notes to me, this next statement leads me to believe that fortunately she is a person much more focussed on 'experiences' than 'things' and the coral frame fitted perfectly into this category:
I also prefer to bid for items that don't require dusting!

Anne
Closer to home, she is a lifetime member of Butterfly Conservation UK – perfectly placed in the New Forest, she helps to count our butterflies 6 months of the year.
A now retired consultant psychiatrist and sadly widowed 13 years ago, this was a gift to herself and the planet to mark her 70th birthday early in 2024. What an amazing gift to give – the best of legacies.
*******
'… a Positive Step to Bring to Our Attention to the Work Being Done to Preserve Coral' – Annette Collinge
Finding the Maldivian Coral Frame's in the auction was '… rather an anomaly amongst so many Antarctic based lots but I felt they represented further evidence of the detrimental effect of climate change and human intervention on God's world.' The anomaly didn't deter her from securing 4 Coral Frames.
With her South Georgia and Antarctica 'Land of Heroes' trip of 2022 fresh in her mind, the juxtaposition of seeing close up the effect of climate change – receding glaciers, failed sea-bird nests sites due to the warmer weather causing snow instead of the required bare rock – coupled with the magnificent whales, charming penguins and the most endearing baby fur seals still brings tears to Annettes eyes.
… all around me the amazing scenery and colours of Antarctica. Then there were the whaling stations at the same time awful but majestic in their rustiness. It was a very emotional experience…

Annette
As a mixed media textile artist she has been positively influenced by this visit, coming home full of ideas she can express through her work, some of which she has now completed. This is one of Annette's mixed media pieces which reflect her concerns for the effects of global warming on Antarctica. She has used painted papers and fabrics with found sticks and some hand stitching, to portray the colours of Antarctica against a background of heat. Very powerful imagery…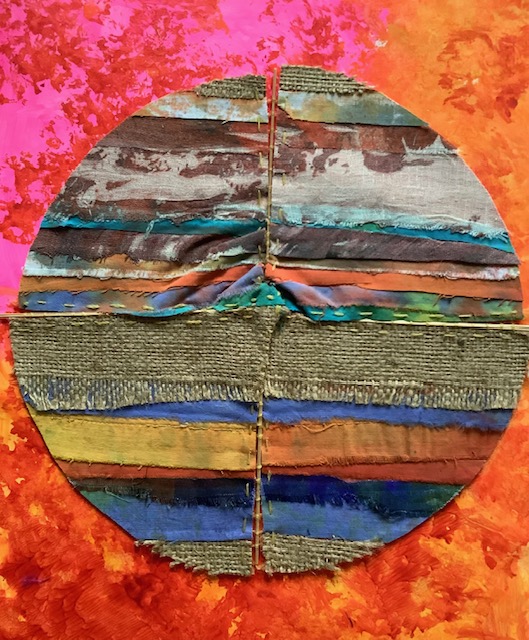 Annette expressed that the experience and memories will live with her for the rest of her life. 'Life changing' readily trips off the tongue for many.
Enthused by what she experienced, the research work, preservation of historic structures and the emphasis on Polar exploration history, Annette was delighted to support SGHT and UKAHT through the auction. Dedicating the frames to her two grandchildren, her great nephew and herself gives a gift of longevity and passes on her love of our planet to the next generation.
Tourism in South Georgia and Antarctica
Many of us that visit this region then subsequently question doing so. We leave a footprint, however careful we and the tour operators are, and impact further this precious environment, which is seemingly on the cusp of collapse. Annette shared her thoughts and concerns many of which I share.
Of course it's so important to tell the world about Antarctica and the research that is a valuable constant to our understanding of how our planet is reacting to climate changes, creating new ambassadors hopefully through every trip to the region to spread the word. However, there are bound to be ways to minimise further the impact of tourism in this area without taking away from the experience. Perhaps eliminating the larger ships visiting the area – the 'sight seeing' trips where there are no landings. What value do they bring to the area or the participants? What about minimising any digging out of tracks in the snow for visitors to follow and finding another way to safely land and move around that is less invasive? Is kayaking and the polar plunge really necessary? Would eliminating these activities make a difference?
As a former microbiologist specialising in fungi, despite the vigorous precautions taken to prevent taking unwanted species on land during these visits, Annette is aware how easily mould spores can travel and with the rise in global temperatures, it's inevitable these will reach Antarctica.
…it is important to preserve the amazing history of polar exploration and of even more importance to try and diminish the effects of climate change but surely by the physical presence of humans on this land which belongs to the penguins, seals, whales and sea birds, it is inevitable that unwanted species are going to appear.

Annette
You Can Give Amazing Gifts Too – Here is How
We all have gifts to give, big and small, and supporting SGHT and UKAHT for example through their online shops, however small that purchase is, can go some way towards conservation programmes and historical restoration and preservation carried out by these two trusts. Give it a go!
South Georgia Heritage Trust Online Shop LINK
UKAntarctica Heritage Trust Online Shop LINK
If you like this blog, then please 'Subscribe' to get occasional alerts on my new blogs. You will find the subscribe button on the top right hand side of the home page. Thank you!.