Loch Lomond – Isle of Eriska, Crannog hunting!
Find out why some of the most expensive hotels in Scotland aren't always good value. Read up on hotels that have taken action to be more sustainable, and those that still have a way to go. Use the information to help plan your own road trip up the west coast of Scotland.
'THE GOOD, THE BAD, AND THE UGLY'
Recap from Part 1 of this blog and why we took the trip – or just skip straight to the blog:
September is often a glorious month to tour Scotland, maybe not as warm as England, but still decent enough to explore, walk, play golf and less busy. Our trip hung around three things, a specific weekend that our son could join us at Cameron House Hotel at Loch Lomond for whisky and golf, my wish to drive up the west coast plus visit Pitlochry. My Dad used to cycle to Pitlochry from Alva as a 'wee lad' and fish, not with a rod, but by 'tickling' the trout and salmon. Google it! He fell in once and broke his elbow, ouch – cycling home couldn't have been much fun! We planned and booked in April, not nearly early enough to get all of the stays we wanted… which led to the ten hotels in twenty-two days scenario! Mostly 5* hotels, plus two 4* and one 3* – there were some real surprises, not all good!
---
DAY 8 – 10: ISLE OF ERISKA HOTEL AND SPA RESORT – 'THE BAD'
Who can resist a castle, on its own private island accessed by a bridge over a loch!!  We had high hopes for the Isle of Eriska.  Setting looked absolutely beautiful, near Oban, less than two hours drive from our previous stay at Cameron House, perfect. Surrounded by water, overlooking Loch Linnhe at the mouth of Loch Creran what a wonderful setting for a spot of golf on its small golf course!  On booking, we could only secure a 'spa suite' room, not the main house, but settled for that and decided to book the tasting menu in the main house on one night.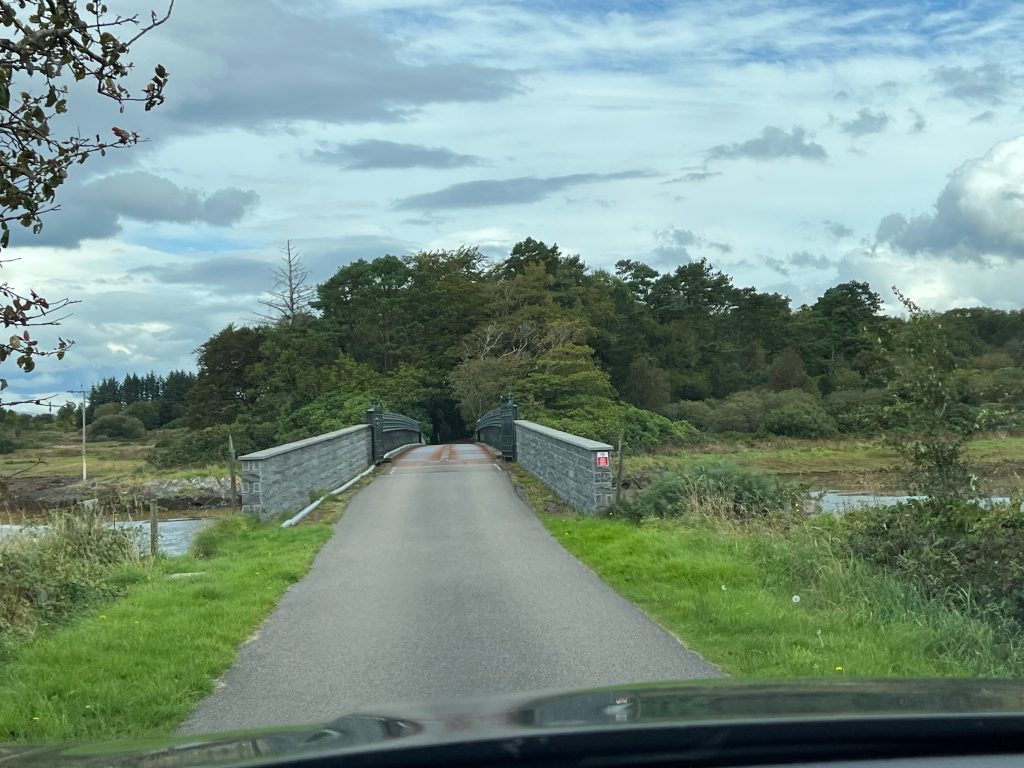 Its a pretty road, down back lanes to reach Isle of Eriska, finally approaching the bridge, over the water and a gorgeous view of the main house.  Part of the ICMI group, we were expecting a spectacular stay but just before arriving, I had read that their Michelin starred chef had left and as we had a tasting menu booked at our one night stay at Inverlochy Castle, we decided to change the booking, reserving a table at 'The Deck' instead. 
The main house is traditional, old style furnishings that suit the building, with a spectacular staircase and lovely welcoming fireplace.  We had a quick lunch in the library, after rain stopped us being outside.  Food was good, generous portions and staff were very welcoming and friendly. Dreadful music though!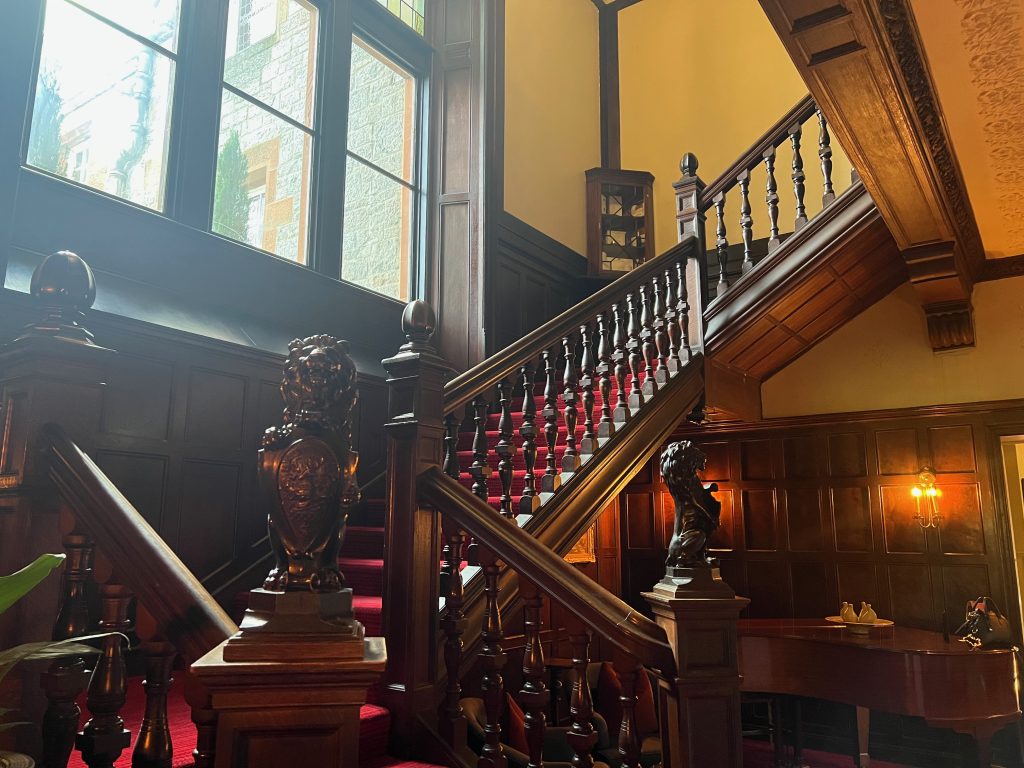 A hotel in decline….
Accommodation
Our spa suite was spacious but really not what we expected of a 5* resort. The furnishings could be said to be 'traditional' Scottish but actually looked dated, more 1970's.
Where they really let us down was the bathroom.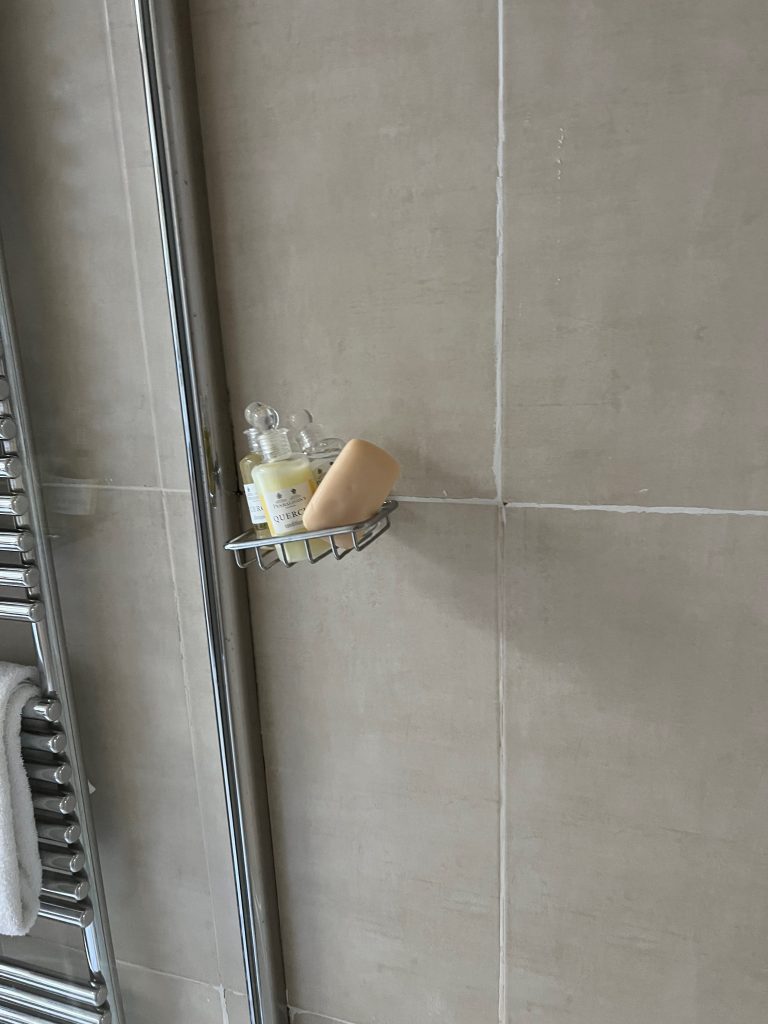 Seriously???
The Cupboard was bare
After the luxury of Cameron House, with lovely biscuits, minibar and nightly canapés, the cupboard was bare at Eriska! Tea and coffee were provided, though the chipped storage jars for these items seemed negligent – so easily replaced and gave the totally wrong impression. That was it! Not a biscuit or welcome drink in sight.
Dining
Dinner at The Deck was nice enough – though not exceptional. Staff were professional and friendly creating a pleasant atmosphere, helped by our connecting with a lovely couple from Germany who joined us for dinner. A nice whisky in front of the fire completed our evening.
Food Allergy Report: The staff were very conscientious and took my allergies (peanuts, tree nuts and shellfish) very seriously adapting a dish for me. Felt very safe eating in their restaurants. As it's a small hotel, we became familiar to the staff which made this aspect pretty easy whether it was breakfast or dinner.
Activities
A beach walk to test your orienteering skills!

Hubby
With the tide out the next morning, we explored, and tried to follow one of the foot paths around the island to hopefully see the ancient crannog, now a sea-weeded stony mound about 20 metres wide. A crannog is an artificial island over water, usually with a causeway connecting it to the shore, typically Iron Age. It was a difficult walk, to say the least. Parts on the shore itself, over boulders and stones. Not marked particularly well, we got lost and couldn't find the route back – but we found the crannog!
Walking along the shore was tricky in parts, but the path seemed to disappear so not really any choice

Heron, fishing while the tide is out

The Crannog – or what's left of it after it was not sympathetically excavated in 1800's
Golf
After a brief walk round the now six holes, and a chat with the gardener, our conclusion was this was not a playable course! The advice we were given was if we wanted to have a go, we should go get balls from the spa shop, as we were bound to loose lots. It was badly maintained, despite the gardener's attempt. Two of the holes looked nigh impossible, even if you were an excellent player! Annoyingly, we asked for balls but they wanted to charge us for them. We declined.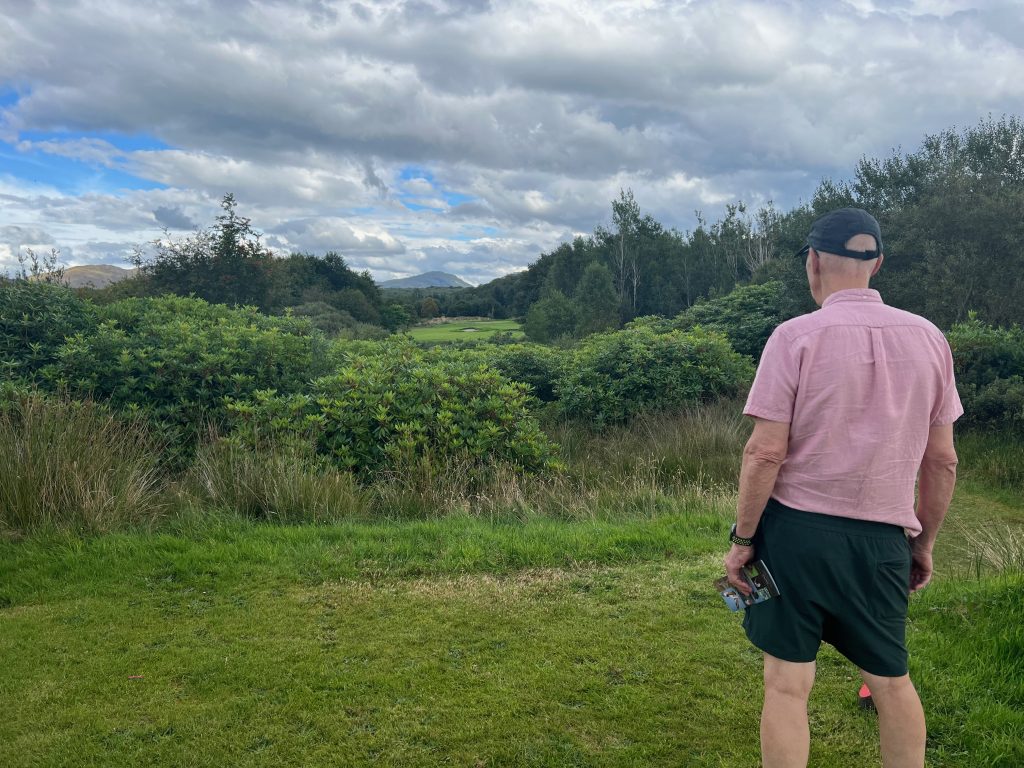 Sustainability
Beautiful location, with much wild land for nature. We didn't see any red deer on our walks but there are definitely signs of them on the island. Talking to the grounds man/gardener, who was just lovely, we felt his love of the island and the area. I found an undated report saying they have been early advocates for renewable energy, and have a biomass heating solution that replaced existing oil heating boilers in the staff accommodation blocks.
QUICK RECAP:
Beautiful grounds and position. Advocate for nature.
If you want peace and quiet to be at one with the earth and all of its beauty, its worth considering
It would be easy to be fooled by the history of Isle of Eriska and its remote position, but it seems to be a hotel in decline
Food was generally good, and excellent attention to allergies
Staff were welcoming and friendly
If you are a lover of 'old and traditional' this could be for you. But stay in the old house, not the spa suites
Good value? It's a 5* hotel, but shouldn't be, based on our experience. We didn't think it was value. They shouldn't be promoting this as a 'golf' hotel, if there is not a playable golf course. We wouldn't go back
Note: I complained when checking out about the items mentioned in this blog, particularly the state of the bathroom. We discussed it with one of the group managers at Inverlochy Castle, because he asked how our stay was. I didn't hear anything from the Isle of Eriska, so emailed a complaint with the photos of the bathroom. A free nights stay on return was offered. I find this course of action very unhelpful, it's unlikely we will repeat this trip. If it's a genuine complaint, some compensation of that specific trip should be offered.