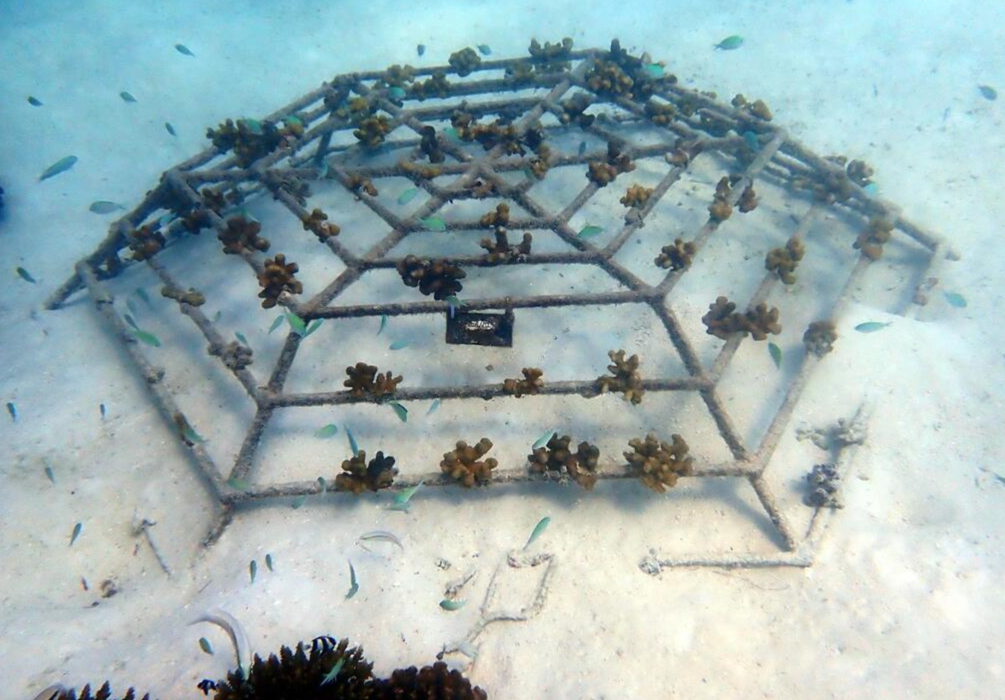 Not sure about you, but I am really not keen on clicking that 'offset your carbon footprint' button when booking my flights. Don't get me wrong, I want to offset my carbon, but I want to know what my donation is actually being spent on … whether it is benefiting the wildlife and the people where I am visiting. Some donations I make aren't always to a 'carbon offset' project as such, but simply have a positive environmental impact. The following idea is definitely one that is great for the environment AND you will benefit too.
Can't wait to get in the water at Landaa Giraavaru, Four Seasons resort and check out a project that was such fun to do when we were there in February 2022 as well as beneficial to the Maldives. Won't be long now…
But I am jumping ahead!
I know I harp on about Four Seasons Resort, Landaa Giraavaru, but they are leading on this trend of sustainable resorts. They have a whole marine biology discovery area, run and manned by Reefscapers, on site at this relatively small island in the Maldives – and at their other island Kuda Huraa too.
Guests can learn about the marine life in the Maldives – such as the coral bleaching that affected corals here at the same time as the Great Barrier Reef event, plus learn about whales, dolphins, turtles before heading out on a boat tour, biologist onboard, in search of these elusive sea creatures.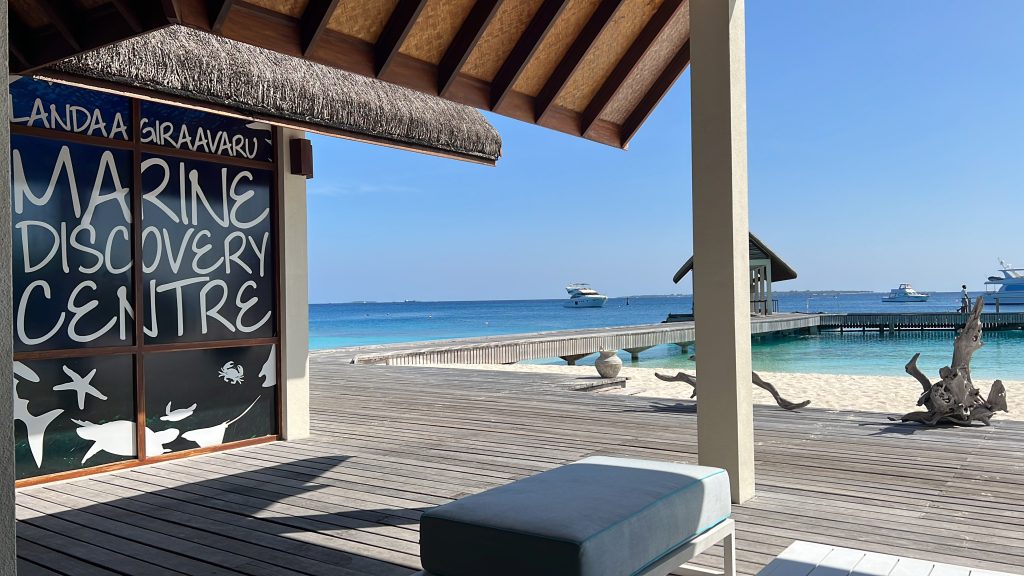 Reefscapers first Marine Discovery Centre was established in 2001 at Kuda Huraa in partnership with Four Seasons. Having been a marine consultancy company initially Reefscapers began to focus on coral restoration not long after the coral bleaching happened in the late 1990's. This operation quickly expanded to Landaa Giraavaru as well, with a fish lab added in about 2006 and the sea turtle rescue centre in 2010.
Many injured turtles have been successfully rescued, with over 100 turtles nursed back to health and released into the sea from Landaa and over 260 from the whole program. Wow. Its a place I could while away time, watching them being fed, learning about how they are helping them on their slow journey of recovery and the work behind the scenes finding permanent homes for those turtles too injured to return to the wild.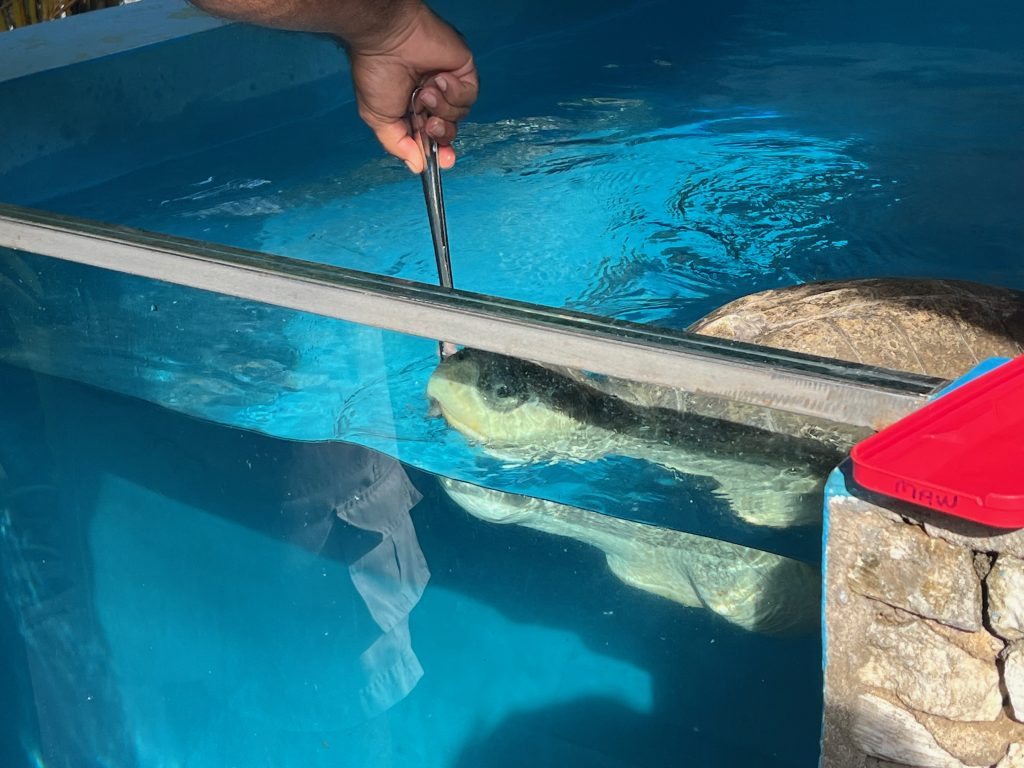 Not all of the turtles will be able to return to the sea. I think this one has a very good chance though…
But their biggest mandate in the Maldives, is repopulating the coral reefs with coral frames. And this is where guests can help the most.
Sponsor a Reefscapers coral frame!
Marine biologists harvest the corals needed to populate the frame and you can help tie on these small pieces of coral. Add a dedication to the frame and you are ready to go. The frames are positioned around the island, you can choose an area in the lagoon or leave it to the experts as to where it's needed most. Regular photographs via the Reefscapers website, give you updates on the coral frame growth. Or of course, on your next visit, go snorkel and check them out! This is one of the most successful coral reef transplant projects in the world, with the coral experts recognised by the scientific community for pioneering successful propagation techniques. For the impact these have, the cost is pretty low! A heart shaped frame is approx US$350 + tax.
ENVIRONMENTAL BENEFIT: MORE CORAL EQUALS MORE FISH AND SEA LIFE

BENEFIT TO YOU: MORE CORAL EQUALS MORE FISH AND SEA LIFE TO SEE

Cards about sustainability are placed nightly in your room by the resort staff containing a handy link to a carbon calculator. At just over 7 tons for a return business class flight to Male and somewhere between £40 and £70 pounds per ton as the calculation, do the maths and pay it back with a frame.

Seriously, if you can afford to be staying at Four Seasons Resort, Landaa Giraavaru you can afford to sponsor a coral reef!

This is large frame, the one we sponsored

Bucket of freshly harvested coral pieces

We helped! Our dedication was to the staff at Landaa Giraavaru

Coral reef ready to head to the Lagoon

Our coral reef soon after it was placed in the lagoon

One year on. Look at all the fish! And hasn't the coral grown.
Wouldn't it be awesome if every family or couple that visits a Four Seasons Maldives resort in 2023 sponsored a coral frame! Visited in the past and not planned to return? Still no excuse, you can sponsor a frame or adopt a coral on the Reefscapers website.
Do it now!