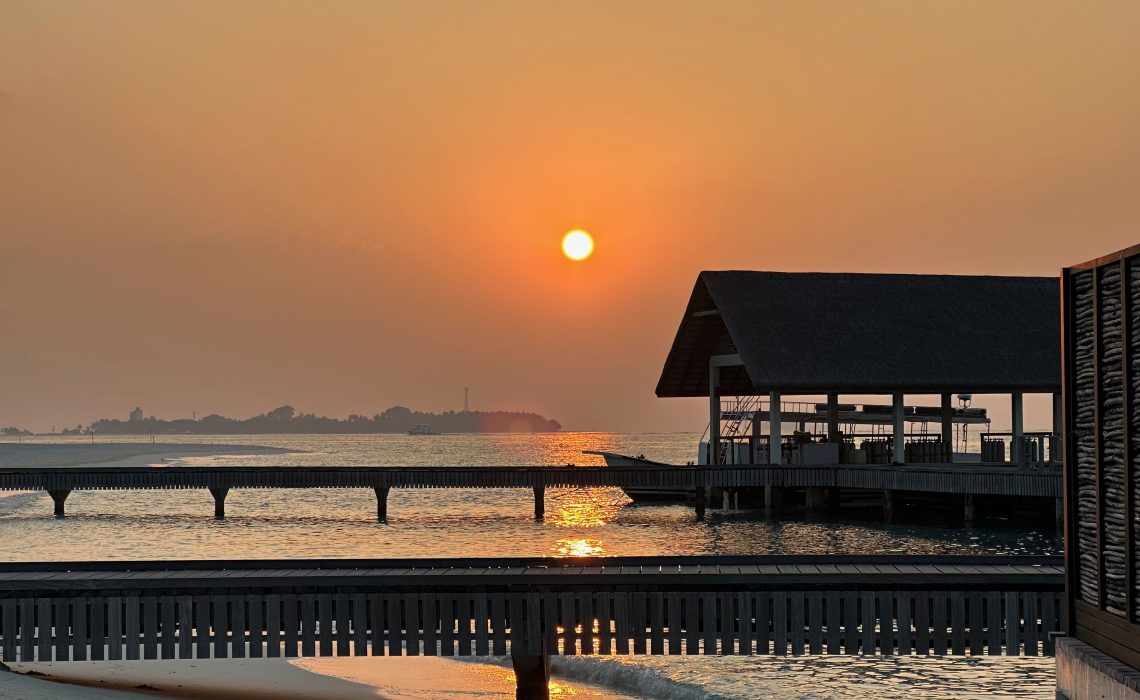 … and saving the earth from 2,900 tons of CO2
Sustainable Tourism at Four Seasons Maldives Series, 2 of 7
I am 'shouting out' about resorts where I can see they are truly focussed on leaving the world better than they found it.
Maldives resort islands generally have their own powerhouses, generating electricity from diesel. However one thing the Maldives has is plenty of sunshine, at least more days than the UK for sure. Faisal took us for an exclusive view of how they are using the sun – bear in mind Landaa Giraavaru is only 600 metres in length east to west, and 200 meters at its maximum width – I think you will agree its impressive.
Landaa Giraavaru have five diesel generators – thats what it takes to power the operations behind this beautiful, luxury resort – well that AND their solar panels.
Prefer to watch a video? Click HERE for my YouTube video instead.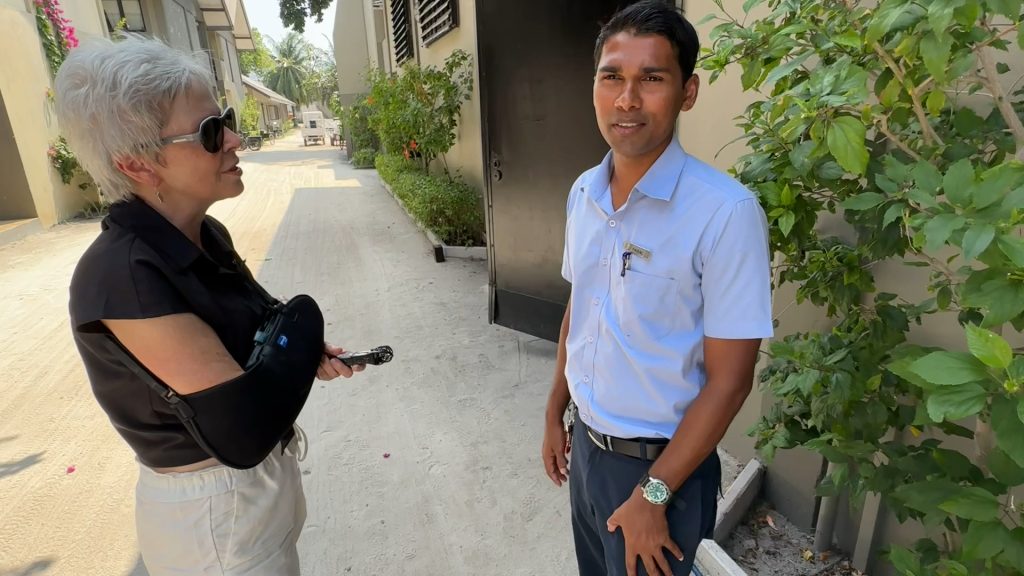 Lets talk Solar Panels
When we visited in 2021 and took the 'back of house tour' available to all guests, we saw the pilot solar panels, which our guide shared with us, they experimented with both on land and then in the ocean, close to the shore. Another one of those 'things don't always work out the first time, you have to keep trying!' moments.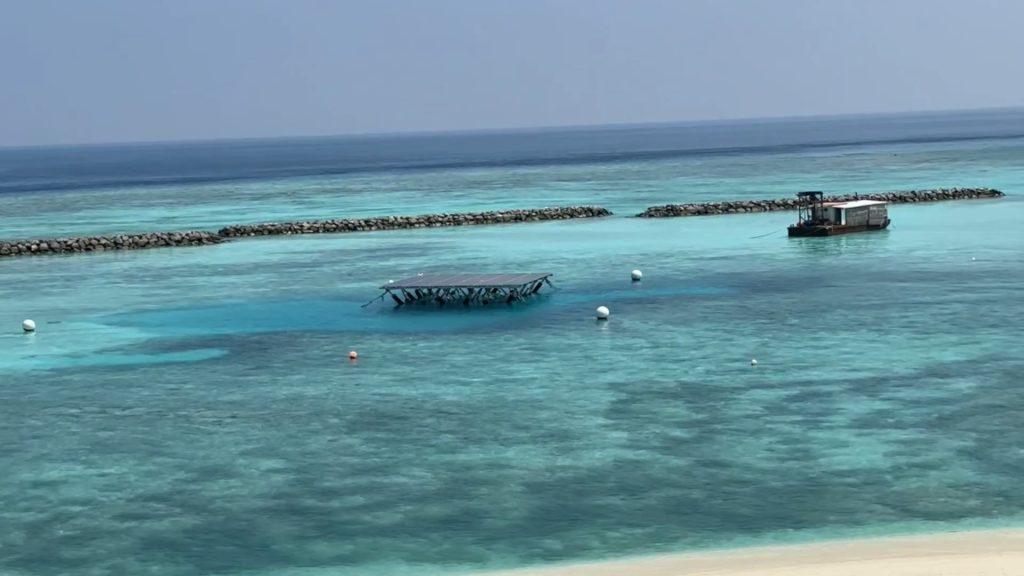 It's still in situ and being used, but is so tiny in comparison to the suite of panels now installed.
5,200 Solar Panels spanning 3,100 square feet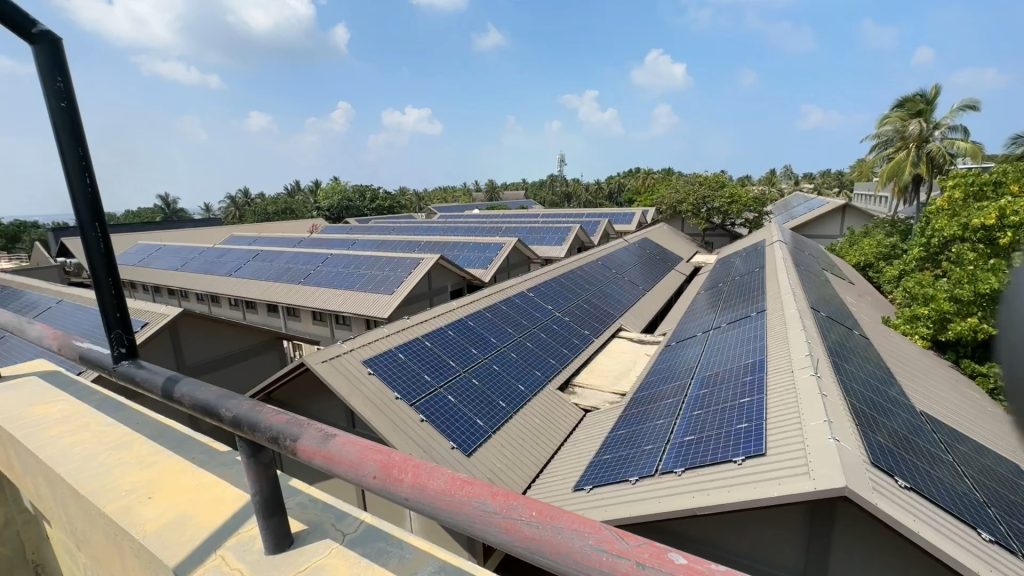 Showing as many of the solar panels as possible in a still image – view the video HERE for a better view.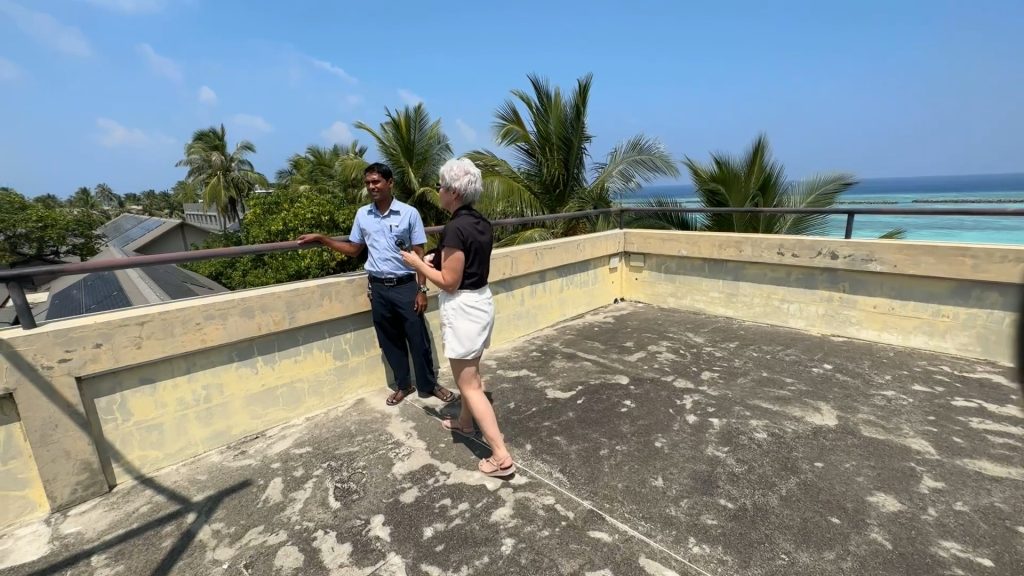 Operational since November 2018, these panels provide around 10% of the islands energy. As Faisal likes to call it, 'clean energy'.
On sunny days around 400 – 450 kilowatts are produced at a time, during the peak hours.
They have maximised the use of every non-guest building possible to house the panels, so operations buildings and staff quarters mainly. The guest rooms all have thatched roofs so the design doesn't lend itself to installing solar panels.
2,900 tons of CO2 NOT released into the environment
For an organisation that is always looking at ways to reduce their carbon output and limit damage to the environment, its a dilemma how to improve on this 10% of clean energy. Faisal mentioned they could consider storing the excess energy produced in batteries – thats not currently being done on the island and Faisal was concerned about the implications for the environment. It's always a balancing act.
Whatever way you look at it, since installation their solar panels have produced over 1 million kilowatt hours of clean energy, saving the environment from 2,900 tons of CO2 that would have been generated using generators.
Fantastic achievement Four Seasons Landaa Giraavaru.
This is the second part to a series of 7 blogs and video's
Check out my YouTube for the video
Sustainable Tourism at Four Seasons Maldives