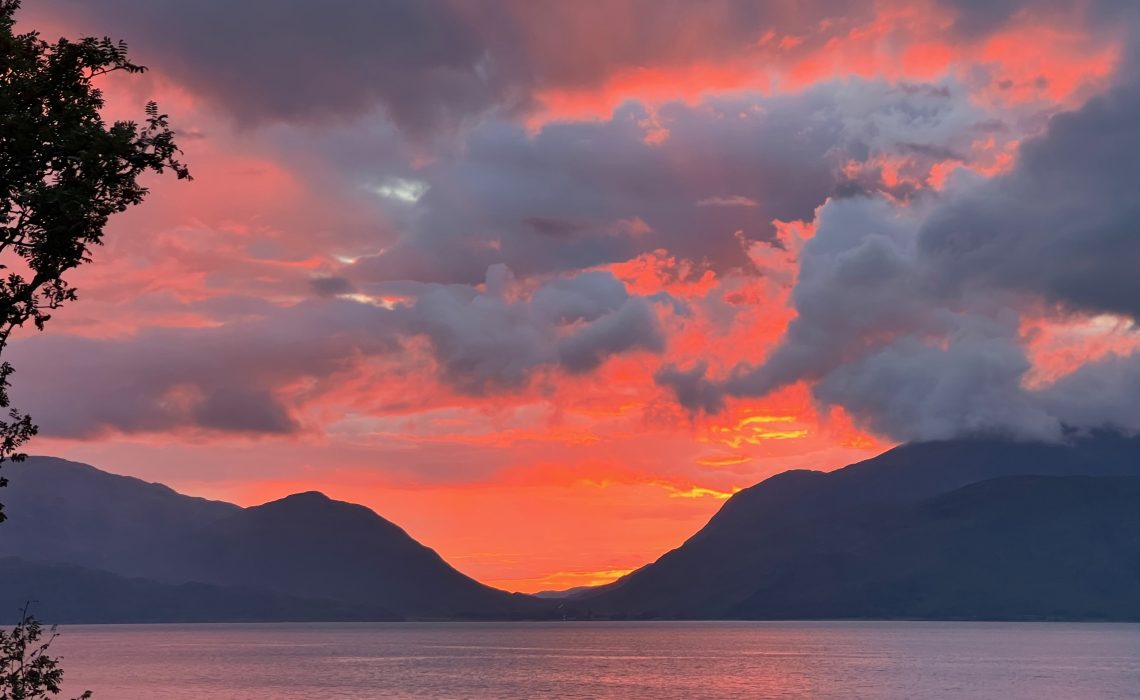 It's All About the Biscuits!
Kentallon, Glencoe – A few days golfing!
Find out why some of the most expensive hotels in Scotland aren't always good value. Read up on hotels that have taken action to be more sustainable, and those that still have a way to go. Use the information to help plan your own road trip up the west coast of Scotland.
'THE GOOD, THE BAD, AND THE UGLY'
Recap from Part 1 of this blog and why we took the trip – or just skip straight to the blog:
September is often a glorious month to tour Scotland, maybe not as warm as England, but still decent enough to explore, walk, play golf and less busy. Our trip hung around three things, a specific weekend that our son could join us at Cameron House Hotel at Loch Lomond for whisky and golf, my wish to drive up the west coast plus visit Pitlochry. My Dad used to cycle to Pitlochry from Alva as a 'wee lad' and fish, not with a rod, but by 'tickling' the trout and salmon. Google it! He fell in once and broke his elbow, ouch – cycling home couldn't have been much fun! We planned and booked in April, not nearly early enough to get all of the stays we wanted… which led to the ten hotels in twenty-two days scenario! Mostly 5* hotels, plus two 4* and one 3* – there were some real surprises, not all good!
---
DAY 10 – 13: THE HOLLY TREE HOTEL (3 Star)
Right on the banks where Loch Linnhe branches off into the beautiful Loch Leven very near to Glencoe, is the Dragon's Den, Ballachulish – a lovely spot to play golf. It's a surprisingly good little 9 hole golf course, with mountains behind you and the water in front of you. It doesn't get better than that for traditional golf consequently we played every day.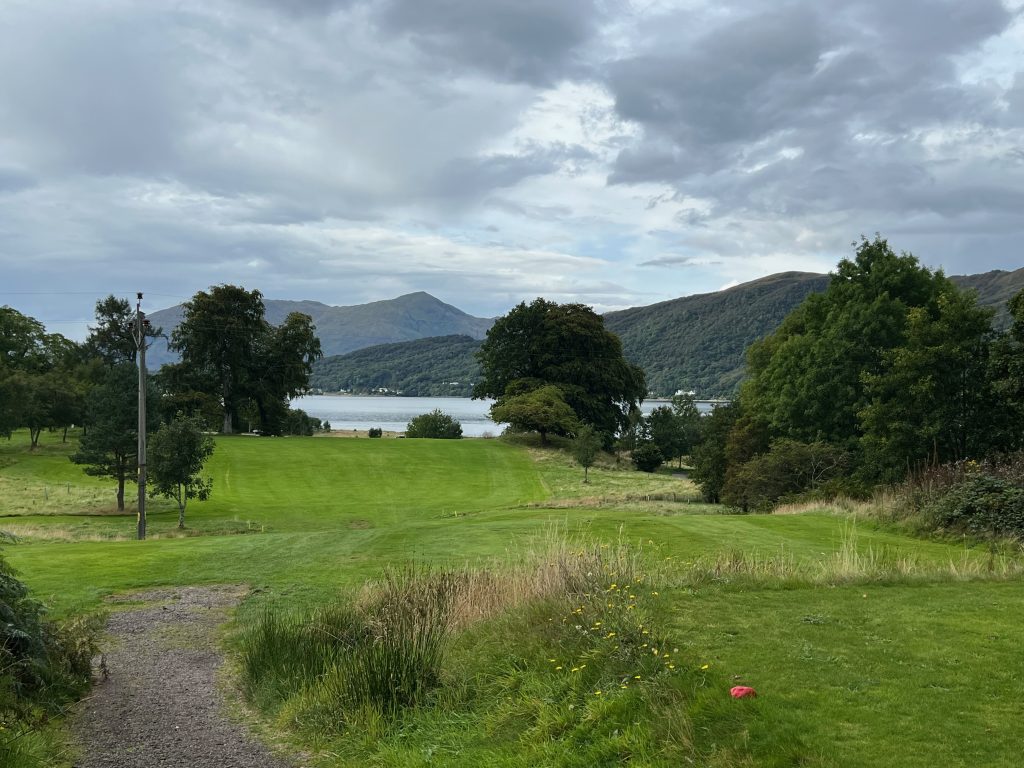 A short drive from the golf course, on the shores of Loch Linnhe at Kentallen, is very pleasant three star hotel The Holly Tree.
What constitutes three star hotel? Well it varies country to country but the AA have an excellent explanation. We had expected a reasonable quality room with en-suite and had visited the restaurant before for lunch, so we knew they had a varied menu, with local seafood and Scottish dishes, open to residents and non residents.
It's a modern hotel but looks a little higgledy-piggledy because it has several outside cottages, and some pods, as well as the main hotel. Originally a converted 19th-century railway station, which you wouldn't really know once you are inside, although there is a railway themed lounge for guests. They have a good size pool and sauna/spa area as well as the main restaurant plus bar area with a large outside seating area overlooking the loch.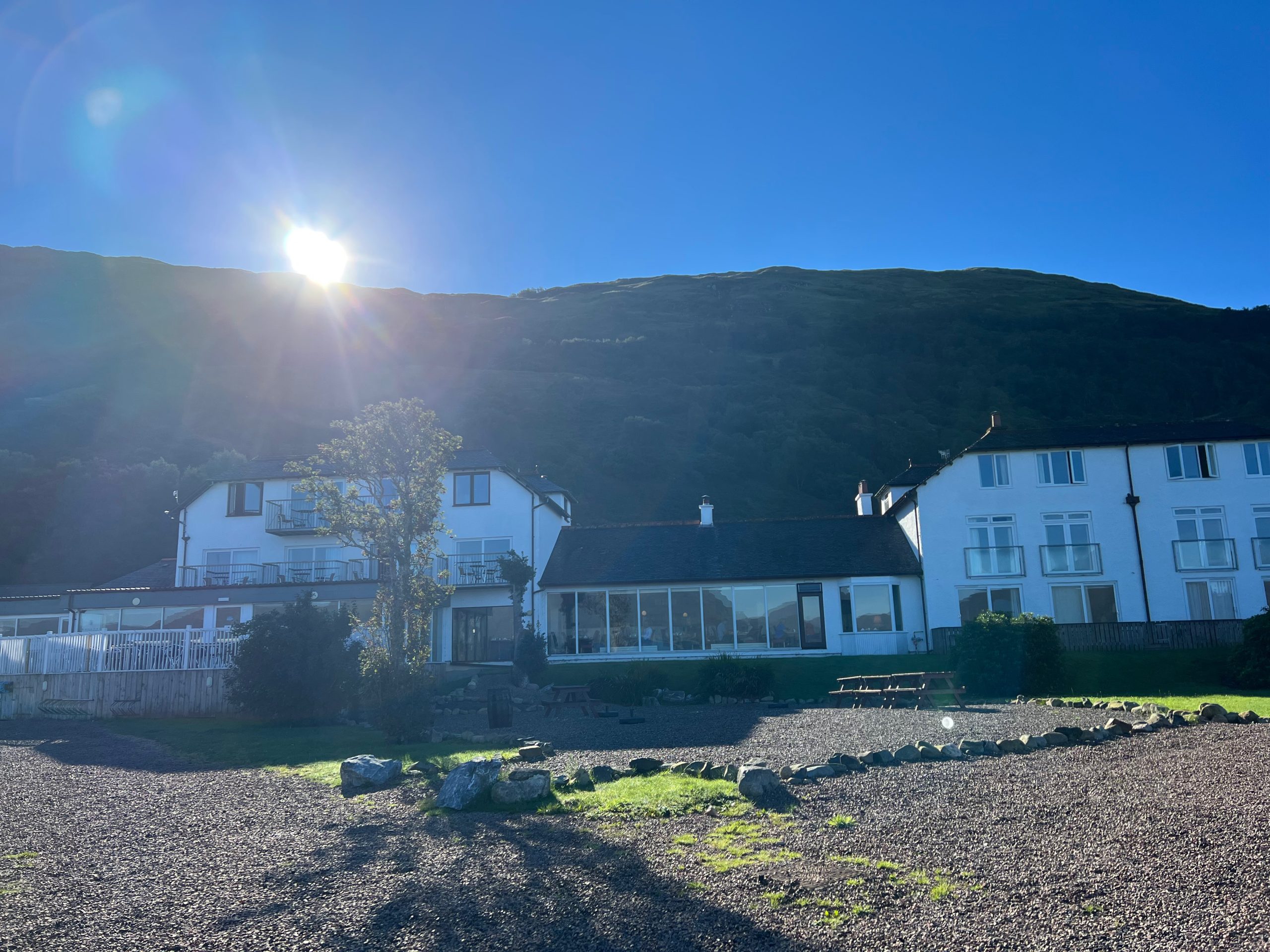 The Biscuits!
Coming from the Isle of Eriska, a 5 Star hotel, where 'the cupboard was bare', the sight of really nice biscuits on our tea tray as we entered our room made us smile. It's the small things that are so important in a hotel, and so easy to complain about when they are absent. Not that we ate the biscuits!
The Holly Tree didn't offer room service to replenish tea and biscuits, nor the shampoos and soap, etc, instead each floor had a trolley where you could just help yourself to whatever amenities you needed. Save for the fact that this meant lots of those little plastic bottles that are not environmentally friendly, it worked well.
The spectacular views were unexpectedly… well spectacular!
Every room faces towards the Loch, and we had chosen one with a small balcony.
We were treated to breathtaking sunsets most nights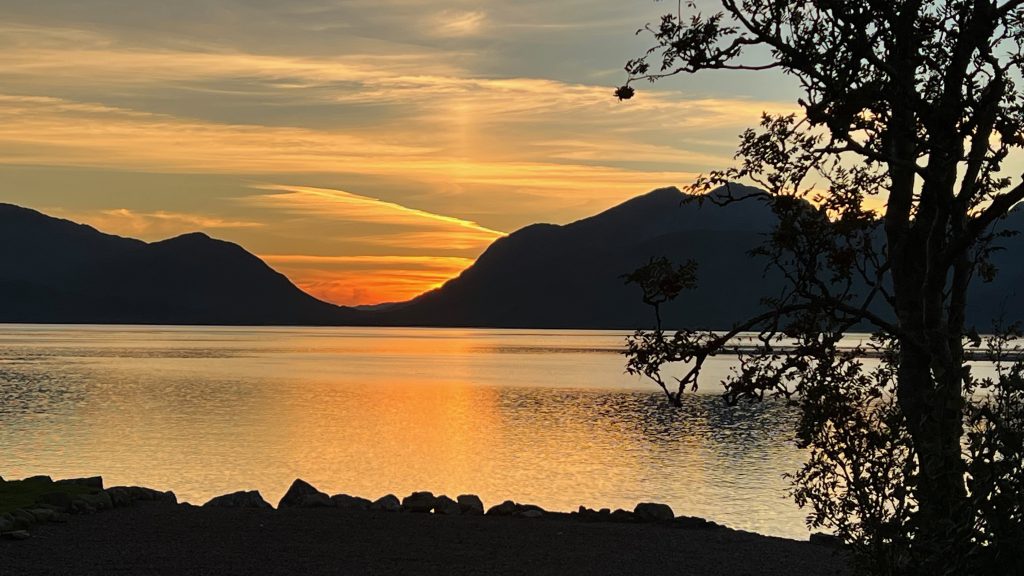 The night our Queen died 'natures nod' to this exceptional woman was unprecedented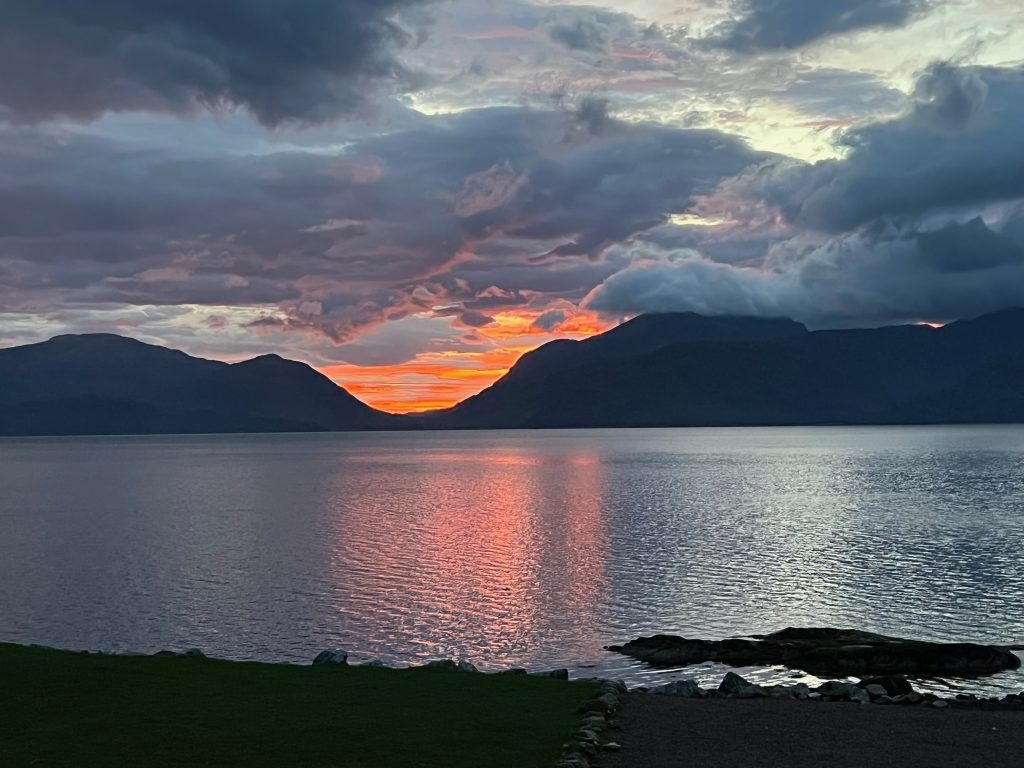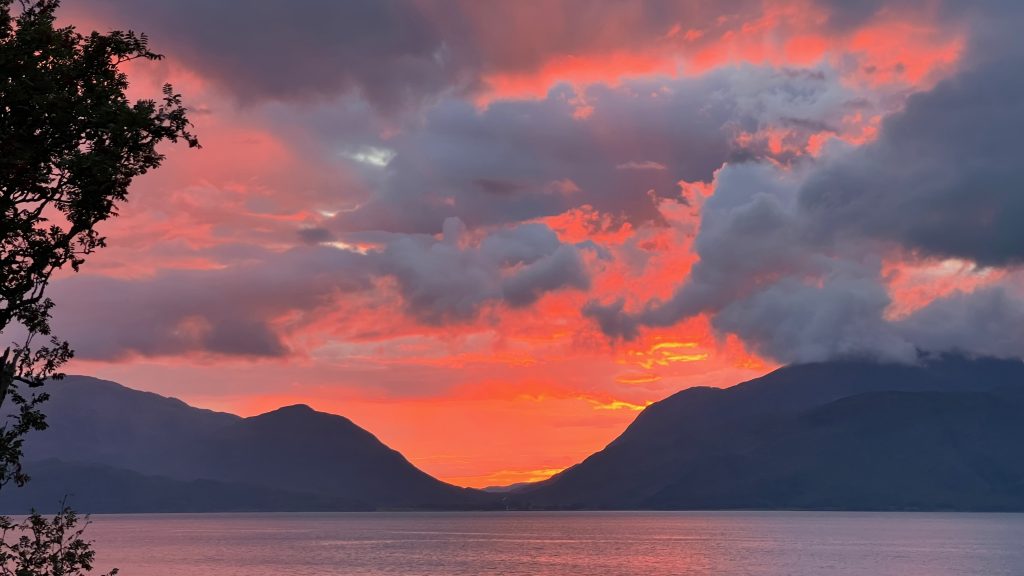 Dining
Dinner in the bistro is informal, pleasant, busy and buzzy! Some lovely seafood if, unlike me you can eat it, but other fresh fish too plus some Scottish treats. They didn't carry high quality wines but they were very drinkable, and I was very happy with my Prosecco. Watching the sunsets every night meant what you were eating became somewhat secondary.
Breakfast was more basic, a buffet mainly but could be hearty if you chose bacon and sausages. It's my favourite meal of the day and I have a preference for fresh fruits, berries, a good quality yoghurt, eggs and wholegrain toast or porridge, choices here were more limited but not unexpected – it is a 3*star hotel.
With welcoming, fun and friendly staff overall there was definitely little to complain about.
Food Allergy Report: The staff took my allergies (peanuts, tree nuts and shellfish) very seriously. Again we became familiar to the staff, who were generally there each mealtime, and it made this aspect pretty easy whether it was breakfast or dinner.
What felt typically lower star material was that there was no lift to upper floors and no-one was keen to help with bags. We arrived early and didn't receive the best of welcomes – just told sharply to come back at 3pm. The rooms were not serviced at all during our 3 night stay which actually we like. Dogs were allowed in rooms – whilst there were no visible signs of 'dog in room', they were very clean, by the end of our stay it mildly kicked off our allergies. We didn't try the pool and spa out, too busy playing golf!
Activities
This is a perfect area if you want to walk, climb mountains and play golf in addition to some local distilleries and castles you can visit. Oban is not far either so this could be a stopover before heading to some other isles.
Worth checking out Castle Stalker as it's close by. Has a cafe with perfect freshly cooked savouries and cakes together with a very warm welcome, cool gift shop and stunning views of the castle. Take a walk from the cafe down to the castle or time it with a tour (they are limited but worth it).
Sustainability
The Holly Tree Hotel is part of the Booking.com Travel Sustainable programme who have a clear set of impactful practices for properties that take part to work on: energy, waste, water, protecting nature and supporting local communities. This means it's taking steps to make a stay here more sustainable. Certainly they have locally sourced food on their menu's and are promoting nature and the environment around them. We didn't see many plastic bottles apart from the toiletries, so would like to see them finding a solution to eliminate these.
QUICK RECAP:
Stunning position by the loch, with every room having a view
A good 'home cooked' bistro, with local dishes and attention to allergies
Friendly and helpful staff in the main – I think the guy on the front desk was just having a moment whenI tried to check in early!
No lift to upper floors and you are on your own with your bags
Good place to stay for access to Glencoe
Good 9 hole golf course nearby
Good value? Yes, we would say so and we would definitely stay there again.