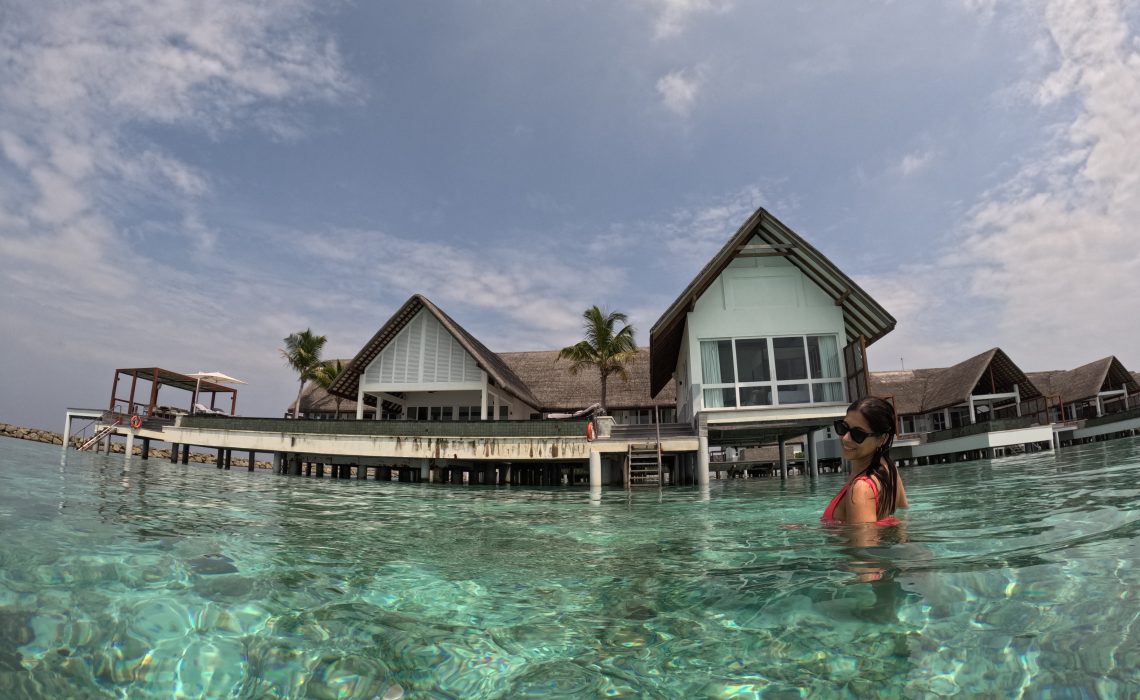 Villa 420 and What is the True Meaning of Luxury?
The island of Landaa Giraavaru, Maldives Four Seasons resort is an idyllic island paradise of true luxury. But what does 'true luxury' really mean? It's always so personal, but for us here is how it goes.
Prefer to watch a video? Click HERE for my YouTube video instead.
Firstly, you are expected. That starts with the Four Seasons greeting at the airport. As you exit passport control at Male, smiling faces and willing hands are your welcome while your bags are whisked away, and you relax immediately into a holiday of dreams. At the cute little lounge in the airport, cold drinks are welcomed. You are 'checked in' without realising it and whisked off to a stylish seaplane lounge, to wait for what is undoubtedly one of the most scenic flights you can experience.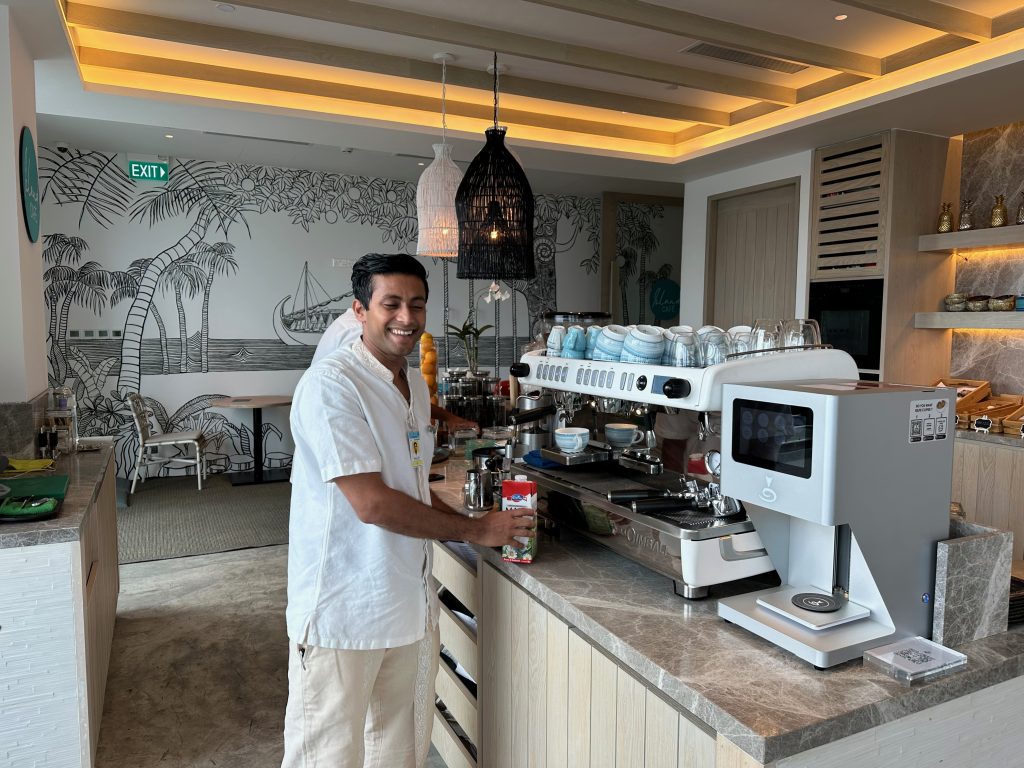 With the latest coffee machine, snacks and cold drinks, oh plus some funky music and a view to die for seaplane fanatics like my husband, waiting to board the seaplane flight passes quickly. I don't think I will ever tire of watching them coming in to land.
One of the coolest things about the seaplane, whether that is the Trigger Fish or their new yellow Box Fish seaplane is that the smartly dressed pilots are barefoot! Kinda gets you into the mood for an island. Of course everything else is 'Four Seasons' – cold towels, cold water and of course ear plugs, well it is a seaplane.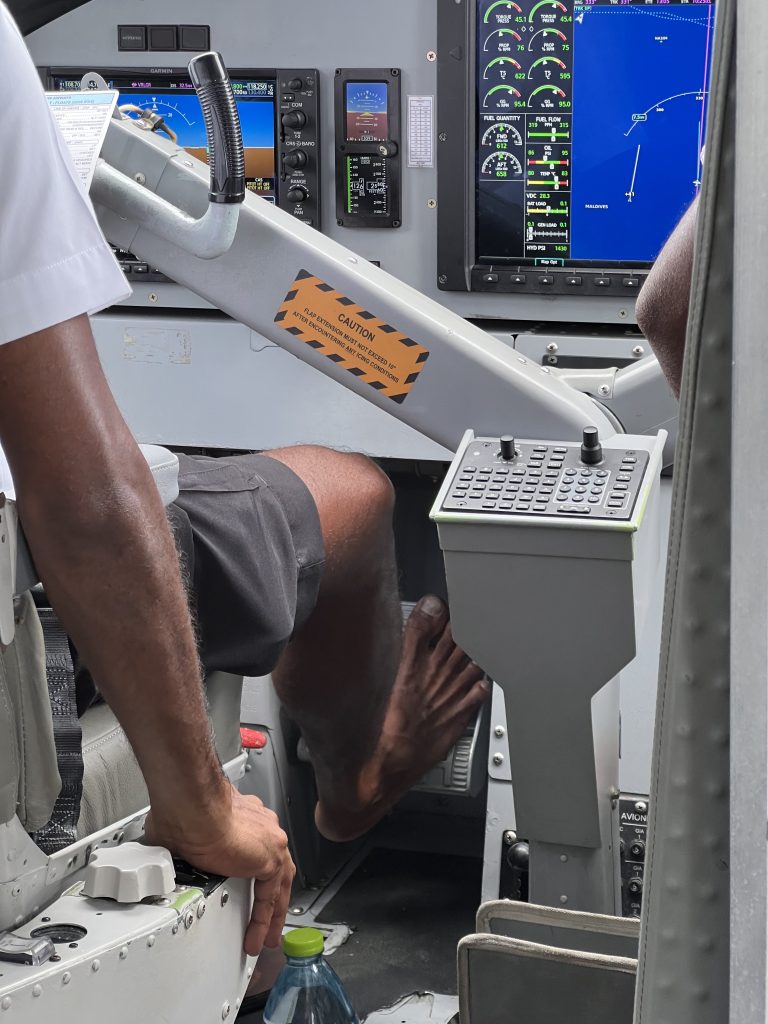 I don't know how to describe the flight, gliding over turquoise water, looking at all of the islands along the way – it's magical. A must do, so bring it forward from that bucket list, as life it too short.
When you arrive at Four Seasons Landaa Giraavaru, you sense the significance of this remote island where luxury meets relaxation and nature. And 'being expected' has travelled with you.
As the seaplane comes into land at the platform, a perfectly timed boat speeds towards it to pick you up for a short ride to the arrivals jetty, where you are greeted by staff and taken to the reception for a cold coconut water and the most friendliest of welcomes.
Villa 420 Impressions
Villa 420 was for us, an unparalleled stay, it sets the scene for the perfect place to appreciate the paradise you have stepped into. First impressions are so important. On opening the front door, space and harmony instantly sprung to mind. Everything smelt so fresh and there was nothing harsh on the senses. Vases with stature lined the entrance, but you could peak straight out through the expanse of glass to the ever present sea.
Beautifully presented hand made biscuits and chocolates, all specially prepared and made nut free for me, such a treat as these types of snack are really a challenge elsewhere. Freshly made soft drinks and champagne on ice. What a welcome.
Island purified and bottled water, was ready for coffee and tea and chilling nicely in the fridge. Fresh fruit set out ready for your arrival, these small touches make you feel so warm and fuzzy inside and ironically tend to be the reason why we return each year.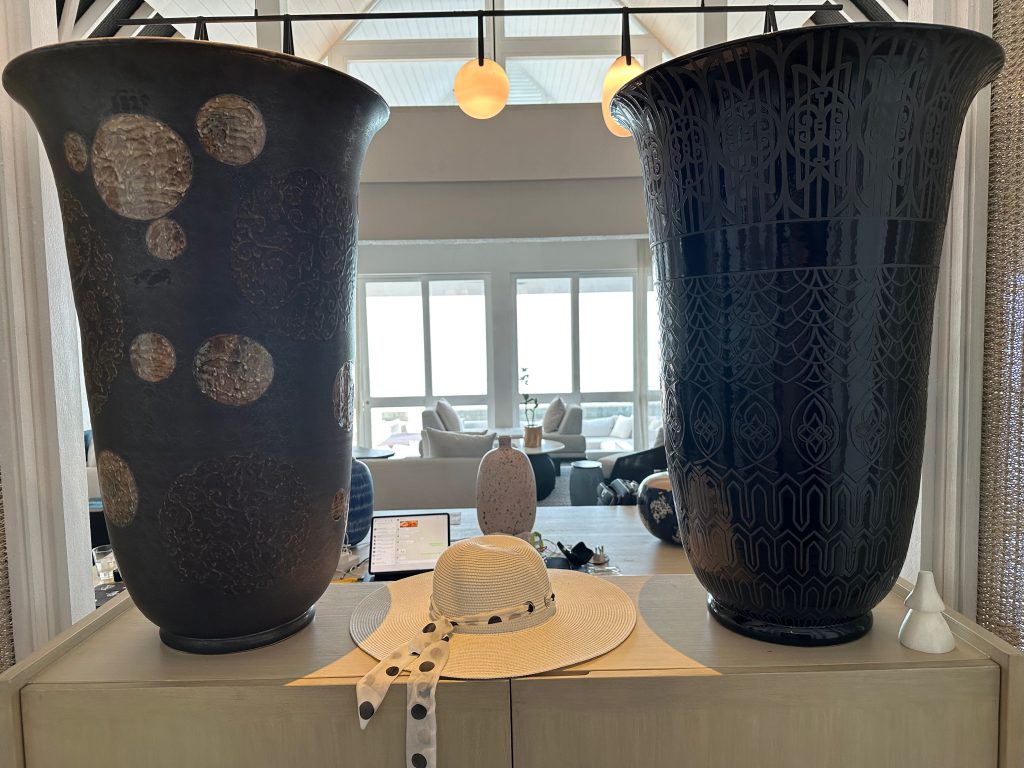 This three bedroom villa is perfect for combinations of family and friends of all ages to gather in, it's more than spacious enough for everyone to carve out their own favourite spot and some privacy if wanted.
Master Bedroom Suite
Having to climb up into the sumptuous bed in the master bedroom, for me is so special. It is one of the most comfortable resort beds I've experienced. You sink into the crisp white sheets, lay your head on your choice of pillow and the end of the day wraps its arms around you in a warm embrace. Carefully placed scented night Ayurvedic oil burners help you relax into pleasant dreams.
The master bathroom is very spacious. Of course there is a beautiful bath with a superb view of the sea. A picture window in the inside shower immediately brings outside inside – being right at the end of boardwalk and partially looking out to sea it was still very private. A nice touch, cute refillable bottles for the shower toiletries, not just cute but no plastics of course. Something they are very hot on here – but more about that in my next blogs.
Feelings of being at one with the earth are amplified with the uniquely freeing outside shower and its hubby's favourite shower spot at the end of the day. There is something very special about walking outside in the evening warmth and showering!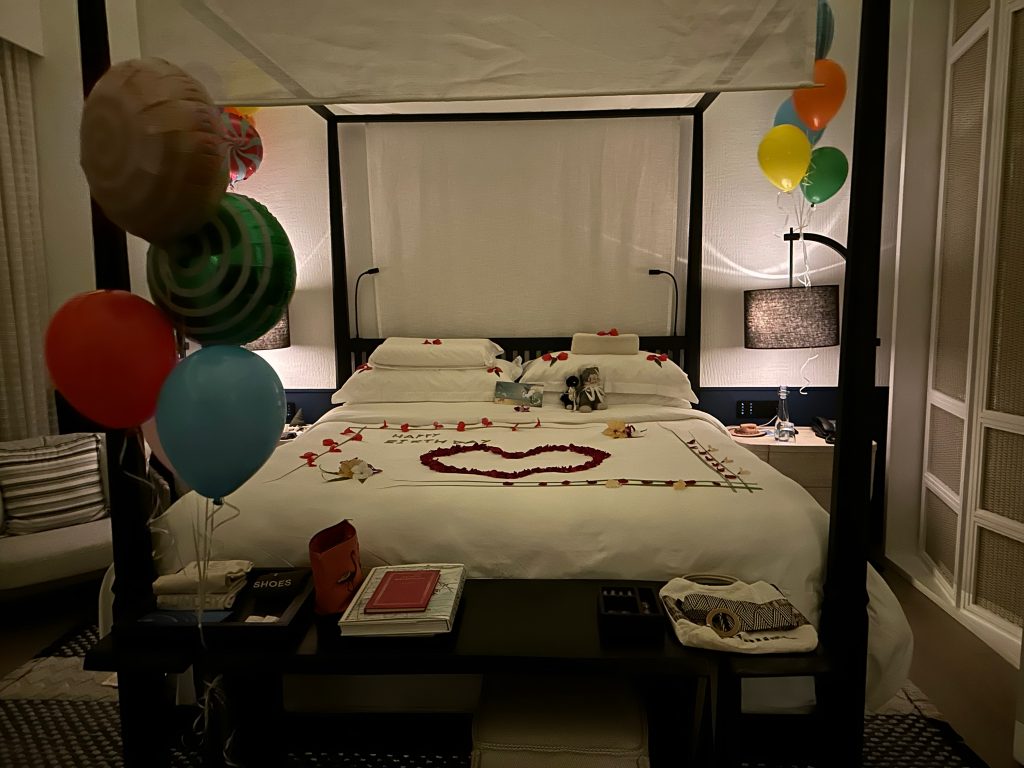 This villa feels to us as if it's been designed so that you are part of the nature that surrounds you, not separate to it.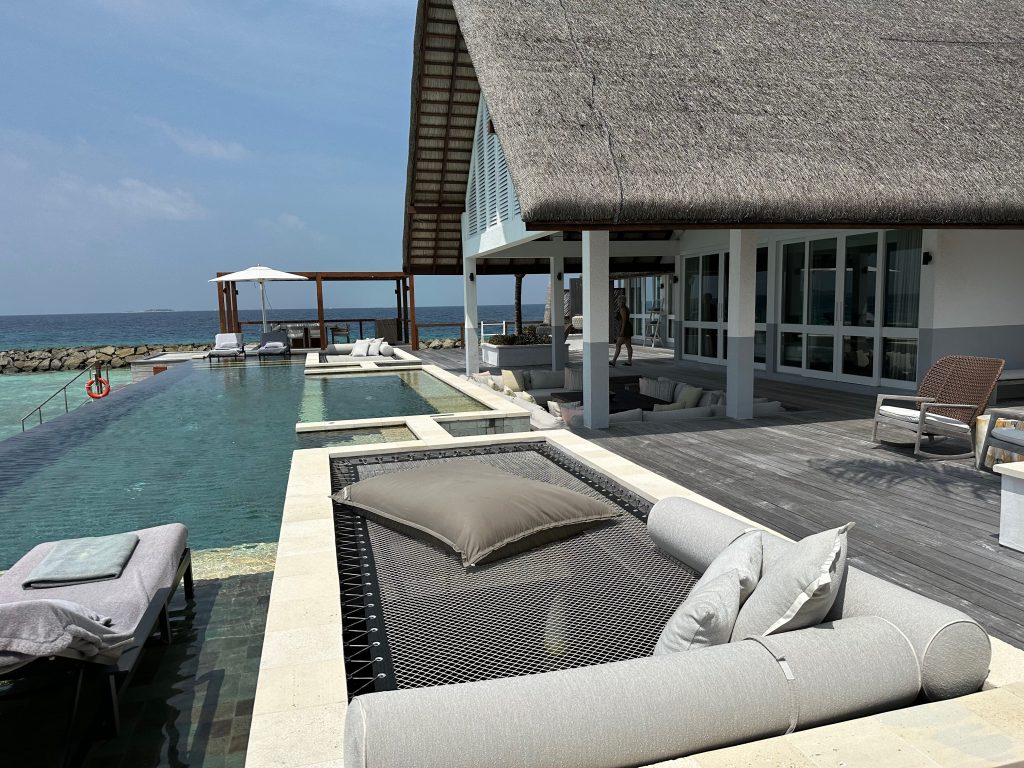 Floor to ceiling sliding doors and windows surround the villa. Being able to be outside for most of the time is such a treat for most of us, particularly if you are UK based and there are multiple places to lounge. Whether that's relaxing on one of the many hammocks taking in the sun and watching the fish beneath you… or just having a snooze after lunch.
The infinity pool, really is – well an infinity pool that perfectly blends you into the sea. And the sunken seating space cries out for a long lazy lunch, or family card games after dinner, both of which we did!
So welcoming to see the use of natural materials beautiful wooden chairs and stools. Mixed with the white and the muted colours plus the subtleties of distressed wood, outside and inside are seamlessly blended into a continuous space.
This empathy for nature through both the design and sympathetic use of natural furnishings, elevates the elegance of villa 420
Flexible Space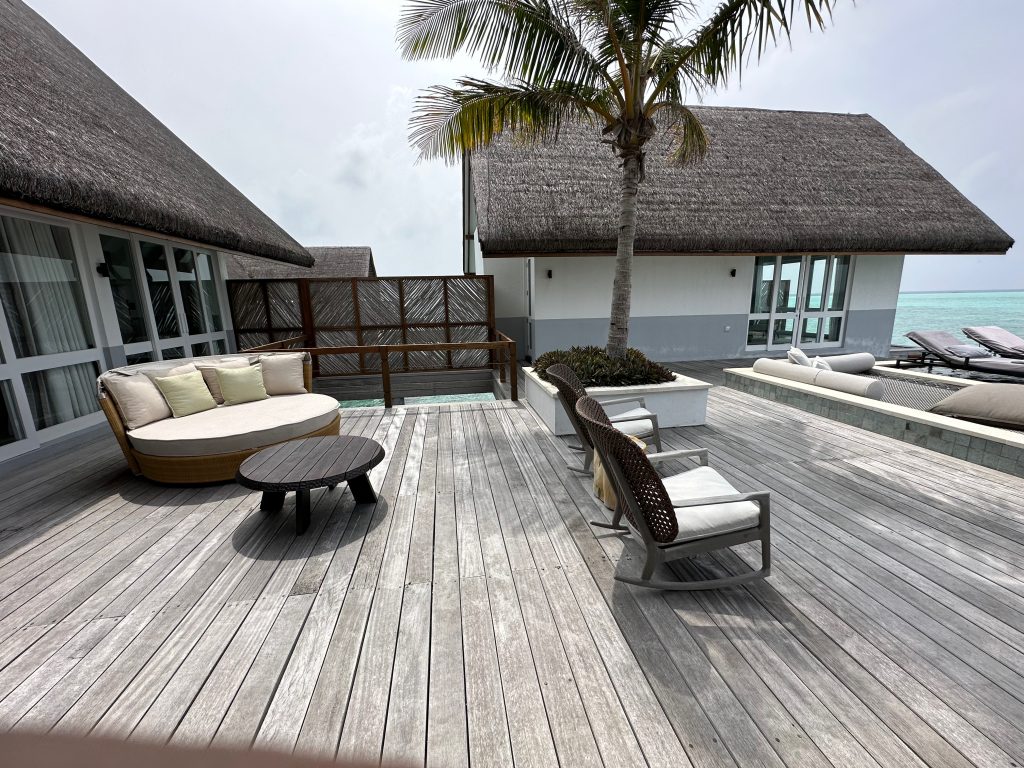 Having the third bedroom separate to the rest of villa, gives so much flexibility to the space. Our grown up son and his fiancé joined us for part of our holiday, and it was the perfect room for them. An abundance of warmth and generosity, shines through the thoughtful little touches – like the complimentary Italian beach bag in each bedroom, and yoga mats for your use. So much thought in the design, such as this unique little hammock hideaway, with an uninterrupted view of the sea, right outside the bedroom.
Extra Special, Unique and Quirky
What makes it extra special for us?
Touches such as the bikes parked outside – facing the same way of course – and personalised with your initials. Sustainability and Climate cards, related to the Maldives, as a gentle reminder of how fragile this place is, only a metre or so above sea level. Casually placed sunglasses left on a table, suddenly appear on a 'nose', oh and with a glasses cleaning cloth placed next to it, of course!
Too many to mention here, and anyway, I don't want to spoil all the surprises when you visit. You can't help but come away with a feeling of belonging and caring.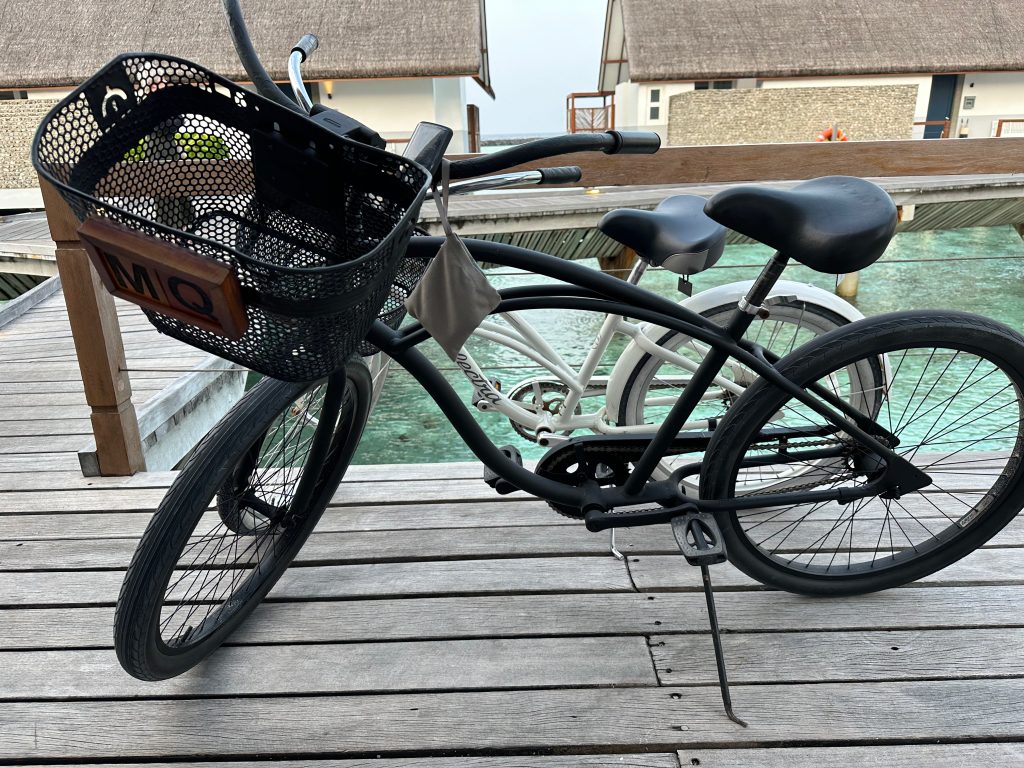 Four Seasons have their own description of luxury – its what they are trying to achieve with their resorts and hotels. They say:
'To us, true luxury is a meaningful sense of belonging. It's the simple elegance of empathy. An abundance of warmth. The ever-present embrace of kindness. We'd like our guests to experience this kind of luxury – a luxury that speaks to them through humanity and generosity.'
We think they achieve that outstandingly at Landaa Giraavaru.