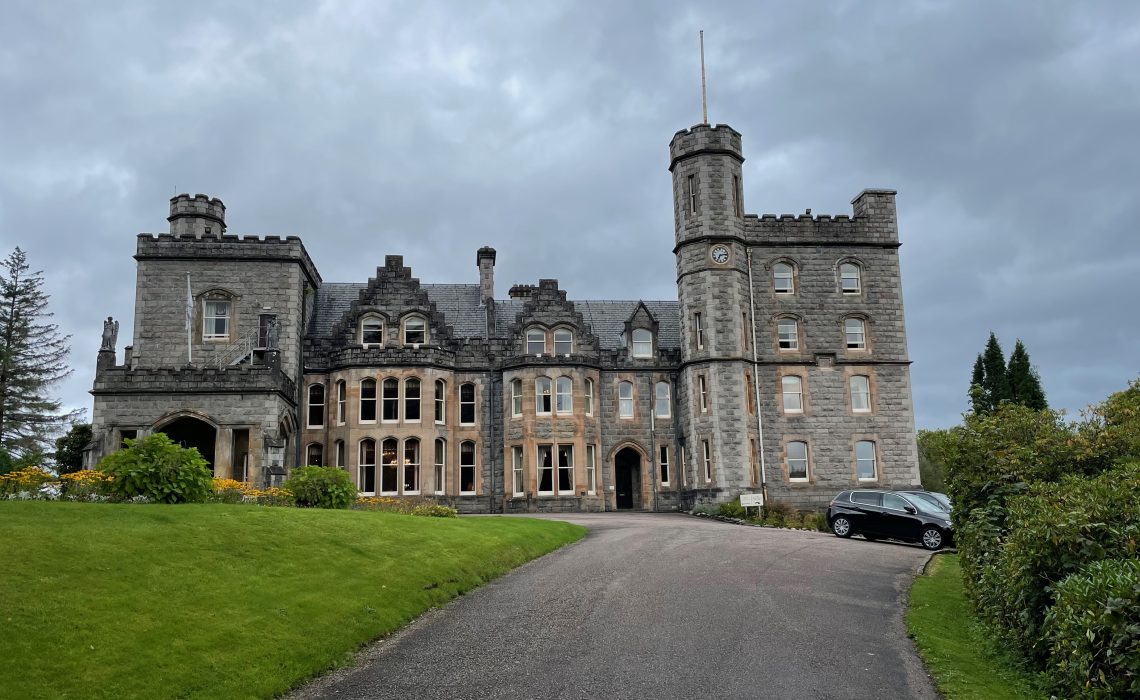 Stepping into the shoes of Queen Victoria
Inverlochy Castle Hotel – 10 out of 10 and a gold star!
Find out why some of the most expensive hotels in Scotland aren't always good value. Read up on hotels that have taken action to be more sustainable, and those that still have a way to go. Use the information to help plan your own road trip up the west coast of Scotland.
'THE GOOD, THE BAD, AND THE UGLY'
Recap from Part 1 of this blog and why we took the trip – or just skip straight to the blog:
September is often a glorious month to tour Scotland, maybe not as warm as England, but still decent enough to explore, walk, play golf and less busy. Our trip hung around three things, a specific weekend that our son could join us at Cameron House Hotel at Loch Lomond for whisky and golf, my wish to drive up the west coast plus visit Pitlochry. My Dad used to cycle to Pitlochry from Alva as a 'wee lad' and fish, not with a rod, but by 'tickling' the trout and salmon. Google it! He fell in once and broke his elbow, ouch – cycling home couldn't have been much fun! We planned and booked in April, not nearly early enough to get all of the stays we wanted… which led to the ten hotels in twenty-two days scenario! Mostly 5* hotels, plus two 4* and one 3* – there were some real surprises, not all good!
---
DAY 14 – 15: INVERLOCHY CASTLE HOTEL (5 Star)
Nestled in the foothills of Ben Nevis at Torlundy near Fort William, is the small luxurious and historic Inverlochy Castle Hotel.
Our first trip to Inverlochy Castle, the previous year, we were 'King and Queen of the Castle' – a treat to ourselves, that included a beautiful suite, dinner with wine pairing, a whisky tasting, clay pigeon shooting and archery on site. We did have a strange moment, when a helicopter (BT techies!), landed right next to us while we were practising our Archery.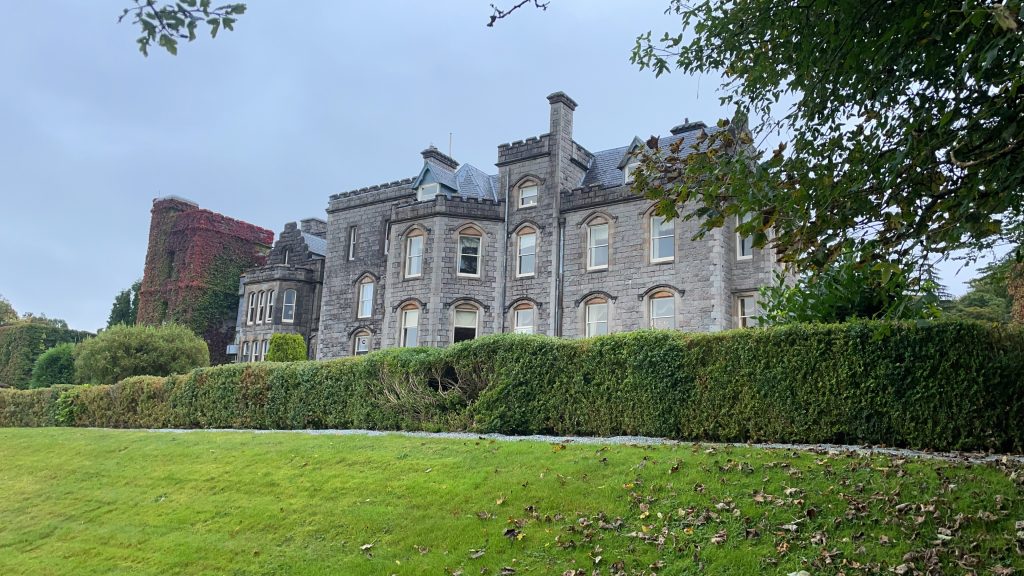 I advised my husband to just 'taste' the 7 whiskies at our tasting, he of course ignored me, downed the lot and the rest of the afternoon was a bit of blur for him!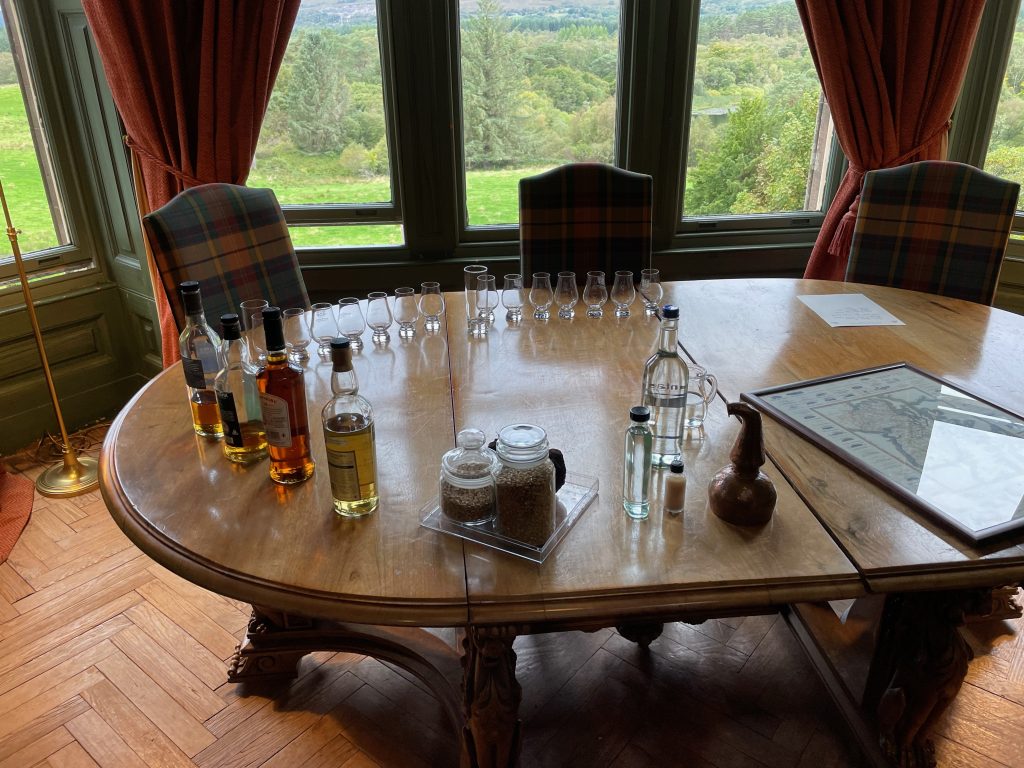 It was such an amazing visit, like being whisked back to the late 1800's but with modern facilities, and fabulous food.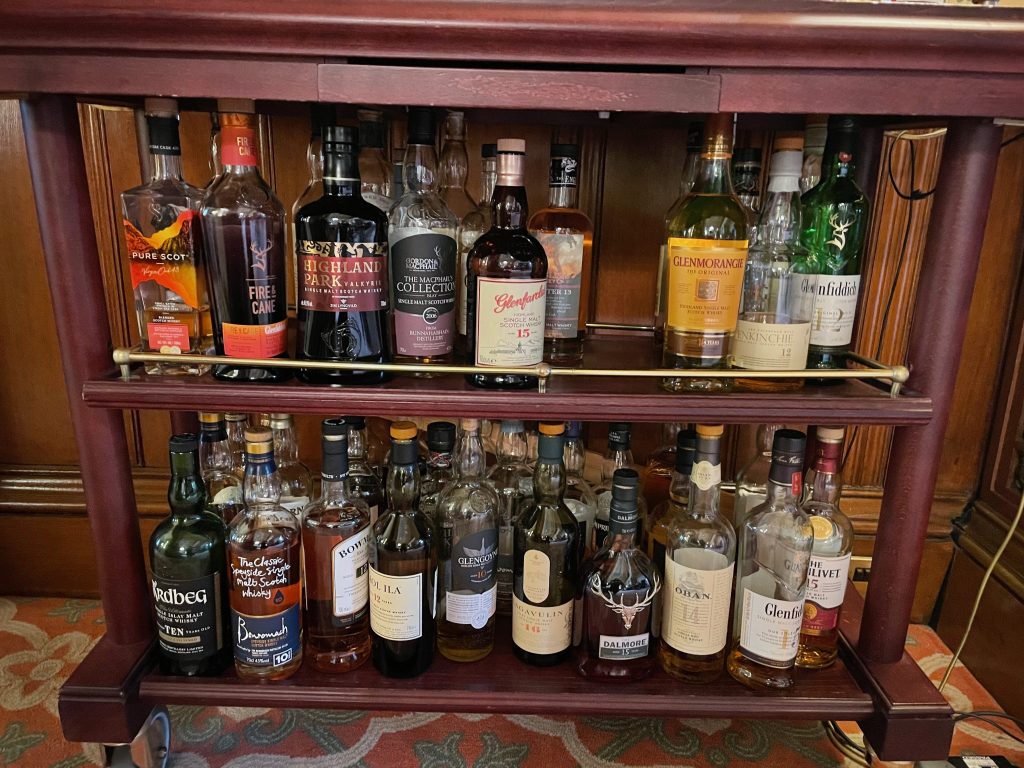 A microcosm of the best kind of luxury in Scotland where we felt we could truly switch off and relax – which is why we had to include it in our trip this time, if only for one night!
It's hard to pinpoint exactly why this unique castle hotel feels like 'home' – I mean it's nothing like our modern four bedroom house in the slightest! The welcome from Jayne Watson, who manages the hotel with passion, and her staff is high on the list, coupled with the fact that I adore castles and of course Scotland feels like home to me. This is a very special place for us.
'I never saw a lovelier or more romantic spot'

Queen Victoria's note in her diaries when she spent a week at Inverlochy sketching and painting, 1873
Of course it's historic, with beautiful grounds, a small loch with rowing boat and one of the most famous mountains in Great Britain, Ben Nevis, ever present – though not always visible! With the interior decor still very traditional, its easy to feel transported back to an earlier time, of giant chess on the lawn, a spot of archery followed by afternoon tea in front of the huge fire. Splendid!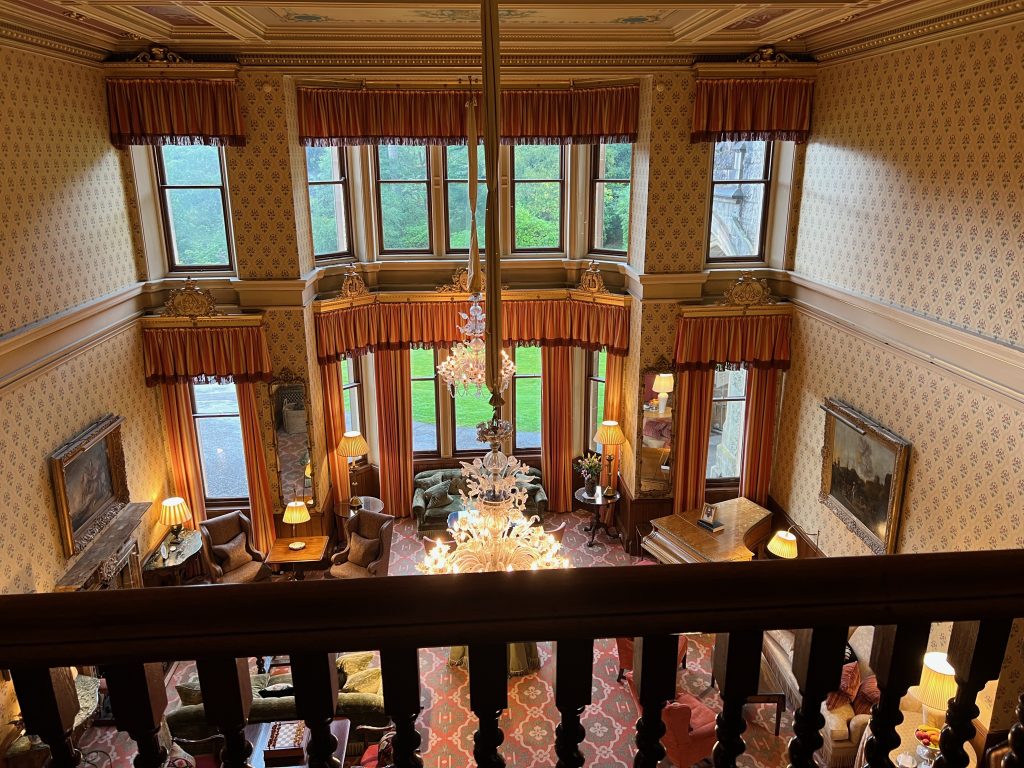 Dining
Their 'Seasgair' by Michel Roux Jr restaurant was one of the best tasting menu's we have had, a set five-course dinner of mainly local ingredients and freshly made bread. And of course the wine pairing by their Sommelier, William Birch is always so special. We learnt a lot, not just about the wines but also how important the wine glasses are to the different types of wine. The attention to detail, with specially prepared menus (one adapted for my allergies) and wine pairing notes we certainly felt 'expected' and special.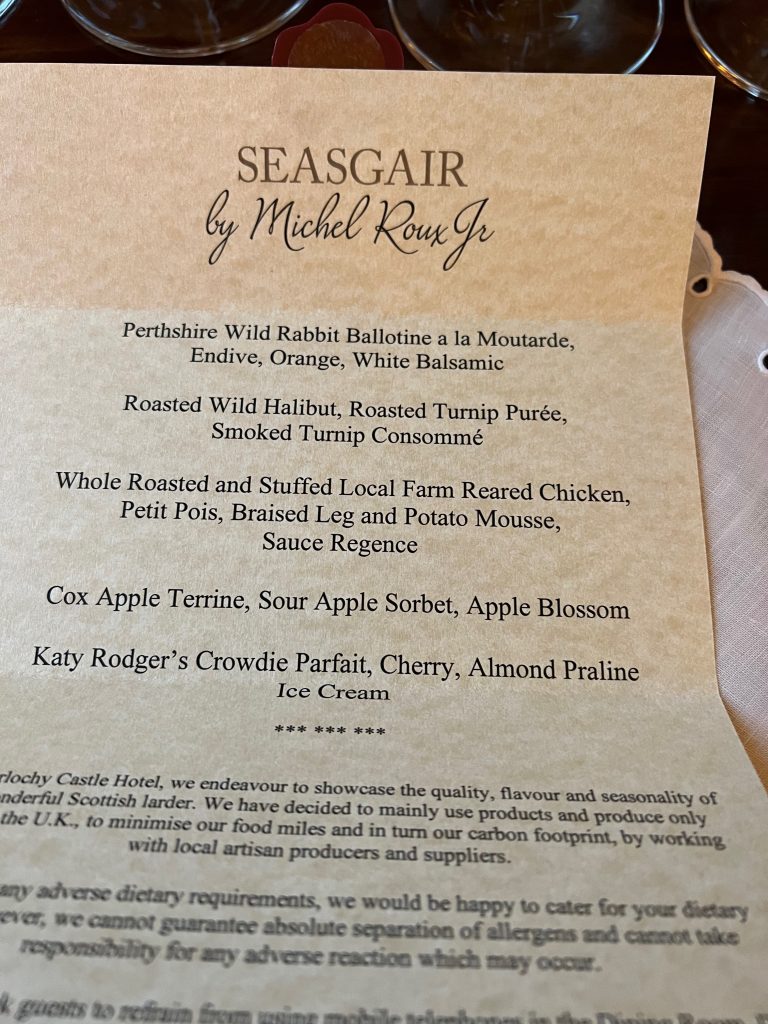 Next time we plan to join their large dining table, the Mary Shaw Table, and see who else we might meet, there were several guests that had walked up Ben Nevis that day – can't think of a better way to finish off that experience, with this experience.
Food Allergy Report: The staff of course took my allergies (peanuts, tree nuts and shellfish) very seriously. Being a small boutique type hotel made it very easy for me to communicate these concerns, and they adapted dinner and breakfast seamlessly and without a fuss.
Activities
This is a perfect area if you want to walk and climb mountains, being situated with the western part of the Grampians. Interestingly our previous hotel, The Holly Tree, recommended a walk up to Steall Falls on our way here. It's a comparatively short walk through the beautiful Nevis Gorge and up to the falls – BUT what we know now, is that it's a very rough and rocky path with steep drops. We didn't know that at the time and were singularly unprepared!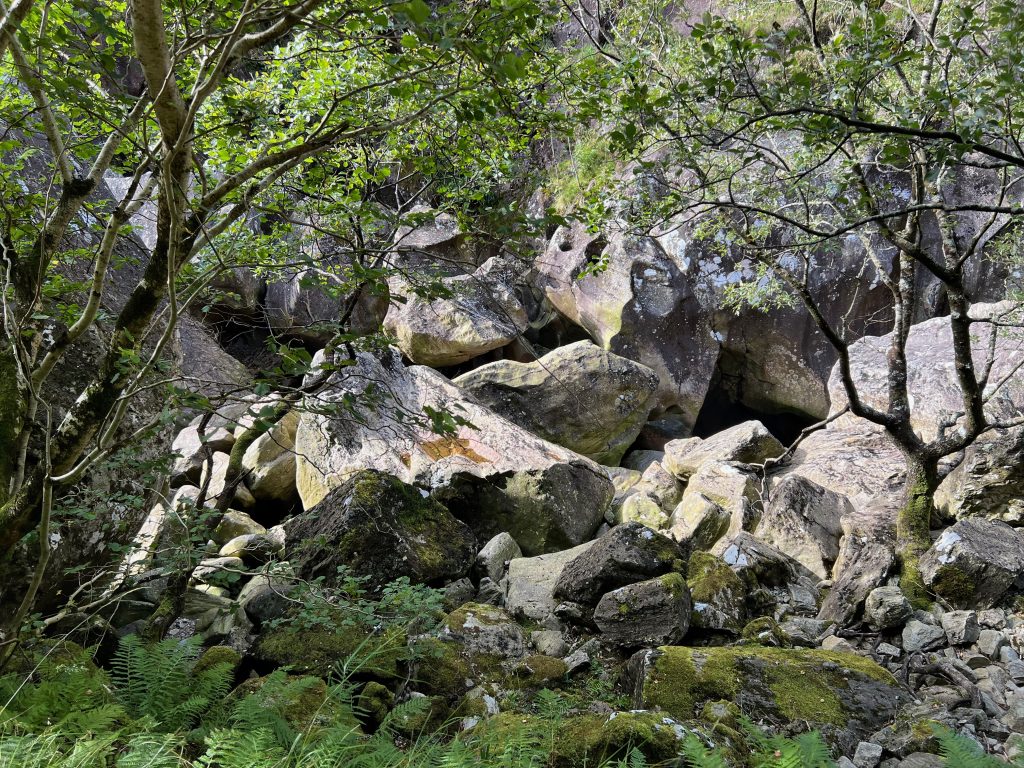 Ironically we had walking boots, sticks, back pack, drinks and food in the car…. it's just they stayed in the car and not with us. We should have known by the single track route we took to get just to the car park and the surrounding hills that we needed to be better prepared. But we achieved it. By the way, I don't do heights or climbing really haha!
One of the best short walks in Scotland, the scenery is dramatically beautiful through the Nevis Gorge and the Steall Falls are awesome!
Sustainability
Inverlochy Castle Hotel is part of the Booking.com Travel Sustainable programme who have a clear set of impactful practices for properties that take part to work on: energy, waste, water, protecting nature and supporting local communities. They are taking the first steps to make a stay here more sustainable. Most of their food is locally sourced for all menu's, and they provide glass bottled water in the rooms. They don't use any single use plastics and there were recycling bins available. Much of the lighting is energy-efficient LED bulbs. They are very focussed on the local community, providing tours and activities by local people and organisations and are looking at how they expand their contribution to the wider economic community. Considering this is a grade B listed 19th century property they aren't resistant to change but look to do what they can while maintaining this historic property.
QUICK RECAP:
Stunning position nestled in the mountains, near Ben Nevis
Fabulous fine dining and wine pairing
A very warm welcome from all of the staff and nothing is any trouble
No lift to upper floors but of course, your bags will be taken to your room
Great place to stay if you want mountain walks or to walk Ben Nevis
Luxurious and historic
Good value? Yes, we would say so for a luxury stay in fact whenever in Scotland we would try to stay at least one night here
One of the best experiences for us in Scotland