… the ultimate 'recycling and re-using' idea!
Sustainable Tourism at Four Seasons Maldives Series, 4 of 7
I am 'shouting out' about resorts where I can see they are truly focussed on leaving the world better than they found it.
Removing much of the 'stuff' that creates waste, especially plastic waste, is the strategy at Landaa Giraavaru. The Landaa Spring – covered in the previous blog and video in this series – is a prime example, fresh island water in refillable glass bottles = no single use plastics from that source. Swapping out plastic bottles in guest bathrooms for cute refillable containers and removing plastic bottles from mini bars, means they already have made big headway into reducing waste, with little coming from guest rooms. But at Landaa Giraavaru they go a lot lot further than this.
Food waste is a big subject in a resort – at Landaa they have installed a Powerknot LFC-500 biodigester, which processes food waste into grey water. Micro-organisms break down biodegradable material in the presence of oxygen and water. I have written a blog with more details and photographs, which you can read here or take a look at the video relating to this blog, below.
Prefer to watch a video? Click HERE for my YouTube video instead.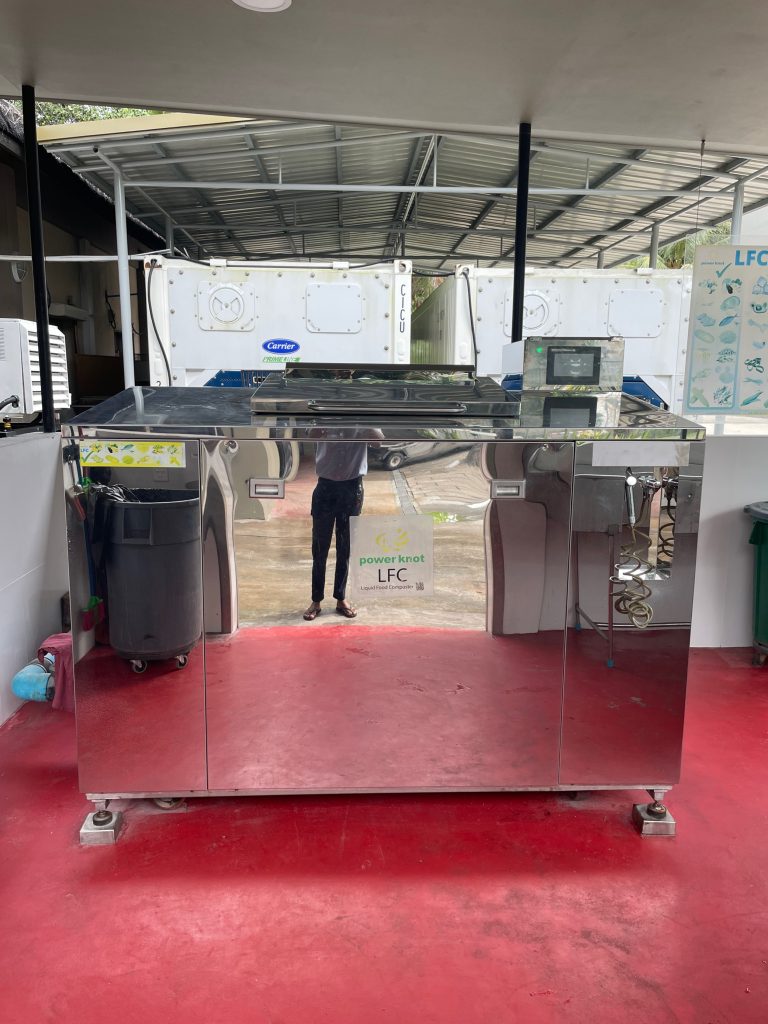 They digest between 175 – 1500 kgs of food waste per day and are experimenting with the 'grey water' output, discharging it into wetlands. Faisal gave me a very honest appraisal of what stage they are at. The 'wetlands' is a small area, planted with a specific local grassy plant – it has a special gravel bed and acts as another filter, dealing with any remaining bacteria in a natural way.
They haven't quite got it right yet, some of the grasses are not looking too 'well' which maybe because of the high temperature of the grey water when it exits the digester. Or maybe because they 'digest' such a wide range of different foods: oils, breads, curry, fruit peel etc etc, such a mix of nutritions from the waste may also be an issue. It's a 'wait and see' situation currently.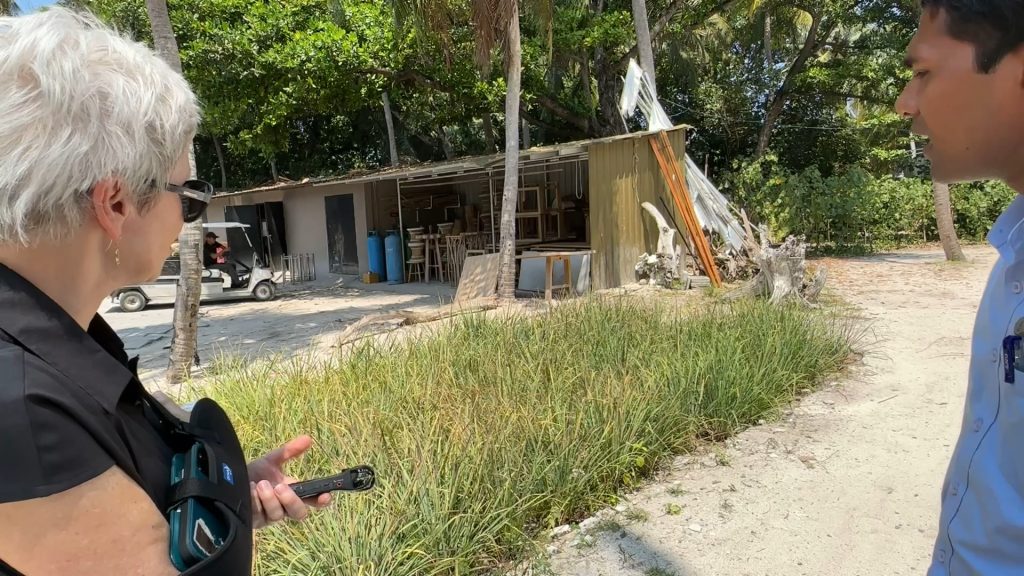 This is one of the things I really admire here, they are taking action to improve and reduce their impact on the environment and accept its not always going to be right the first time!
The benefit is there is no food waste going into the ocean – they have eliminated that with the bio-digester!
Sorting the Garbage – an extensive operation!
Cardboard
Food supplies arrive twice a week, mainly in cardboard packaging – an ongoing concern, as they have not been able to find anyone that will take and recycle cardboard. They compress it and it either has to go to landfill or sometimes they incinerate it when overwhelmed with volumes!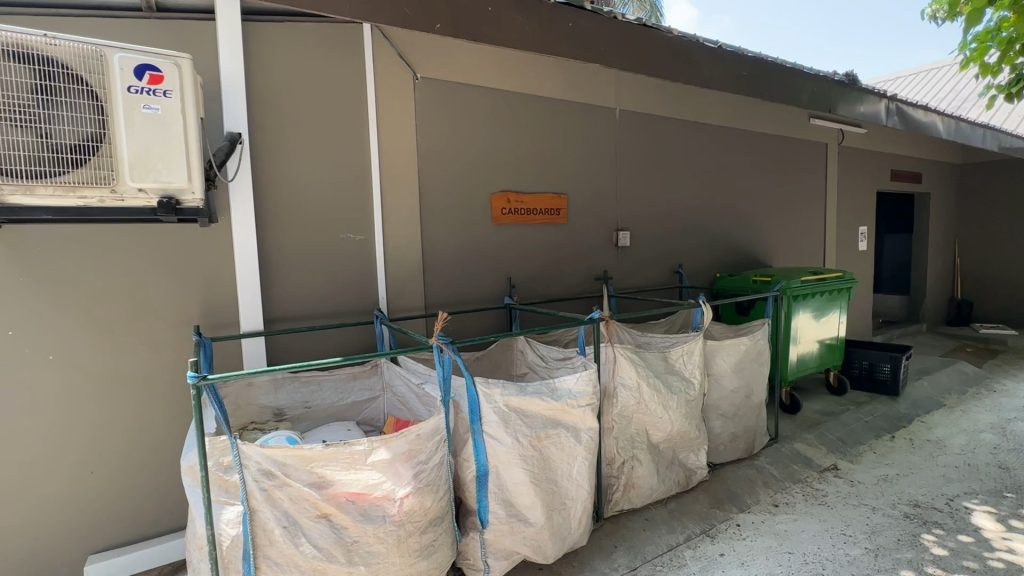 Cooking oil, Cans and Glass
Cooking oil is sent to a recycling partner in Male and its made into grease, being processed in India – so recycled and re-used! Cans and glass go to the same partner, so an efficient, monthly shipment of whatever they have. The cans are crushed and packed down, maximising use of the space on the shipment.
Turning Glass into Sand
All of the glass – so all of those empty Louis Roederer bottles of champagne! – is crushed to make it more compact for shipping. BUT Faisal has found a new machine that will crush the glass so it can be used at least for aggregate and will reduce it to sand, that can be safely spread on the beach! With sand erosion quite an issue I can imagine that could be a significant benefit both to the island and the environment. Fingers crossed he goes ahead with the purchase.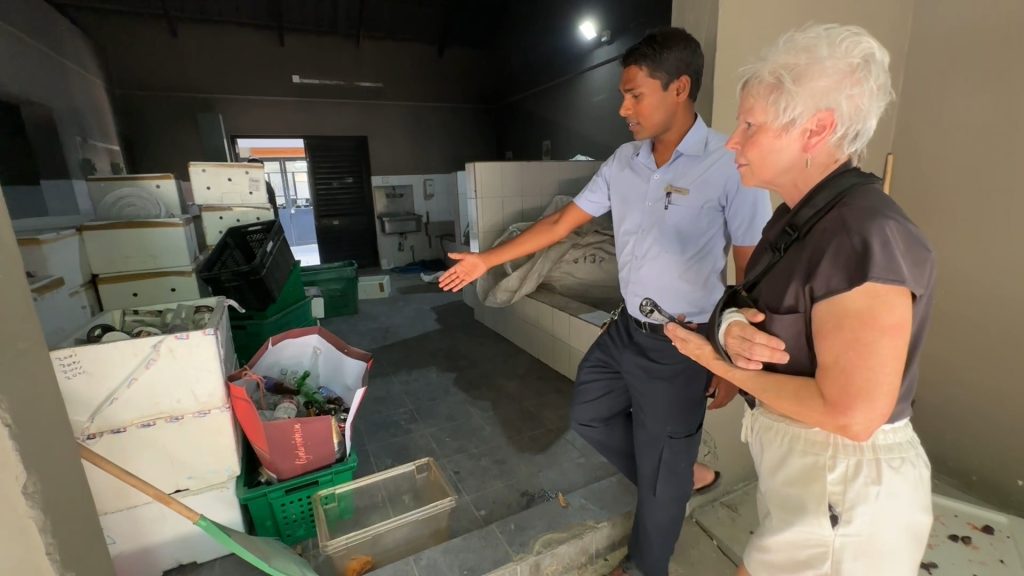 Plastics
Mostly the plastics are packaging from the cooking ingredients, having eliminated much of the other plastics such as water bottles etc as mentioned at the start of this blog. They work with Parley for the Oceans who supply the recycling bags and are an advocate particularly for the removal of plastics in our oceans.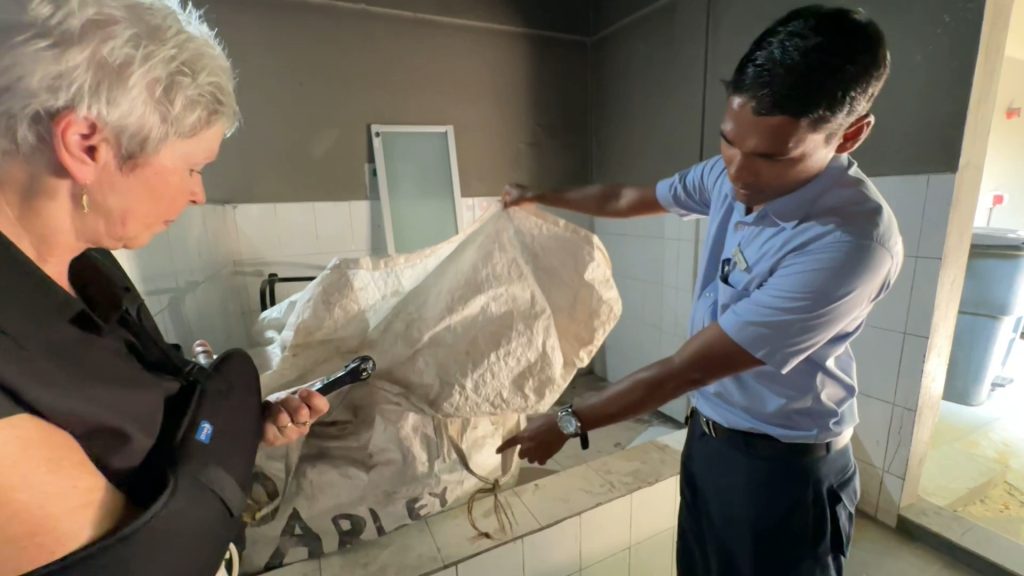 Four Seasons also collect the bags from neighbouring islands and take them to the Parley centre in Male for them – but read my next blog to find out more on that and what good neighbours they are!
This is the fourth part to a series of 7 blogs and video's
Check out my YouTube for the video
Sustainable Tourism at Four Seasons Maldives